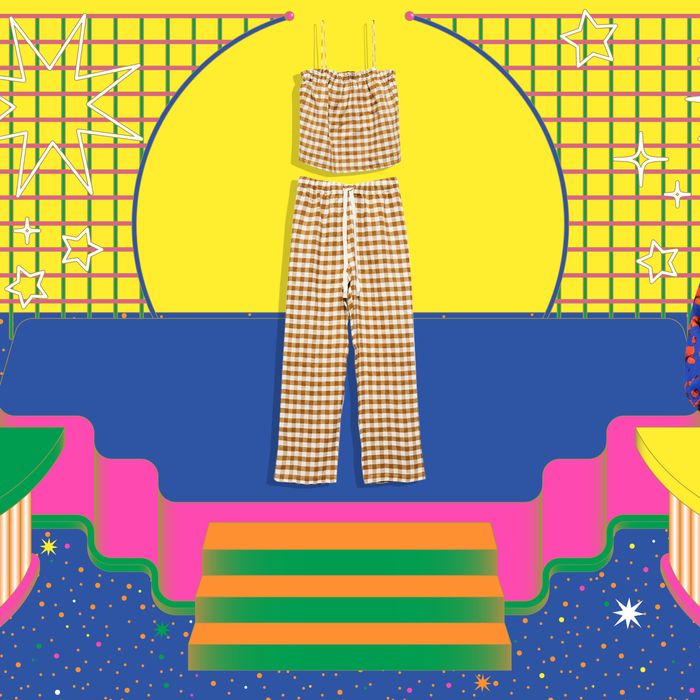 Photo-Illustration: Pedro Nekoi
On their podcast Add to Cart, comedian, writer, and director Kulap Vilaysack and veteran journalist SuChin Pak talk about the things they think are worth the investment (or not), and they often come at it from very different perspectives. So we thought there'd be no better duo to provide comprehensive product reviews on some of the buzziest launches and tried-and-true Strategist favorites. Here, we asked them to sleep in linen pajamas from Morrow Soft Goods. The company makes our favorite soft linen sheets, and it expanded to vintage-inspired sleepwear last July, all made from the same "phenomenal, soft in a downy way" fabric. At the time, we said these pajamas "would be comfortable, we think, for both sleeping and lounging around the house," and this month, Kulap and SuChin put our hunch to the test.
SuChin Pak: We got different sets, so it's a little bit apples and oranges. You got the short-sleeved button-up shorts set?
Kulap Vilaysack: Yes, exactly. Su, what did you get?
S.P.: I got the long pants, and I got this … top. I don't know what to call it. It has little spaghetti straps.
K.V.: It's kind of like a square-neck camisole. And let's just give a little bit of background: There's not enough clothes that Auntie Su can wear. Her entire body, especially her feet, are sensitive to drafts and very sensitive to temperature. A draft would cause Auntie Su to panic. So let's walk the people through what you wear to bed.
S.P.: I like a mock neck. I don't go full turtle.
K.V.: Because that would be excessive.
S.P.: I like a mock-neck long-sleeved shirt, and right now, I'm really loving — I don't know if it's skiwear or snow-wear — leggings, but inside is fleece. I tuck them into a pair of hiking socks. That is what I wear to bed.
K.V.: Fresh underwear for sleeping, by the way.
S.P.: Oh, always. Fresh socks, fresh underwear. I would never, ever get into bed without a fresh pair of hiking socks or a fresh pair of underwear.
K.V.: And it's the hiking socks over the leggings?
S.P.: One hundred percent. I generally put my hiking socks over all of my pant legs.
K.V.: So the beautiful heirloom linen from Morrow Soft Goods was quite a departure for you.
S.P.: That's what I said. I have a picture of it. I tried to make it work. I was like, I'm really going to try to see. The only way it worked is if I also put the little camisole over the mock neck. But that's just too many layers.
K.V.: That is too far for you. The leg is more of a relaxed wide leg, so you really bunched that bottom into your hiking socks. Must've been quite a task.
S.P.: The photo itself tells the entire story. This could be our first pictorial column. It's a linen weave — and by the way, it is a beautiful linen. It's not a cheap linen. But that weave is too loose. I've got to have my pants fleece lined, and I could just feel the draft coming in at too many points. There's just no way around that. And then the top has these strings that you tie.
K.V.: Just cute and flirty.
S.P.: Who is going to bed like that? I felt like a cheap porn star. They're just these flirty strings that if someone pulled on it …
K.V.: I'm looking at it now, and what is clearly being revealed is that you don't watch porn.
S.P.: I understand the essence of it.
K.V.: Sure, the mechanics of it. I never doubted that.
S.P.: That string, to me, said, What about a little tug? And I was like, No. When I go to bed, I'm going to work.
K.V.: Actually, you're not.
S.P.: It is work for me to get to sleep, so if I have these strings just flitting around, begging to be pulled and tugged? It's very disarming and uncomfortable, and I'm not for it.
K.V.: Meanwhile, I took my short-sleeved top and shorts out to the people. I wore them as an outfit and went to dinner. Young people complimented me. A hip hostess was like, "You look great." And I was like, "Thank you." It was my dream. I ate a great meal, was complimented, came home, kept what I was wearing, and went right into bed. Not a beat missed. Same underwear. I just took my shoes off.
S.P.: I've seen that top on Zoom calls, and it is so cute.
K.V.: It's hard because I like these. I think they're good quality. I'm a lounger. I like luxury. I've been known to wear a sleep shirt that's a crisp cotton — or maybe it's silky, depending on my mood. Sure, I have compression socks. But they're not coming with me to bed. I need my feet with nothing on them. I want them under my covers, but I'm not wearing socks. Ever. There shan't be fleece. I run a little too hot. Su runs a little cold. We're different that way.
S.P.: I've never owned a pajama set.
K.V.: I love a pajama set. Throw a robe on top that coordinates in an aesthetically pleasing way.
S.P.: You see? I just totally see you in a pajama set. This is so your vibe.
K.V.: My favorite pajamas are from Eberjey. I have the long-sleeved sleep shirt that was gifted to me and has my name embroidered on top, and I have two of the button-front short-sleeved and short-bottom sets. I could live in those all day long. They're a soft, lightweight jersey, and I don't feel like I have to iron them. That would be my only thing for the Morrow set: I feel that I have to iron the collars. I need it to be a little sharp. I can't have it crumpled. I really love them, but I'm not going to iron my PJs to get the collar I need in order to be able to go to Target.
S.P.: No, but you're supposed to sleep in them.
K.V.: Right, right. Okay.
S.P.: It's a perfect Ku pajama. They're gorgeous. They're aesthetically pleasing, super-high quality. They're cute enough to wear out.
K.V.: But you made a great point: They are pajamas.
S.P.: They are pajamas. It begs the question: Are pajamas a scam? And listen, that's a whole other conversation. I think this is for a young person who still wants to attract a mate. It's for someone who likes to photograph themselves lounging and then post it. What else?
K.V.: I have a linen duvet, so to just be bathed in soft linen in that way is great. I like the idea of just being able to sleep, do your errands, go back to sleep again. That, to me, is someone who is very efficient.
S.P.: These pajamas are so good looking, you could wear them out. Even the pajama long pants could be a look. You could put a T-shirt on and a pair of Crocs, and somewhere in the world, that's very fashionable. These are for someone who, more than anything, values things that are very specifically soothing. And there's a lot of people like that. They all live in New York. This would also be such a beautiful gift because they're not cheap. I would give this to someone who is really into pajama sets.
K.V.: I'm going to iron that collar, and I'm going to wear these out again. That's what I'm sold on: that magical night when I went from Target to a restaurant and then right back into bed. I'm trying to chase that, and all I have to do is iron that collar, and I'm back in business, baby!
S.P.: In your pajamas at Target, no one the wiser.
The Strategist is designed to surface the most useful, expert recommendations for things to buy across the vast e-commerce landscape. Some of our latest conquests include the best acne treatments, rolling luggage, pillows for side sleepers, natural anxiety remedies, and bath towels. We update links when possible, but note that deals can expire and all prices are subject to change.