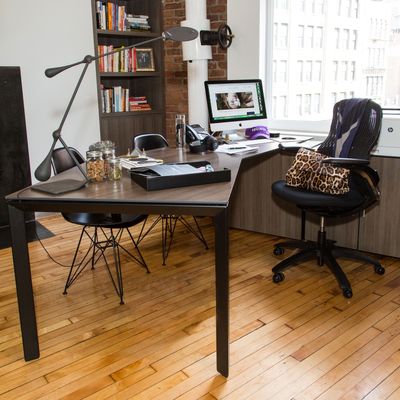 Photo: Tiffany Sage/BFA.com for Equinox
How someone organizes their desk can tell you a lot about how they get work done. That's why we're stepping into the offices of enviably creative (and productive) people to look at what's on their desks — pens and notebooks and gadgets, but also décor and tchotchkes. Today, we've asked Niki Leondakis, CEO of Equinox, to show and tell.
I really believe in keeping my blood-sugar level up throughout the course of the day, so I try to eat healthy snacks every three hours. It staves off that ravenous hunger, if I go too long without food, where I start to want to eat my arm off. Nuts, homemade granola, and tea. That is a sample of that tea that we've created just for us, and it's made by a brand called House of Waris. I'm in love with it; it's peppermint, eucalyptus, ginger, orange peel. You want to keep it in a closed container, to keep it fresh. But Mason jars — it's aesthetic. Having them in jars on my desk reminds me to snack and not get to the point of being really hungry. I keep so busy, moving from thing to thing to thing, if I don't see them, I won't remember they're there, and I won't remember to snack.
My assistant, every day, puts our daily financial reports on how our businesses are doing in my in-box. The hand cream, I'm just using it like a paperweight, but I use Aesop hand cream regularly because I find, especially in the wintertime, my skin gets really dry. And I like to take a little moment out here and there, throughout the day. Even taking two minutes of regeneration, taking a scented hand cream and taking my rings off and rubbing and smelling my hands. That self-care is a very relaxing moment that sets me up for the next push that I have. Leaving the hand cream on the desk, in my in-box, makes it really easy to grab and take care of myself. It feels like a little moment of luxury, too, that I'm doing something nice for myself.
I love Annieglass. I collect it, and it's made by a Bay Area artist. It's a reminder of the other coast, where the other part of my life is; I split my time between San Francisco and New York. I probably have eight or nine different pieces: serving platters, votive candle holders, candy dishes. My family and friends know I like it, so I've received some nice gifts over the years. This one's got paper clips in it.
I often, when working out, would listen to TED Talks, and I found [Simon Sinek] through a TED Talk, on finding your why, your higher purpose, your mission, your true north. That really spoke to me. I've done a lot of work myself on what I really believe my life is about, and I think connecting to our higher purpose is the best way to maximize your energy toward what matters most and accomplish what you want. Connecting people to their why really spoke to me, and as I got deeper into what Simon does and his philosophy, this book, Leaders Eat Last, is one that I really felt was effective in the business world. So I've handed it out at many meetings I've had with leaders in the organization, saying, "This is what I believe, and this is truly what being a leader is about." I think giving that to people has helped me communicate my belief system in what I want from the leaders in our company.
The second book was just given to me. I happened to get it the day before we took this photo. An ex-colleague and friend of mine, we went to lunch and he brought me that book as a gift. He had just finished it and thought it was right up my alley and something I would resonate with personally, so it's next on my reading list.
Photo: Amazon
In my day-to-day life, I use it to tell me the weather. I travel a lot, and if I have to travel, I'll ask it, "What's the weather in San Diego on Thursday and Friday?" It's one more thing I can think about when I have downtime, my mental packing list. And through the Equinox command, you can ask Alexa to play meditation for you. Once it learns the Equinox skill, it knows the time of day and plays the right meditation. It might be the beginning of the day, it might be toward the end of the day, for a quick meditation [at the office]. I use it for both of those.
It's a lamp that I actually asked our interior designer and senior vice-president of design, Aaron Richter, to select for me that he thought didn't feel like a corporate office lamp. This one is LED and glare-free, and it also speaks, from a design standpoint, to the industrial-modern vibe that runs through the interiors of many of our fitness clubs. I don't know about you, but my eyes tire really quickly with light that has a glare. I read a lot of financial statements with tiny print, and that makes my eyes tired as well, so a lamp that doesn't have a glare makes it easier to read.
Editor's note: We were unable to find the smaller, desk-friendly version of this lamp, but here's a floor lamp from the same collection.
I use noise-canceling earbuds [for day-to-day use]. I think they're Bose. They're small ones. They fit into a small cloth zipper case that's about four inches by three inches. The big ones hurt my ears after a while on a five-hour flight, and they're just too bulky to carry. I don't want to have to carry that much stuff, and these work almost as well in terms of the noise-canceling. But they're just so much more portable.
We're the first fitness company to partner with Halo Neuroscience, so all Equinox Tier X [personal training] clients have the opportunity to use these Sport headsets prior to their sessions. Basically, it provides low-level electrical stimulation to the motor cortex, priming the brain to accept new movement patterns or strengthen existing movement patterns. After 20 minutes of wearing the headset, the clients are primed to experience a 60-minute window of increased neuroplasticity.
For me, using these headsets makes me feel like I can do this. I was just doing Turkish get-ups this morning; it's a movement that is highly coordinated, using different parts of your body. It's almost choreography and strength at the same time. But I was having a good day, feeling strong. It gives you that turbo power. You really feel like you can do something like that with much more ease.
The Strategist is designed to surface the most useful, expert recommendations for things to buy across the vast e-commerce landscape. Some of our latest conquests include the best women's jeans, rolling luggage, pillows for side sleepers, ultra-flattering pants, and bath towels. We update links when possible, but note that deals can expire and all prices are subject to change.
Every editorial product is independently selected. If you buy something through our links, New York may earn an affiliate commission.