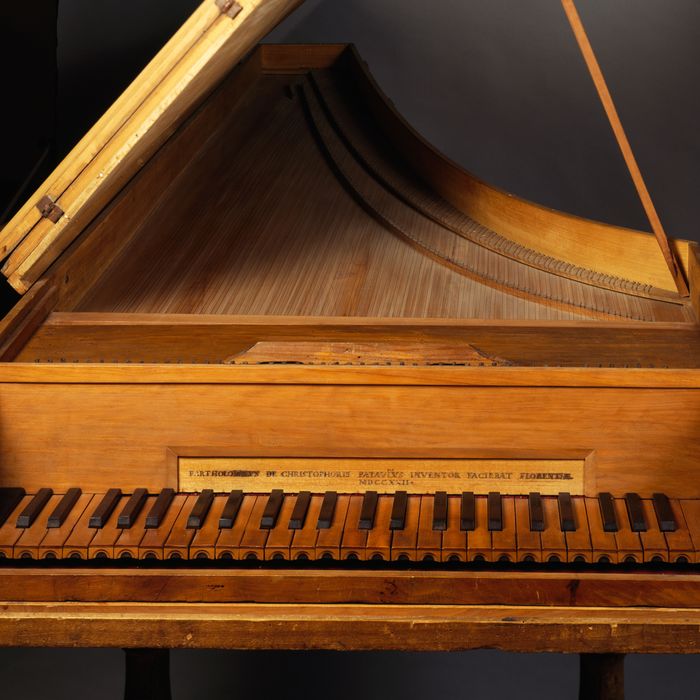 Photo: DeAgostini/Getty Images
Buying your first piano is a particularly complicated process. Do you have the budget and space for a new baby grand? Or are you more concerned about finding a deal on a used upright? Maybe your kids are taking lessons and you'd rather buy a keyboard in case they don't stick with it. With the help of pianists, teachers, tuners, and other piano experts, we've broken down all of the options below — from how to navigate high-end showrooms to the things to consider when perusing preowned Baby Baldwins on Craigslist. We've also included expert-recommended options across all different price ranges.
If You Want to Buy a New Piano
The first thing you want to consider is whether you want an upright or a grand. Grands produce a deeper sound and a wider range of tones but are more expensive (at least $10,000, generally, whereas uprights start around $5,000) and have larger soundboards (the wooden piece that transmits the vibration of the strings). It's always best to try out a piano in person. "Even two pianos that came off the assembly line the same day from the same factory will feel and sound different," says Sarah Binder Mehta, president of rental shop PianoPiano. Even if they're out of your budget, it's worth visiting Steinway Hall in midtown to test out the company's made-in-Astoria pianos. For a wider variety of high-end brands (like Bechstein, Bösendorfer, and Fazioli), most everyone we spoke with recommended Faust Harrison in midtown; for more affordable options, there's Bondy Piano in Hell's Kitchen. Some questions to ask: Is the bench included? Does the store have a trade-in policy? And if you're looking to play a specific type of music, you should ask if the piano lends itself to that genre.
Uprights
Photo: Retailer
Nearly everyone we spoke with mentioned the Yamaha U series when talking about uprights. Pianist and composer Eric Christian calls it the "best starter upright," and Mark Ripatti, owner of Beethoven Pianos, says it's the store's most popular model. At 48-inches high, the company U1 is a good fit for small apartments. Jazz pianist Haim Cotton says the Yamaha upright is "a workhorse" with "beautiful tone," and Erica Feidner, formerly the top salesperson worldwide for Steinway & Sons and, since 2005, a freelance "piano matchmaker," agrees that the piano's reputation and best-selling status is "well-deserved."
Photo: Retailer
For under $5,000, you can get an entry-level piano from the Yamaha B series. Faust Harrison founder Sara Faust says her store sells a lot of B1 pianos, the brand's smallest upright.
Photo: Retailer
Like Yamaha, Kawai is a Japanese company making pianos that several of our experts, including Feidner, consider solid and reliable at a modest price. They offer a few uprights for under $10,000, among them the 45-inch K-200.
Photo: Retailer
Designed in New York by Steinway engineers but manufactured abroad, Boston pianos come recommended by Dmitry Alexeev, founder of Riverside Music Studios, as a less expensive alternative to the company's main line. "Even though they're slightly, quote-unquote, lower quality, they're still really great instruments," says Adrian Cohen, director of Keylab piano school. While Steinway & Sons uprights start at $37,100, you can get one from Boston for under $10,000.
Grands
Photo: Retailer
At five feet long, the Kawai GL-10 is one of the most apartment-friendly baby-grand pianos out there. (The definition of a baby grand versus a grand piano varies from brand to brand, but generally the former are no longer than five-foot-one.) Katrin Arefy, founder of the Golden Key Piano School, says she chose the Kawai GL-10 for each of her school's classrooms because it's "a reliable, well-built piano." In her opinion, the sound quality is even "more rich" than a Yamaha's.
Photo: Retailer
Amalia Rinehart, a teacher at City Strings & Piano, says Steinway grands are "the most gratifying to play," and Martin Porter, a pianist and the manager of marketing and communications at Brooklyn Conservatory of Music, calls them the "American standard for grand pianos." Several pianists mentioned the nearly seven-foot-long Steinway B (with a starting price of $114,300) as the ideal example of the brand's craftsmanship, but for something more living-room friendly, pianist Mark Berman suggests the five-foot-seven Model M.
Photo: Retailer
Also owned by Steinway, Essex pianos are priced even lower than Bostons but are still a top choice among teachers and performers like Christian, Cohen, and Alexeev. This mid-size grand is five-feet, eight-inches long and has an elegant design that makes it look much fancier than its sub-$20,000 price tag suggests.
Photo: Retailer
"If you want a very-high-quality piano that comes from the place where piano making has been a tradition for centuries you want to look into European pianos," says Arefy. It's common to hear pianists compare Yamaha and Kawai to Toyota and Honda while calling European brands like the German Bechstein and Austrian Bösendorfer the Ferraris and Lamborghinis of the piano world. With pianos at this level, which can cost upwards of $200,000, Faust says you're getting "more colors in the palette" of sound, allowing experienced pianists to create masterpieces with a full range of shades and tones. The smallest grand from Fazioli, an Italian line that only produces 140 pianos a year, will set you back more than six figures.
Silents and Hybrids
A hybrid between acoustic and digital pianos, silent pianos have sensors that detect key movement and translate it into electronic sound (which you can hear through headphones) without losing the overtones of an acoustic. They can also be played normally. Because of the interior mechanism, silent pianos are pricier than regular ones (an entry-level Yamaha B1 costs $4,799 without a silent system and $8,799 with one) but may be worth it if you regularly play at night and don't want to disturb the neighbors. Some pianists choose silent pianos because their digital components can be used to record music or connect to a computer to transcribe notes as they are played.
Photo: Retailer
Tammy Ying, founder and head instructor of the Music Box says her silent Yamaha upright is "totally worth it," especially during the pandemic when she's been teaching lessons virtually and playing at all hours from home.
Photo: Retailer
Advanced hybrids, such as the Steinway Spirio and the Yamaha Disklavier (starting at $29,099), add additional features like a player-piano function and the ability to record your playing. Mario Igrec, chief piano technician at the Juilliard School, says these pianos "offer the mechanical response of an acoustic piano action coupled with the versatility of an electronic instrument including multiple instrument sounds, sound samples, silent playing, and MIDI output all, with a diminutive footprint." Feidner explains that the Spirio pianos come pre-programmed with 4,200 selections, let you record with the push of a button, and even come with an iPad that serves as the pianos' interface.
If You Want to Buy a Used Piano
There are two routes here: Buy a restored model from a dealer (like Steinway) or try your luck getting a second­hand piano through Craigslist. For the former, the process is similar to shopping for a new piano (go to a showroom and pick one out), but Faust says she would be skeptical of anything cheaper than $3,000. For "restored lyrical Steinways," Arefy turns to ­Klavierhaus in Hell's Kitchen, where Sujatri Reisinger has been rebuilding pianos since 1993. When it comes to ­Craigslist, there are gems to be found but more duds. Ask the owner if the piano has been tuned at least once a year and if it has been kept in a humid environment. Because hammers, strings, and keys wear down over time, any piano more than 20 years old should have had these replaced. Tuner Mike Buishas recommends downloading a tuning app (like Pano) and playing the A4 key. "If it's 30 cents or more off from the concert pitch [as shown on the app], walk away," he says, as the piano likely won't hold a tuning.
Photo: Retailer
A restored U1 from a reputable dealer, such as this 1980 model from Faust Harrison, is a good way to save money on the popular upright style. Ripatti says it's a safe bet as Yamahas are "built to last," and Porter likes that, because Yamaha uses standard parts, you'll rarely have trouble finding a replacement for a broken key.
Photo: Retailer
Manufactured in Massachusetts since the 1880s, Mason & Hamlin, like Baldwin, is another company with a lot of used inventory to be found. "Mason & Hamlin has made some really great pianos," says Berman. "It seems like they're always in circulation because people rebuild them and sell them, or move and sell."
Photo: Retailer
Steve Drasche, a fourth-generation piano technician, says that a Steinway piano from the 1940s or earlier that's been expertly restored will "sound and feel better than anything [being made] today." Similarly, Buishas says the 1920 to the 1940s was "the golden age of piano manufacturing." Drasche compares the delicate work of piano restoration to gutting a decades-old brownstone while maintaining its exterior.
If You Want to Buy a Keyboard
While some pianists cringe at the thought of using a keyboard instead of an acoustic piano (teacher Judy Greene says, "The sound is not very resonant, and the touch is too easy, meaning when one tries to play a 'real' piano, it is difficult to depress the keys"), keyboards are cheaper and smaller. Look for one with weighted keys, and make sure it has 88 of them, the same number as an acoustic piano.
Photo: Retailer
For a budget pick, piano teacher Andrew Hoepfner of A Piano Grows in Brooklyn recommends this under-$300 keyboard with semi-weighted keys to his students because it has decent touch response, meaning it'll sound louder or softer based on how hard you press the keys.
Photo: Retailer
Porter calls the Casio Privia "a very solid starting instrument" for both kids and adults learning to play piano. It's also a favorite of Berman, Alexeev, and Ying.
If You Want to Rent a Piano
If you're not ready to commit, renting is wise. You can easily return the piano (most stores will handle the process) or upgrade after your playing improves. Three experts recommended PianoPiano, where prices range from $38 per month for a Samick upright to $575 per month for a Steinway grand.
Photo: Retailer
Even smaller than a standard upright, a continental, or console, piano takes up the least amount of space in a crowded apartment. PianoPiano's in-house line, Avery Bond, includes this silent piano that's especially convenient for apartment dwellers.
Photo: Retailer
Mehta says that this piano, with its "gorgeous mellow tone," is the one "most Juilliard and other conservatory students rent because of the heavy resistance in the keys, which experienced players like because it allows for a wider range of expression. By contrast, children learning to play may prefer pianos with lighter action that are easier for small fingers to maneuver.
Plus a Tuner and a Mover
Once you buy a piano, you'll want to have it tuned twice a year (Ying gets hers tuned in the fall and spring to adjust to temperature changes). Big Wrench comes recommended by Jason Sagebiel (founder of Sage Music School), Porter, Cohen, and Buishas, all of whom mention its tuners' and technicians' skills. "Our piano teachers often tell us that Big Wrench sets up the action and playability of our pianos much better than how they arrive new from top-of-the-line piano-makers," says Sagebiel.
Experts advise always choosing piano-specific movers instead of general ones. As Cohen says, understanding a piano's weight distribution and how to move it around is "an art form" that should be left to the professionals. PianoPiano works with Two Key Piano Movers, led by Saibou "Tookie" Tounkara, who has more than 40 years of experience.
*A version of this article appears in the March 1, 2021, issue of New York Magazine. Subscribe Now!
The Strategist is designed to surface the most useful, expert recommendations for things to buy across the vast e-commerce landscape. Some of our latest conquests include the best acne treatments, rolling luggage, pillows for side sleepers, natural anxiety remedies, and bath towels. We update links when possible, but note that deals can expire and all prices are subject to change.