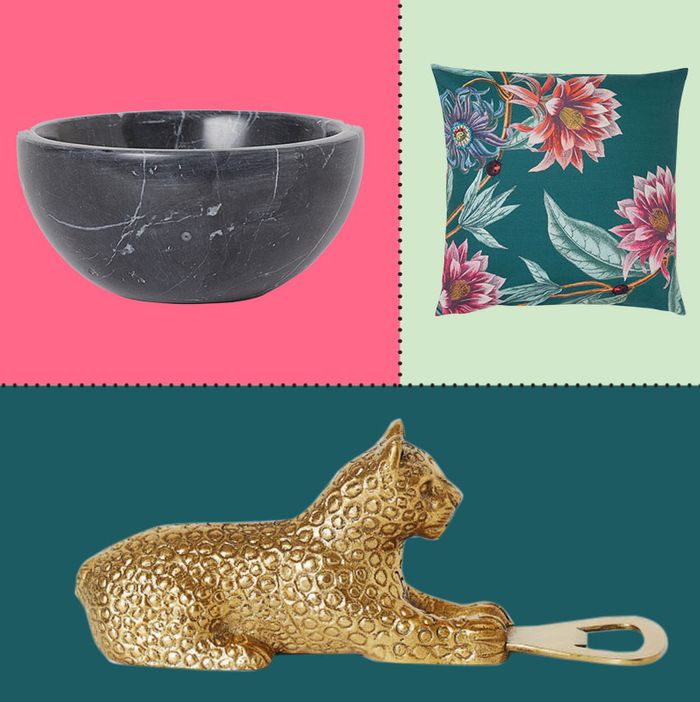 An English friend with exceedingly expensive taste told me that H&M's Home store in London is her secret resource. (I didn't even know the company had a home line, but apparently it was established in 2009). There are eight stand-alone Home stores in cities like Copenhagen and Stockholm but, as of yet, none in the U.S.
Fortunately, the whole trove is available online — and oh my, is it good. The textiles are hit-or-miss, but many, many items look ten times the price thanks to sophisticated colors, natural materials, gold that isn't too shiny, and decorative pieces with a nice heft. Some things, particularly the more exuberant tabletop offerings, could convincingly pass for Bergdorf Goodman, while the more austere, handcrafted-looking items read Hawkins New York. (If you see something you like online, grab it, as sellouts occur at lightning speed).
Host Gifts
The site offers so many chic hostess gifts that can be stockpiled. Bottle openers with the perfect balance of function and whimsy will run you at least 30 bucks at Neiman Marcus, but here you have a version in the shape of a timeless gold-tone leopard for half that. You can bring one to all your friends who have new places in the Catskills.
Also great for the host (and also just $15): this elegant little dark-gray marble bowl, perfect for nuts.
Leaf objets are their own genre. I keep this dish on an entry table for keys, and it garners compliments as though it were from 1stdibs.
Tabletop
I love a painted glass carafe. This one, with a tropical-bird pattern, would not be out of place gracing a serving tray on an Upper East Side wraparound terrace.
Editor's Note: This patterned carafe sold out quickly, but smoky glass is a nice carafe option, too.
A Hawkins-esque austere black marble serving tray that cries out for a display of raw-milk cheeses.