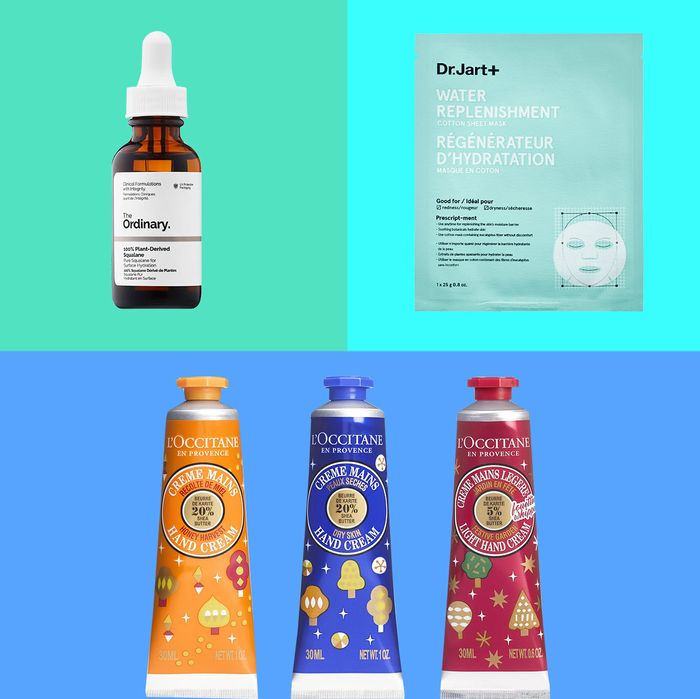 Photo: Courtesy of the vendors
Here at the Strategist, we think a lot about beauty products. We get excited about a face mask that makes your skin glow like a glazed doughnut or a dandruff-destroying, scalp-massaging brush, and we obsess over Rio's latest discoveries. And we want to talk about it with our equally obsessed readers — so we started The Beauty of It All, our Facebook group with the Cut, in which members swap notes on new products and discuss old favorites, debate some of the trickier beauty questions (Can you use retinol with P50? Should you tell someone her lipstick is smudged?), and talk about their all-time-favorite desert-island products. You can join the group here, but in the meantime, we want to highlight some of our readers' sage advice.
This week, we're eavesdropping on conversations about their favorite beauty stocking stuffers to give. Everything here is under $20 and, of course, perfectly small. In addition to our readers' suggestions, we tacked on a few more of our favorite Strategist-approved beauty stocking stuffers at the end (which are also under $20 and appropriately tiny).
Face
"Dr. Jart sheet masks (or really, any sheet masks) would be great stocking stuffers," wrote one reader. Several others agreed, saying Dr. Jart's sheet masks (and hand and foot masks, which are great for dry winter extremities) are their favorites.
These sheet masks from Go-To and Image Skincare also got shout-outs. And it makes sense: Sheet masks are fun, indulgent, and one of life's small (affordable) pleasures.
Another crowd-pleaser suggested by more than one group member was this mini-version of Fresh's famous soy facial cleanser. Not only is it the perfect size for stockings but for travel, too.
The Ordinary's products are always affordable — no matter the season — which is why they make fabulous stocking stuffers, as no fewer than four of our readers have pointed out. These are a few of their favorite things (for the face) from the brand, but as one reader noted, "anything" from the Ordinary would be great — including this hair serum.
Tiny but powerful patches from a Rio-approved brand that a couple of readers said you can't go wrong with.
Lips
Lip treatments were also some of the most recommended items, with Burt's Bees lip balms getting three endorsements. The four-packs come in several flavors — pomegranate was a favorite, but there are many to choose from, including original beeswax, cucumber mint, honey, and vanilla bean. Get a couple to mix and match and, most important, make sure your loved ones' lips are never chapped this winter.
Three group members sang the praises of Laneige's lip masks or, as one reader put it, "any Laneige lip products." While the lip sleeping mask comes in at exactly $20, you can get a balm or a mini-set that includes the balm and the mask for slightly less. There's also a three-pack of Lip Glow Balms for $35.
Lanolips's tinted lip balms were another favorite, suggested by three of our readers. Made with lanolin, a natural wax secreted by the sebaceous glands of wool-bearing animals, they are super-moisturizing with just a hint of color. (For $35, you can get a trio of tinted balms.) Those who prefer nude lips will like the non-tinted 101 Ointment, which is billed as a "multipurpose super-balm."
Looking for something to line those smooth lips? NYX's lip liners got a couple of shout-outs from readers too.
Not surprisingly, four group members showed love for Glossier products, including Balm Dotcom and Generation G lipsticks. And for the face, Cloud Paint and Boy Brow.
Hands and nails
Hand creams were another popular stocking-stuffer suggestion, with L'Occitane's minis topping the list. The limited-edition set of three includes Original, Honey Harvest, and Festive Garden scents. Or you can always stay classic with just a tube of the brand's original formula.
Also at the top of the hand-cream list was Caudalie. As one reader put it, "Any and all Caudalie products under $20 always." On budget is this mini-hand-and-nail-cream trio that includes Original, Des Vignes, and Rose de Vigne scents (you can also get a full-size version of Caudalie's classic hand-and-nail-cream formula for $15). If you're looking for more Caudalie for someone's stocking, the reader also called out its lip conditioner, mini Beauty Elixir spray, Grape Water spray, and micellar cleansing water.
L'Occitane's 100-percent-pure shea butter, another recommendation, is a little more versatile than the brand's hand creams because it can be used all over the body.
Speaking of hand care, Essie nail polish, known for its exhaustive range of shades and fun names, got a couple of callouts as well. Strategist contributor Buzz Bissinger is also a fan of Essie's polish, with Around the Bend, Press Pause, and Cliffhanger among his favorite colors.