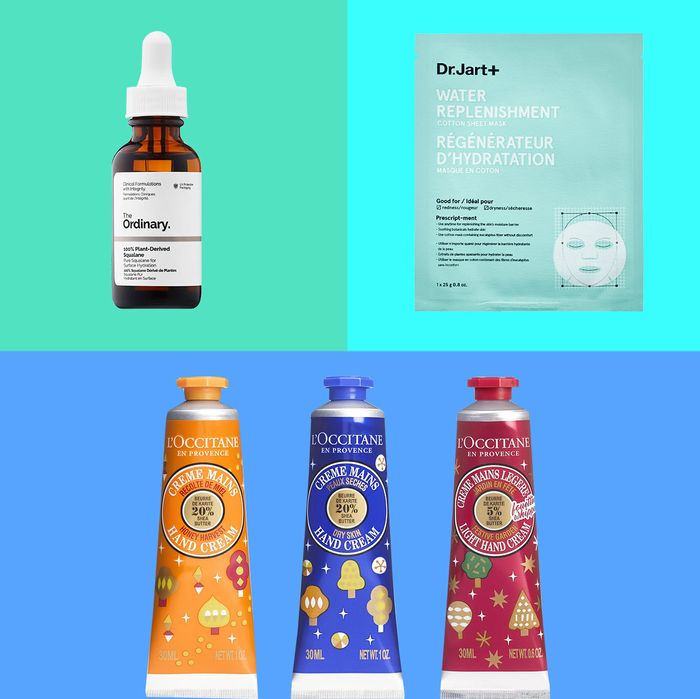 Photo: Courtesy of the vendors
Here at the Strategist, we think a lot about beauty products. We get excited about a face mask that makes your skin glow like a glazed doughnut or a dandruff-destroying, scalp-massaging brush, and we obsess over Rio's latest discoveries. And we want to talk about it with our equally obsessed readers — so we started The Beauty of It All, our Facebook group with the Cut, in which members swap notes on new products and discuss old favorites, debate some of the trickier beauty questions (Can you use retinol with P50? Should you tell someone her lipstick is smudged?), and talk about their all-time-favorite desert-island products. You can join the group here, but in the meantime, we want to highlight some of our readers' sage advice.
This week, we're eavesdropping on conversations about their favorite beauty stocking stuffers to give. Everything here is under $20 and, of course, perfectly small. In addition to our readers' suggestions, we tacked on a few more of our favorite Strategist-approved beauty stocking stuffers at the end (which are also under $20 and appropriately tiny).
Face
"Dr. Jart sheet masks (or really, any sheet masks) would be great stocking stuffers," wrote one reader. Several others agreed, saying Dr. Jart's sheet masks (and hand and foot masks, which are great for dry winter extremities) are their favorites.
These sheet masks from Go-To and Image Skincare also got shout-outs. And it makes sense: Sheet masks are fun, indulgent, and one of life's small (affordable) pleasures.
Another crowd-pleaser suggested by more than one group member was this mini-version of Fresh's famous soy facial cleanser. Not only is it the perfect size for stockings but for travel, too.
The Ordinary's products are always affordable — no matter the season — which is why they make fabulous stocking stuffers, as no fewer than four of our readers have pointed out. These are a few of their favorite things (for the face) from the brand, but as one reader noted, "anything" from the Ordinary would be great — including this hair serum.
Tiny but powerful patches from a Rio-approved brand that a couple of readers said you can't go wrong with.
Lips
Lip treatments were also some of the most recommended items, with Burt's Bees lip balms getting three endorsements. The four-packs come in several flavors — pomegranate was a favorite, but there are many to choose from, including original beeswax, cucumber mint, honey, and vanilla bean. Get a couple to mix and match and, most important, make sure your loved ones' lips are never chapped this winter.
Three group members sang the praises of Laneige's lip masks or, as one reader put it, "any Laneige lip products." While the lip sleeping mask comes in at exactly $20, you can get a balm or a mini-set that includes the balm and the mask for slightly less. There's also a three-pack of Lip Glow Balms for $35.