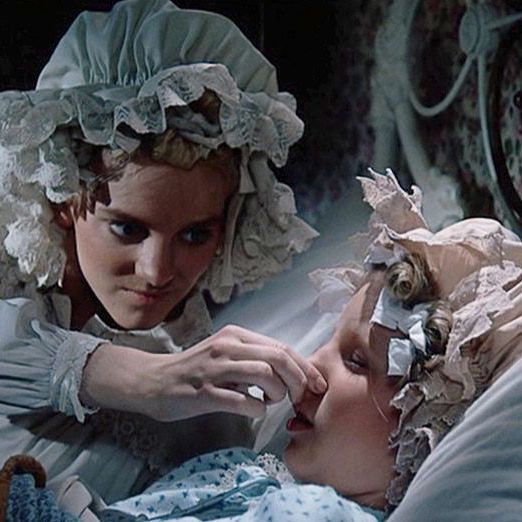 While snoring can cause daytime sleepiness, irritability, and even more dangerous side effects (more on that below), it also affects the person you share a bed with. And not just because the sound is annoying: As Terry Cralle, a registered nurse, clinical sleep educator, and author of Sleeping Your Way to the Top: How to Get the Sleep You Need to Succeed, explains, "a non-snoring partner can wake up as many as 20 times per hour as the result of a snoring bed partner, losing an average of one hour of sleep per night."
Before you attempt to solve your problem yourself, it's worth seeing a doctor to make sure your snoring isn't a sign of a more serious condition, like obstructive sleep apnea, which is linked to issues like heart disease and stroke. According to Cralle, about half of people who snore have sleep apnea. You don't want that to go undiagnosed.
Once you've gotten the all-clear, the easiest solution can often be simply switching up your sleeping position with the help of an additional pillow. "Snoring is basically related to a narrow upper airway, and gravity tends to make things worse," says Kannan Ramar, a sleep physician and professor of medicine in the division of pulmonary and critical care medicine at the Mayo Clinic, and president-elect of the American Academy of Sleep Medicine. "When you fall asleep, the tongue relaxes a little bit and can fall back and close up the airway. The soft palate and the uvula at the back of the throat relaxes, and that tends to narrow the airway." Add a new pillow, the theory goes, and you put yourself in a position that reduces the effect of gravity on the back of your neck. Here are some pillows — selected by sleep doctors and sleep product experts — to try out.
Best overall anti-snoring pillow
Since most snoring happens when you're on your back, nearly everyone we spoke with suggested using a wedge pillow to elevate the head and neck. Dentist and snoring expert Jay Khorsandi says, "in the world of snoring and sleep apnea, sleeping on your back is not your friend." According to Michael Gelb, a dentist specializing in TMJ and sleep disorders, and the founder of The Gelb Center, the wedge shape "helps prevent the lower jaw and tongue from falling back into the airway while sleeping on the back." In a pinch, you can try using a bunch of pillows to prop up your head, but, as sleep specialist W. Chris Winter, author of The Sleep Solution, points out, the wedge is a safer choice because it also supports your shoulders and back, so you're not pitching your neck forward in an unnatural way.
Sarah Riccio, a senior writer at sleep product review site Sleepopolis, likes the Xtreme Comforts wedge with its 30-degree angle and 7-inch height. It's also made from memory foam, which is Winter's material of choice: "Memory foam tends to support and hold people better," he says. "It's conforming around your neck and giving a little bit more of an even distribution of pressure, versus down, which tends to look fluffy, but collapses when you're on top of it."
Best anti-snoring pillow for back-sleeping (that isn't a wedge)
As an alternative to a wedge, Riccio says to look for "pillows with an extra-lofty profile of 5-inches or more," that will also keep the head and neck elevated. She especially likes the Layla Kapok pillow since it "features a super high profile of 7-inches and does a great job of maintaining its shape."
Best anti-snoring pillows for side-sleeping
If you want to prevent snoring, doctors agree that sleeping on your side is best. We've written about this side-sleeping pillow as an option for alleviating back pain, and experts say it's also a good choice for snorers, thanks to a built-in wedge and space to put your bottom arm through, making the position more comfortable. Khorsandi calls it the "Rolls Royce of side-sleeping pillows," because "it puts you in a beautiful side-sleeping position with little pressure on your hand [so it won't] go numb, and nice shoulder and neck support."
If you're a life-long back sleeper who's finding it hard to transition to your side (and you share a bed with someone who isn't going to tease you too much), Ramar suggests a "backpack pillow" like this one, which has an inflatable air bag to prevent you from rolling over. "It's not going to be comfortable when you try to get onto your back, so it tries to keep you on your side," he says. The method isn't foolproof — Ramar says he's seen some determined people still roll onto their back and manage to stay asleep with this pillow — but a lot of people find it helpful.
Although this style pillow is designed to accommodate the mouthpiece of a CPAP machine (a wearable device that treats sleep apnea), Khorsandi says it's a good choice even for those who don't have sleep apnea. He likes that these pillows "have a cut-out on the side, so your nose and your mouth are more free and open, which will help with breathing. They're just more ergonomic."
Best adjustable anti-snoring pillows
Whether you sleep on your back and just need a little propping up, or on your side and want to be properly positioned (with a pillow filling the gap between your shoulder and your ear), an adjustable pillow gives you a customizable level of support. "If a pillow is too high or too low, it can exacerbate snoring issues," says Keith Cushner, general manager of Tuck, a sleep-product review site. He likes this adjustable memory foam pillow that comes with removable filling for finding the perfect loft level.
This pillow is also adjustable, with removable foam inserts to switch up its height and incline angle, and it comes recommended by Joe Auer, founder of the review site Mattress Clarity.
Best anti-snoring pillow device
If you're not interested in swapping out your pillow, several experts suggest the Smart Nora device. "This adjusts your pillow height as you sleep, based on whether or not you're snoring. It is non-invasive, which is really cool," Cushner says. You place the Smart Nora pad under your pillow, and, if the sensor detects snoring sounds, it will trigger the pad to inflate and raise your head up, changing your position and — ideally — stopping your snoring.
The Strategist is designed to surface the most useful, expert recommendations for things to buy across the vast e-commerce landscape. Some of our latest conquests include the best acne treatments, rolling luggage, pillows for side sleepers, natural anxiety remedies, and bath towels. We update links when possible, but note that deals can expire and all prices are subject to change.