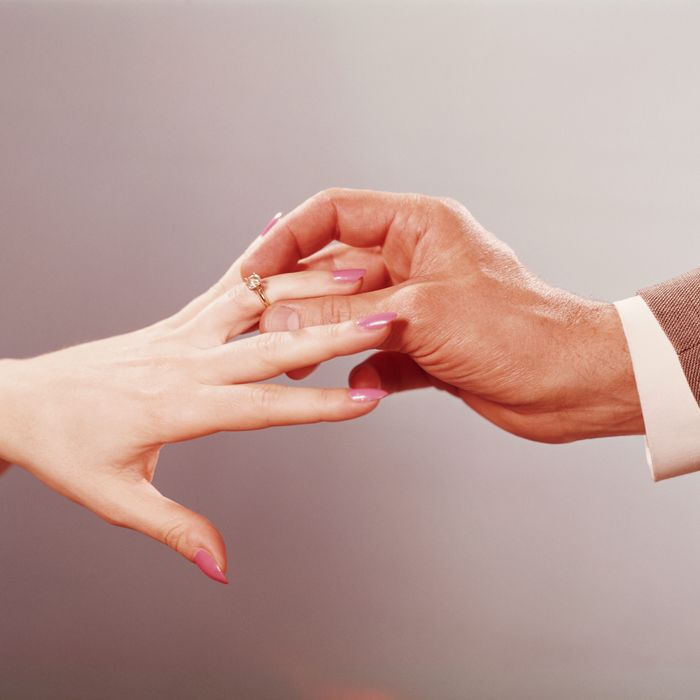 Photo: H. Armstrong Roberts/Retrofile/Getty Images
Whether you've attended a socially distanced or Zoom wedding this summer, or have in the past managed to clock 5 or 15 weddings in a season, chances are you've gifted a few sets of registry wineglasses, or contributed to that honeymoon excursion to Sorrento. But what about engagement gifts? A relatively new tradition — etiquette expert Elaine Swann estimates that they've only become a thing in the past ten years — engagement gifts are typically smaller than wedding gifts, and given to those with whom you have a close relationship. "An engagement gift is something thoughtful, however, typically not as significant as a wedding gift in size or cost," says Myka Meier, founder of Beaumont Etiquette and an etiquette instructor the Plaza Hotel Finishing Program.
"Engagement gifts are not required or expected," says etiquette expert Patricia Napier-Fitzpatrick, founder and president of the Etiquette School of New York. "But they're very common practice. I mean, who wants to go empty-handed to any kind of party celebrating someone?" If you do want to give an engagement gift, the resounding advice from the etiquette experts we spoke to was that you should choose something that both people in the couple can enjoy. "A gift could be anything thoughtful to commemorate the occasion, from a keepsake frame with the date on it to a gorgeous floral arrangement if they already live together," says Meier. If it's a couple that you don't know very well and still want to congratulate, the experts agreed that a card would be a sweet and inexpensive gesture. And of course, there's the old standby: "When in doubt, nothing says celebration like a nice bottle of Champagne," says Meier. Here are some Strategist-approved engagement gifts, inspired by the etiquette experts' recommendations.
Frames
"A lot of times we post pictures, but we don't print them anymore, so a really great gift idea is a printed photo in a beautiful frame that they can place inside their home," says etiquette expert Elaine Swann. "If you can download a photo from their social media site that has a pretty good resolution, you can give them a photo of the two of them together." Several of the other etiquette experts we spoke to seconded Swann's recommendation to gift a frame. Meier suggests "a keepsake frame with the date on it," and we think this sleek frame from Framebridge, which has a customizable matte, is an attractive option.
And if the couple is not the keepsake-with-date type, these frames make handsome alternatives — and like all of Framebridge's custom-frame offerings, you can send in a file from Instagram or Facebook, making it particularly easy to get that post from your friend's feed to the framer.