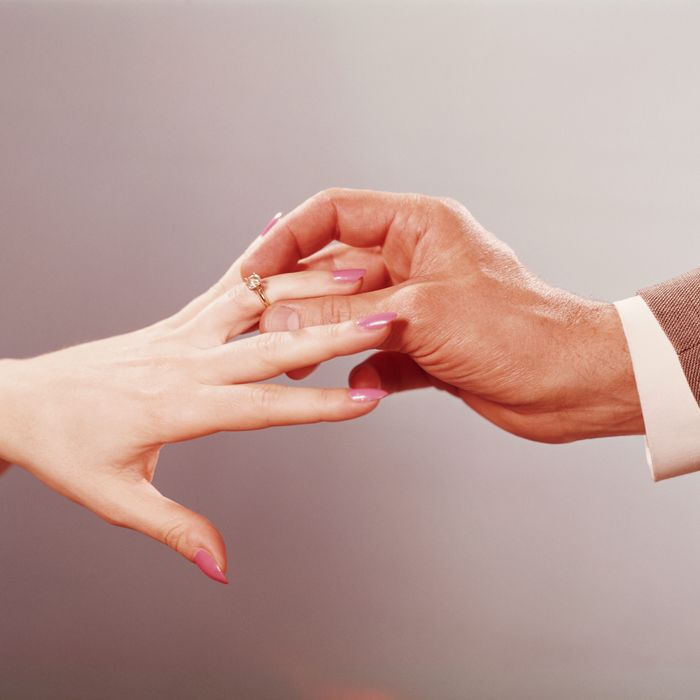 Photo: H. Armstrong Roberts/Retrofile/Getty Images
Whether you've attended 1, 2, 5, or 15 weddings this summer, you've probably gifted a few sets of registry wine glasses or plates, or maybe contributed to that honeymoon excursion to Sorrento. But what about engagement gifts? A relatively new tradition — etiquette expert Elaine Swann estimates that they've only become a thing in the past ten years — engagement gifts are typically smaller than wedding gifts, and given to those with whom you have a close relationship. "An engagement gift is something thoughtful, however typically not as significant as a wedding gift in size or cost," says Myka Meier, founder of Beaumont Etiquette and an etiquette instructor the Plaza Hotel Finishing Program.
"Engagement gifts are not required or expected," says etiquette expert Patricia Napier-Fitzpatrick, founder and president of The Etiquette School of New York. "But they're very common practice. I mean, who wants to go empty-handed to any kind of party celebrating someone?" If you do want to give an engagement gift, the resounding advice from the etiquette experts we spoke to was that you should choose something that both people in the couple can enjoy. "A gift could be anything thoughtful to commemorate the occasion, from a keepsake frame with the date on it to a gorgeous floral arrangement if they already live together," says Meier. If it's a couple that you don't know very well and still want to congratulate, the experts agreed that a card would be a sweet and inexpensive gesture. And of course, there's the old standby: "When in doubt, nothing says celebration like a nice bottle of Champagne," says Meier. Here are some Strategist-approved engagement gifts, inspired by the etiquette experts' recommendations.
Frames
"A lot of times we post pictures, but we don't print them anymore, so a really great gift idea is a printed photo in a beautiful frame that they can place inside their home," says etiquette expert Elaine Swann. "If you can download a photo from their social media site that has a pretty good resolution, you can give them a photo of the two of them together." Several of the other etiquette experts we spoke to seconded Swann's recommendation to gift a frame. Meier suggests "a keepsake frame with the date on it," and we think this sleek frame from Framebridge, which has a customizable matte, is an attractive option.
And if the couple is not the keepsake-with-date type, these frames make handsome alternatives — and like all of Framebridge's custom-frame offerings, you can send in a file from Instagram or Facebook, making it particularly easy to get that post from your friend's feed to the framer.
For those who would prefer something on the techier side, you could give a digital picture frame, like this one, which is under $100 and lets you add photos from a USB.
Photo: Retailer
"I think a photo album is a great gift for people getting married," says Napier-Fitzpatrick. "They could have one just for the engagement party, and one just for their wedding." We've written about Mixbook's custom albums before, which you can put together by uploading pictures from your phone. And if you don't have enough pictures to put together an album, you can always send the couple a gift card so they can build their own.
Throws
Swann suggests gifting a "very beautiful" throw blanket that would be "something that they both can cuddle up in." When we talked to designers about the best blankets to give as gifts, herringbone throws were what they suggested as a "timeless gift" that would appeal to recipients with all kinds of taste — and we think this one would make a classy engagement gift.
If a chunkier knit is more the couple's style, this one comes in a bunch of neutrals that would go with most interiors.
Several of the experts we spoke to suggested giving customized gifts, with the couple's names monogrammed on them. This "Wicked Plush Throw" from L.L.Bean is a bit more casual and definitely cozy, and can be monogrammed if you think the couple would be into some customized coziness.
A classic plaid Pendleton blanket would make a nice gift for that couple who loves having a "rustic" weekend in Hudson every fall. (This one can also be customized.)
Vases
"A vase is always a nice gift," says Napier-Fitzpatrick, who suggested crystal as a "generic" option. If you want to give something a little more punchy, we're fans of these Jonathan Adler vases, which come in several pleasing shades of blue, green, and cream.
Another ceramic option, which we think looks like it costs a lot more than $31.
For the couple who wants something a little more graphic.
A minimalist glass option that would fit in with just about any home décor style.
Ice buckets
"My husband's nephew got married, and for the engagement party I gave them an ice bucket — not sterling silver, but a nice one, from the Pottery Barn — and a bottle of rosé," says Napier-Fitzpatrick. This Pottery Barn bucket seems like it would appeal to lots of different tastes, and has that sleek sterling-silver look without the high price tag.
This ice bucket was named as an ideal holiday gift by Allen Katz, cofounder of New York Distilling Company, and we think it would also make a great addition to the apartment of a couple with a vintage-y aesthetic.
Meier suggests giving "an ice bucket with the family initials of the soon-to-be-married couple" as a gift, and better yet, to include a bottle of wine. She says that if you're unsure if both people will take the same last name, it's a good idea to have their two first names engraved on the bucket.
Plants and flowers
"I always tell people not to take fresh flowers to a party because someone has to put them in water," Napier-Fitzpatrick says, and suggests bringing a plant, like an orchid, instead. Etiquette expert Jacqueline Whitmore seconded this recommendation, telling us that she brought an orchid to the last engagement party she attended.
This plant is known for sprouting "baby plants," which can be potted and shared — so if you're lucky, you might get your own plant out of this gift, too.
This plant was included in our roundup of underrated plants, and would make an ideal gift for the couple who already have a spider plant and a pothos.
An easy-to-care-for plant that will live even if your friends forget to water it before they leave for their honeymoon.
Coffee-table books
Swann suggests a coffee-table book inspired by the couple's shared interests as a thoughtful engagement gift. "Maybe a photo book — you could do a little bit of sleuthing around and see if there's somewhere or something that they've enjoyed," she says. This Martin Parr book would make a perfect gift for the couple who love people-watching.
And for the couple who frequent the New York Historical Society and spend Sundays in the park, a book about the creation of Central Park.
A book for the couple who aspire to retiring to South Beach.
For the artist couple who want to brush up on color theory.