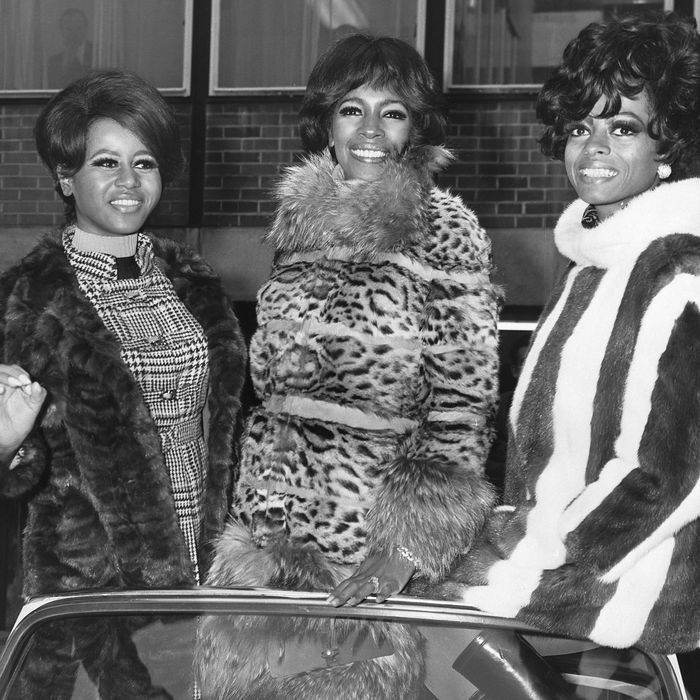 Photo: Hulton Deutsch/Corbis via Getty Images
While clothing largely does not matter in 2020, coats very much do. At a time when socializing exclusively happens outdoors (and going to the grocery store is considered an occasion), the only chance to make a statement is with one's outerwear. And there's no better statement than a faux-fur coat, which will keep you as toasty as a puffer but won't make you feel like you're wearing a sleeping bag. (Though if that's what you're looking for, we have just the thing.) To locate the best faux options out there, we consulted nearly a dozen stylish women, from stylists to editors, about their go-tos. Below, you'll find the fluffy layer favored by stylish Brits, actually realistic-looking artificial furs, and the (almost) exact one Kacey Musgraves wore in her last music video.
Best under $200 faux-fur coats
Liz Gonzalez, TikTok resident for Gallery Media Group, is a self-proclaimed faux-fur obsessive. She got a bright red coat from Apparis last season, which is now only available in very limited sizes, but she pointed us to this very similar H&M option. Gonzalez says it makes "even the most basic outfits look spiffy and chic." (If you're looking for something a little less bold than a fuchsia fur, it also comes in black and beige.)
Gonzalez also recommends this jacket, which looks like a cropped version of her Apparis one. It has a nice big collar and side pockets, plus it comes in unexpected colors, like lavender, neon orange, and this subtle pumpkin. And because of its more relaxed cut, we think it makes a nice alternative to a jean jacket.
"No joke," begins Tyler McCall, editor-in-chief of Fashionista, "one of the faux-fur coats that got me the most compliments came from Abercrombie & Fitch." This mid-length option with an oversize collar comes in five colors, plus two sherpa options. McCall owns the leopard, which is sure to stand out among all of the black puffers out there. She confirms it's as cozy as it looks, and says it actually holds up well in the cold.
If you're not looking for full-length outerwear, Gonzalez recommends the cropped version of McCall's Abercrombie & Fitch coat. It's about half the length, and about half the price.
I've long been enamored with Kacey Musgraves — and her style — and I have to imagine I'm not alone. When she posted some behind-the-scenes photos from her video "Easy" with Troye Sivan on Instagram wearing a very chic white faux-fur coat, I had to know where it was from. Her stylist Mel Ottenberg, creative director for Interview Magazine who also works with Rihanna and Bella Hadid, told me it's "a vintage Jordache faux-fur coat from Black Shag Vintage in Nashville." As he explained, "I really wanted to style Kacey in a big white faux-fur chubby for the 'Easy' video because it's fun and sleazy and easy, but I couldn't find one I liked in New York City. Nashville is filled with magical vintage shopping, and I found this one when I discovered Black Shag Vintage which is easily one of the best vintage stores in the country." Because it's vintage, you're unlikely to score the exact one Kacey wore, but there are tons of similar-looking coats available on sites like Etsy and eBay.
For a shaggy-style faux fur coat, Gonzalez loves this extra plush option from Target, which also comes in light blue, pink, and beige. Like the BlankNYC coat, it has an open front — so it's perhaps not the warmest option — but for $40, it sure looks nice.
"When UGG launched ready-to-wear, I knew I would be hooked," says Asia Milia Ware, editorial assistant at Teen Vogue, who owns several coats from the brand beloved for their boots. "Their faux-fur jackets feel like literal clouds and the styles are cute enough to rock with either athleisure or a full leather look for a night out (whenever we can do that again)," she says. Much like their boots and slippers — which we've covered many times before — their outerwear will keep you warm and cozy, even as temperatures drop. This hoodie, which Ware owns and loves, has fleece "handwarmer pockets" and comes in four solid colors, plus a leopard print.
Best under $400 faux fur coats
Our experts love Apparis for faux-fur coats — a whopping seven out of ten experts suggest the eco-conscious brand. "In my opinion, the faux-fur pieces by Apparis are the best that money can buy," says Bella Gerard, fashion and lifestyle editor at Stylecaster. While many faux-fur coats have a coarse texture due to the synthetic material, she describes these as "so soft." She appreciates that they "come in a myriad of colors from classic neutrals to stand out shades," like this bubblegum pink shade that also happens to be a favorite of McCall's. "One of the joys of faux fur is that it's even better if it doesn't look remotely real, in my humble opinion," says McCall. She also cites Apparis's wide range of colors as why they're worth the buy. "It gives any basic outfit a healthy dose of whimsy," she adds.
Ware also thinks "Apparis always delivers" with their faux-fur styles. "I absolutely live for a dramatic faux-fur moment," she says, which is why she's partial to this oversize robe-style coat. It can "make any outfit go from boring to chic and exciting," Ware adds. It comes in three colors — gray, white, and black — "all basic enough to go with almost anything in your closet while still adding the edge."
If you'd rather do faux shearling than faux fur, Ellie Delphine, founder of Slip Into Style, suggests this double-breasted coat from — once again — Apparis that comes in eight different shades. She lives in Paris, where it can be quite chilly, but this keeps her "very warm on cold Parisian days." And as she says, the price point for an actually realistic-looking coat is actually "reasonable."
We've mentioned some leopard options, but how about an on-trend cow print? Gonzalez loves a faux-fur coat that's "extravagant and fun," and this cow print one she owns certainly fits the bill. Like the UGG coat, this, too, has a hood. It's cropped, but because of how oversized it is, Gonzalez promises it'll keep you warm this winter.
Best splurge-worthy faux-fur coats
"I'm such a fan of this luxe and long navy moment," says Kristin Sudeikis, founder of dance-based workout class FORWARD__Space, who loves that "Apparis's mission is to create classic pieces with a bold twist." Because she's five-foot-seven, she looks for "longer coats to attempt to stay as warm and cozy as possible," and this one seems to be the perfect length of her. "I wear this after a dance sweat session, and/or out. And by 'out' these days, I mean out to grab groceries and then, back home to listen to D-Nice on IG Live and cook something," she says. Brooke Wise, founder of Aloha From Hell Film Festival, also likes the length of this coat, calling it "luxurious" yet "comfy." She prefers the teddy bear brown, but appreciates that it "comes in bright colors," too, if that's more your vibe.