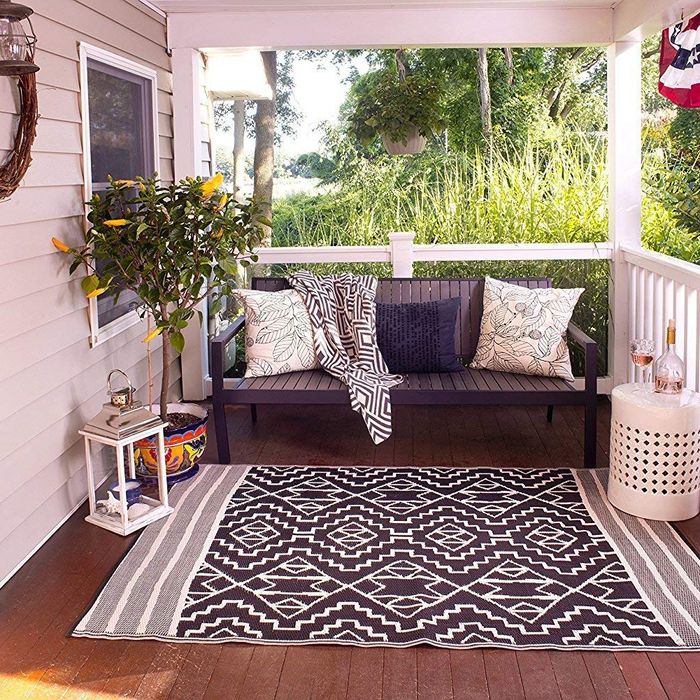 Here at the Strategist, we like to think of ourselves as crazy (in the good way) about the stuff we buy, but as much as we'd like to, we can't try everything. Which is why we have People's Choice, in which we find the best-reviewed products and single out the most convincing ones. (You can learn more about our rating system and how we pick each item here.)
And while we've written about lots of ways to decorate and enjoy your outdoor space — including the best patio decorating accents, the best outdoor furniture for small spaces, and even the best outdoor games — here we've rounded up the best indoor-outdoor rugs, as praised by the most enthusiastic reviewers on Amazon.
Best-rated indoor-outdoor rug
This rug comes in several sizes, including a runner, a large area rug, and a small area rug, but what really has reviewers raving is the colorful, floral design. Dozens describe the color as "vibrant," and, as one reviewer explains, "The flowers being a higher pile than the background really gives this rug a more expensive high-end look." Another reviewer writes, "It's soft beneath your feet, yet it dries quickly when it rains," calling this rug "so reasonably priced for the quality" with a design that "allows the space to take on its own vibe." It's become a mainstay on reviewers' porches, patios, and pool decks, and one adds that it holds up even "getting rained on often. It remains beautiful." They continue, "I will be rolling it up before winter to use next spring and summer … All the patio rugs I have purchased in the [past] were tossed away at the end of summer. This one, I will be keeping. Oh, it is beautiful, The colors are vibrant. Very nice outdoor rug. I am pleased."
Best-rated (less expensive) indoor-outdoor rug
While this rug comes in thirteen colors and six sizes, the gray and white three-foot by five-foot rug is particularly well reviewed — and a relative bargain. Several five-star reviewers note that the price was reasonable, and one in particular was "pleasantly surprised" by the value, noting, "I love how easy it is to sweep off. (My precious outdoor rug was miserable to sweep and I had to drag the vacuum outdoors to clean it.) It appears to be impervious to water, and it rolled out flat almost immediately. What a great product for a great price." The pattern was a hit among reviewers as well. As one reviewer — who "purchased the rug because our pool deck gets HOT!" — described it, "This was the perfect solution and I loved the pattern compared to some outdoor rugs I've seen."
And now for some micro-picks of every type of indoor-outdoor rug you might be looking for.
Best lightweight indoor-outdoor rug
"An affordable and vibrant rug for use on a balcony patio," writes one reviewer of this DII rug, adding, "It's very lightweight and woven of a plastic material that should be easy to clean." Many reviewers appreciated that this rug was reversible, with the same pattern on both sides, because, as one explains, that "makes it last longer since you can flip it over after a few years." One reviewer warns that this rug is so lightweight, "it needs some weight on it if you have wind issues." But they explain, "This is exactly what I needed to brighten up my balcony." Another satisfied reviewer calls this, "a great outdoor rug for light traffic … Blacks are nice and bold (not washed-out black) and whites are nice and bright. I've had it for a couple of months, with the sun hitting it directly in the afternoon, no fading as of yet."
Best indoor-outdoor rug for rain
While the idea behind all outdoor rugs is that they can withstand the elements, this rug seems to be particularly sturdy. "We have had a very, very wet summer/spring and this has been a lifesaver," writes one reviwer, continuing, "The deck/porch remains fantastic looking even in the storm. No one believes me when I brag that it's made out of plastic. Water rolls off it and never puddles." Another reviewer, echoing the sentiments of many, noted that, "It's been raining a lot lately and so far (as advertised) it dries quickly, doesn't leave water sitting underneath on my wood deck, and [is] easy to clean." And as a bonus, several eco-conscious reviewers noted that it's made of recycled plastic.
Best portable indoor-outdoor rug
Many reviewers note that this indoor-outdoor rug comes with its own bag, which actually makes it an excellent beach mat. As one reviewer raves, "The best is it comes with a bag to take with you to concerts, camping, or anything outdoors." However, that portability is useful at home, as well. As one reviewer explains, "I was looking for a lightweight rug for us to step out onto when swimming … When I'm not using it I can simply roll it up and carry it away for storage. No waiting days for it to dry or having to have help lifting it."
Softest indoor-outdoor rug
"Soft" is a word used by several reviewers to describe this indoor-outdoor rug. "It looks expensive and is soft to walk on barefooted," one reviewer writes, while another attests, "The fabric is so soft! The color is bright and the pattern is cute. It was so worth the gamble." And many others express shock with how closely the rug that arrived at their front door matched the image on Amazon. One satisfied customer calls it "a great rug for a great price. I bought the tribal pattern in teal, and it's exactly as pictured. It's a very pretty color and seems well made. All of the edges are bound nicely." Another found that it was a great all-around purchase, calling it, "Very comfortable, holds up well in the rainy, warm climate, is easy to clean (can sweep or vacuum), and is not too light and not too heavy."
Best indoor-outdoor rug for pets
Pet owners loved this rug, with one reviewer noting that it works well "to cover my rugs to prevent pet messes from ruining my regular rugs. They are good to prevent your