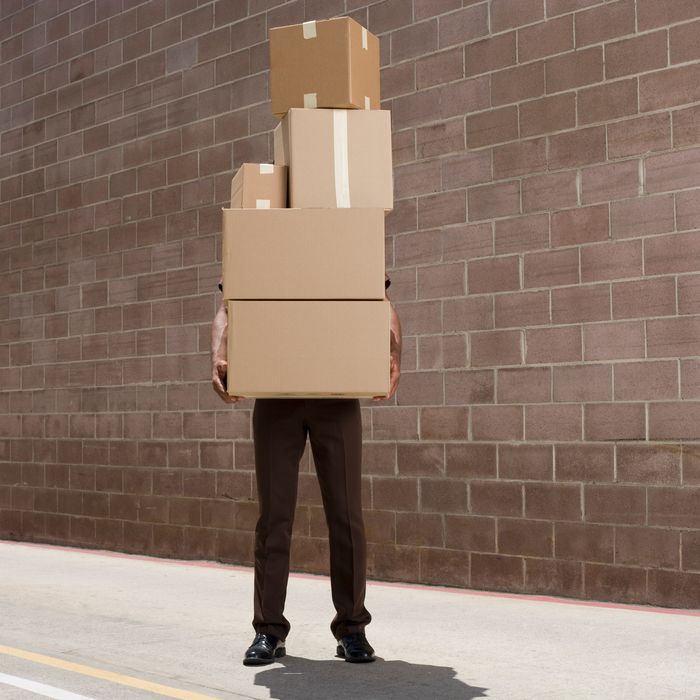 Photo: Getty/Getty Images
After a year when most of us spent more time at home than ever before, you probably have a pretty clear idea of which of your possessions spark joy and which do anything but. While donating any unloved clothes or accessories can be a generous (and faster) way to free up space, it's understandable if you're looking for some return on investment from pricier purchases that you're ready to get rid of. It's also understandable if, amid a still-roiling pandemic, you might be looking for ways to streamline the process of reselling those things to keep trips to a post office or other shipping center as minimal as possible. Having the right supplies on hand can of course minimize those trips, but are there really any differences between cardboard boxes and Bubble Wrap?
According to the eight sellers we spoke to, the answer, not surprisingly, is absolutely. These folks have sold enough stuff on marketplaces like Depop, Etsy, eBay, and Grailed to know that some shipping supplies will simply get things to their destination, while others will do so even more safely, securely, and in the case of some matte black envelopes we heard about, even stylishly. Below, our experts talk through all the stuff they use to ship their own merchandise; to help you find what you're looking for, we broke down their suggestions into product categories and lead each category with any stuff that received multiple nods. While we specifically asked the pros about the supplies they use to ship clothes or other small goods they sell, we should note that anything on this list would work just as well to ship similarly sized gifts or other new things you might buy and mail out, too.
When it comes to the best envelopes, three experts — Zach Higgins (who sells on multiple platforms, including Grailed), Depop seller Paris Jennings, and Sam Barback (who has been selling on Grailed since 2015 and now works as its head of moderation) — say they like to use padded envelopes whenever they can because they're light but also have a layer of protection in their bubble-wrap lining. Stuff Higgins has sent in padded envelopes includes "enamel pins, small accessories, and stickers," while Barback uses them for shipping jewelry. These specific (and dare we say cool-looking) matte black padded envelopes come recommended by Higgins, who says that he buys them in bulk: "They're a great way to keep your supply costs down if you're shipping a lot of items in this size."
If you're not shipping anything breakable, these (non-padded) matte-black envelopes are what Barback uses for less delicate items. While they lack extra padding, he says the strong plastic material is plenty durable, telling us he ships "1,000 things a year in these, and maybe has one complaint."
Perhaps you're thinking that if you're going to buy new shipping supplies, you should at least look for ones that are more environmentally friendly. If that's the case, we heard about a couple of styles of (non-padded) envelopes made of recycled materials from two different experts. Kathryn Cohen, the seller behind Depop store Studio of One, uses the Sensible Mailers from Shipping Depot, which are made of 100 percent recycled plastic. She admits they're "a little more expensive than non-recycled envelopes," but says she's "found that Shipping Depot has the best deals on them." Marley Ashem-Hibbert and Gillian Jones, who together run Depop store Free Us All (and count as one expert given their co-endorsement), also use recycled envelopes, telling us their favorites come from EcoEnclose. The two say they did a "lot of research before making our final decision" on the EcoEnclose mailers and that they like them in part because the envelopes have two adhesive strips that make them reusable for customers who might need to return something (or want to reuse the envelope for anything else). "They look and feel just like a regular poly mailer," Ashem-Hibbert and Jones say, "but have less of a carbon footprint."
For packing shoes, Higgins uses this exact size of cardboard box from Uline, which he calls "suitable for a wide variety of pairs" and says can fit any accompanying shoe boxes you may also include. (As a point of clarification, Higgins adds that his recommendation is based on the fact that he "tends to sell shoes that are U.S. men's sizes 7 to 12.") He says no one has complained about the state of any shipment he's sent using the boxes, which come in a range of sizes (both smaller and larger) that should accommodate just about anything you may ship. That said, if you know you're going to ship via the USPS, three folks shared this tip: You can order its boxes (and envelopes) for free because, according to the experts, the USPS knows it will eventually make money on the postage since you technically can't use those to pack shipments sent via other services.
In addition to clothing, Rachel Tabb, a former Instagram seller who recently launched a dedicated website, sells ashtrays, vases, and other small décor items that she needs to protect in Bubble Wrap to ensure nothing is damaged in transit. She keeps both of these styles at hand, telling us that a "kind UPS worker" told her to use the extra-cushioned version for any packages "over a foot tall" and the regular style for anything smaller.
Gavin Montgomery, who sells vintage Japanese clothing through his online store Vanguard, says that using clear bags to protect clothes or any other like-size items is "always best" because it provides an additional layer of protection in case a package gets wet or thrown around in transit. Slipping something into one of these poly bags he uses will help the item from bunching up in transit; as he says, it will "still be fine" when it arrives.
While envelopes are usually self-adhesive, if you're shipping in a box, you'll need tape. And when it comes to tape, all of our experts say clear packing tape is the best. One reason is because it is much stickier than painters or masking or duct tape. But clear packing tape also allows you to secure shipping labels in a way that lets whatever service you use see them and scan any necessary barcodes. Montgomery, Barback, Jennings, and Tabb all use this specific style of clear Scotch packing tape, which Montgomery notes has the added benefit of being water-resistant enough to stop any leaks. Plus, as Barback notes, it comes with a handy dispenser that has a serrated edge for easy cutting. (Tabb notes that such a dispenser is all you need and to avoid splurging on a tape gun: "The tape always twists itself up in the mechanism," she says of tape guns she's used.) Summing up the praise, Jennings says that when she's used other tapes instead of this, she's heard that her shipments have arrived in less-than-perfect condition.
Should you want some extra-secure tape, Montgomery recommends using this reinforced tape from Scotch. It has layers that he says provide an extra sense of security and "ensure a shipment won't break open in transit." Because it isn't clear, though, he notes that this tape isn't the best for affixing labels to a box, which is why Montgomery recommends having a roll of clear packing tape as well.
Yes, many shipping centers can often print labels for you for a nominal fee. But if you don't want to spend extra time standing inside of a store, or if you're shipping a lot of stuff, you might want to invest in your own printing supplies (especially if you plan to ship a lot, as in time doing so will probably cost less than paying to have labels printed for you). Three of our sellers told us about thermal label printers, which can print properly sized adhesive labels that you can easily slap onto the outside of a box or envelope. The pros say thermal label printers also are more sustainable because you don't need to buy extra tape to secure a label, throw away excess paper after cutting one out, or purchase the ink and toner needed to print a label from a proper printer. Not having to purchase ink and toner is what led Barback to invest in this Brother thermal label printer. He describes the convenience this way: "Six months ago, I gave up on my printer and made an investment in this label printer. I create the label on my computer, then print it right from the PDF. Just today UPS came and picked up 40 packages."
This more affordable thermal label printer is what Ashem-Hibbert and Jones use. Echoing the sentiments we heard above, they say it "means we never have to use ink or toner ever again," making it the "most sustainable option we've found." Importantly, they assure it lets them "print labels quickly and easily." It prints at the same resolution as the Brother printer above, but it does not automatically resize a label to fit the printer's paper. The Dymo also moves a little slower: It can print up to 51 standard address labels per minute, while the Brother can print 69, according to each brand.
If you own a traditional printer and are just looking for some recommended labels to use with it, Cohen likes these. Each sheet is adhesive, so you can cut any label to size, peel off the back, and put it on a box or envelope. This design, she says, "saves me so much time when packaging an item I've sold." (If you don't own a traditional printer and want to invest in one to print labels and more, we've got 13 vetted options right here.)
The stuff we've covered thus far is really all you will need when it comes to the basic supplies to ship something from here to there. But if, like our sellers, most of your shipping will be done as part of a resale business, Montgomery and Higgins say you might want to invest in a scale because weighing whatever you're selling in advance can help you set a price that factors in shipping costs so you don't lose money on that. "Platforms try to push you to ship for free," Higgins explains, "but it comes at a cost unless you factor it into the price you charge." He uses this scale, which has a weight capacity of 110 pounds, meaning it can accurately weigh everything from jewelry to heavy boots to even smaller pieces of décor.
For a less expensive option, Montgomery, who primarily ships clothing, uses this affordable scale that can weigh up to 11 pounds, which he says is all he needs. It's also something of a twofer — designed for the kitchen, it'll help you weigh out coffee and recipe ingredients just as easily.
The Strategist is designed to surface the most useful, expert recommendations for things to buy across the vast e-commerce landscape. Some of our latest conquests include the best acne treatments, rolling luggage, pillows for side sleepers, natural anxiety remedies, and bath towels. We update links when possible, but note that deals can expire and all prices are subject to change.