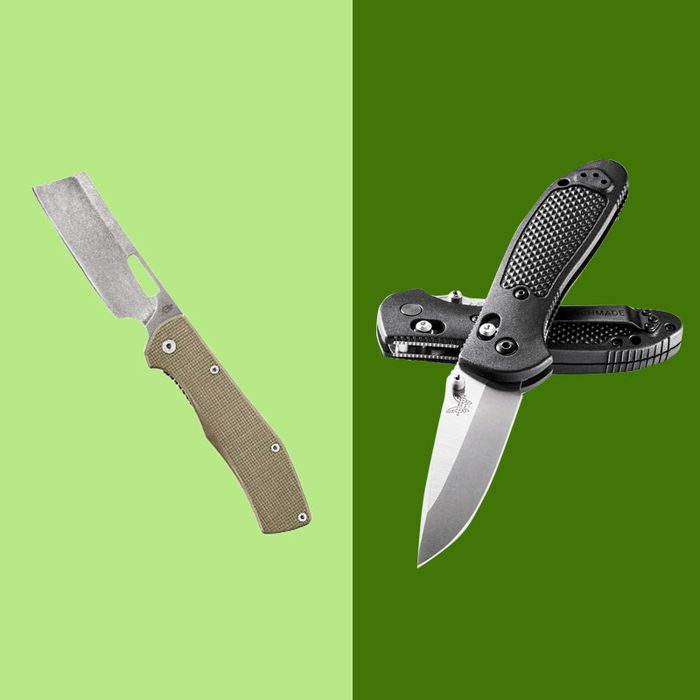 Photo-Illustration: The Strategist; Photos: Retailers
While you can do a lot with a multi-tool, there are good reasons, in both emergency and everyday settings, to have a dedicated pocketknife. "It tends to be a personal preference," says John Ramey of the prepper site The Prepared, but many people find that a knife is easier to use when it's not part of a bulky tool. The Michigan YouTuber known as Prepper Potpourri likes her pocketknife for everyday tasks such as "opening Amazon packages, removing clothing tags, and slicing an apple at work" as well as in a "survival situation where you have to cut cordage, make tinder for a fire, or even use it for self-defense." It's a good addition to your preparedness kit, says Stephanie Fox of the American Red Cross, as long as you follow the safety instructions and keep it away from children. Also, before you carry any kind of blade around, be sure to familiarize yourself with the laws in your area.
There are two basic kinds of pocketknives: folders and fixed blades, with folders being more commonly associated with the classic pocketknife and fixed blades more often used for heavy-duty stuff in the field. Again, it's a matter of personal preference, but "for everyday carry," says Ramey, "a folder is fine." Beyond that, they're generally categorized by blade (length, shape, and material), locking mechanism (if it is what's called a "folder"), and handle. Anything less than 2 ¾ inches is considered a small knife, which, if it's a folder, typically won't have a locking mechanism and can therefore fold in on itself unexpectedly if used for a heavy task. Since unexpectedly is not a word you want to associate with your knife, a better bet is a medium (2 ¾-inch-to-four-inch) blade. (Anything longer than that is probably more knife than you need.)
Blades are typically plain (for cutting), serrated (for sawing), or a combination (for both) and come in a vast array of shapes, with the most popular being "drop point": when the blade's spine slopes down to a point. Stainless-steel blades are easier to sharpen and less likely to rust than carbon-steel blades, which stay sharp longer but rust more easily. Opening mechanisms are either manual, assisted (with a spring), or automatic (like a switchblade, which, again, is probably too much knife for you). Locking mechanisms keep the knife from closing in on itself. There are many types of those, and even more kinds of handles, which are often chosen for aesthetic reasons, but you'll probably want to look for one that is weather resistant, like aluminum or titanium, or comfortable, like rubber. But all this information only — forgive the pun — scratches the surface, so to help you navigate the vast world of pocketknives, we had six experts, including a couple of our own contributors, point us to their favorites.
Best
pocketknives
under
$50
If there's one thing that Strategist contributor Steven John, an experienced camper, hiker, and mountaineer, has learned it's that "you have to have a really good knife." He thinks you should have several, in fact, and that the Coast DX318, which he calls "one damn sharp knife," should be one of them. And that goes for both the straight and serrated parts of the blade, which, he reports, have stayed sharp even after heavy use. This nicely priced folder has dual locking mechanisms, so there's "next to zero risk of its folding shut by accident."
"The No. 1 issue when using a folder," says former U.S. Army Special Forces captain and survival expert Mykel Hawke, "is cuts to oneself," which is why he considers a blade that locks essential. He's a fan of Buck Knives and prefers one that you can fold back with one hand. This one ticks all those boxes and comes with a lifetime warranty.
Prepper and homesteader Morgan Rogue of Rogue Preparedness uses her pocketknife for "such an array of things." She advises you to get any "folding knife that speaks to you" but personally carries this Gerber Flatiron pocketknife. Its unique, clever-shaped locking blade is great for both heavy-duty chopping and slicing and close-up, detailed work, like whittling. The thumbhole in the blade makes it quick and easy to open and close with one hand, and the textured handle makes it comfortable to use.
Another of John's must-have knives, the Gerber Bear Grylls Ultimate knife is no longer available, but the newer version, the Gerber Gear 31-003941 Ultimate knife, has all the same features and costs less than half as much. A fixed-blade knife, the Gerber Gear Ultimate has a 4 ¾-inch partially serrated blade, which technically makes it a long knife, but it does double as a fire starter and has a whistle and an integrated sharpener. Plus its rubber handle is easy on your hands.
Prepper Potpourri, or PP, as she's known, always carries the Leek pocketknife by Kershaw. "I like a thin design that fits easily in my pocket without much of a bulge," she says. This folder has a three-inch blade made of extra-hard stainless steel as well as a frame lock and assisted opening.
Best
pocketknives
over
$50
Another fixed-blade favorite of John's, this knife is what's called "full tang," which means the metal blade goes all the way through the handle, thus making the knife stronger and more balanced. He likes how sharp it gets — and how sharp it stays through all kinds of tasks, like shaving wood or slicing rope — and its squared-off spine works well with a fire starter. "While this knife looks lovely and all," he says, "it's a rugged workhorse of a tool that you can treat as roughly as you want."
Hawke also likes knives from White River, which he calls a "solid brand." Its ATK ("Always There Knife") is small, but since it's a fixed blade, there's no need for a lock, hence no danger of it folding in on itself. It's designed to be carried around your neck or attached to your belt, and it's so light you might forget it's there. Also, its special sheath allows for drawing and resheathing in either direction.
Our contributor Michael Easter loves this knife that a Special Forces operator told him about so much he wrote an ode to it. He carries the Benchmade Mini Griptilian every day and uses it "in tasks both mundane and epic" — everything from slicing apples to "butchering 400-pound caribou on the Arctic tundra," all while being light enough (three ounces) for everyday carry. He also loves the comfortable, super-grippy handle, which comes in bright colors that are easy to see if you drop it in the field. If it ever dulls, he says, just ship it to Benchmade and it'll clean, oil, tune, and resharpen it for free.
The Strategist is designed to surface the most useful, expert recommendations for things to buy across the vast e-commerce landscape. Some of our latest conquests include the best acne treatments, rolling luggage, pillows for side sleepers, natural anxiety remedies, and bath towels. We update links when possible, but note that deals can expire and all prices are subject to change.