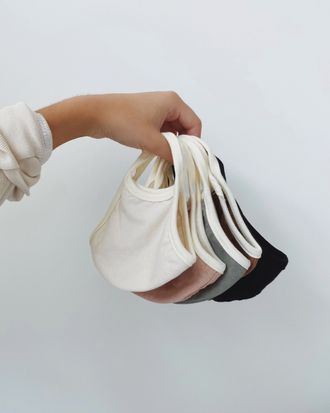 In light of the Omicron variant and at the urging of public-health experts, the CDC has updated its mask guidelines. The agency's new standards stress that fabric masks are the least protective against COVID-19, whereas well-fitting N95, KN95, and KF94 masks — which use special nonwoven materials with an electric charge to block tiny aerosol particles — do a much better job of stopping the virus's spread. Of course, any mask is better than no mask, but since this article was last updated in April 2021, we've talked to doctors, scientists, and public-health experts to help you find the best and most protective of the bunch. So whether you're looking for a comfortable N95 you can wear on a plane, a child-size KF94, KN95 masks your teenager can wear to school, or advice on double masking, we can help.
Over the past year, most of us have stocked up on some combination of reusable and disposable masks, because wearing a face mask is one of the best, most reliable ways to prevent the spread of COVID-19. But even if the public-health impact of this face-mask boom is good, the impact of producing all of these face masks is more complicated. Disposable masks, for instance, are made from plastic that takes hundreds of years to decompose, and, according to a New York Times report last summer, some sold in the United States are made using forced Uighur labor. Fabric face masks, though reusable, also have issues. Most mass-produced fabric face masks can't be removed from the fast-fashion global apparel-production supply chain, which is environmentally detrimental and rife with "chronic" human-rights violations, says Scott Nova, executive director of the Worker Rights Consortium.
But we're going to continue buying and wearing masks — including disposable ones, which aid in double-masking — for the foreseeable future, and there are options for sustainably minded consumers. Just like assessing the sustainability of clothing brands (many of which now make masks), consumers can use their purchasing power to shop at mask brands that meet their criteria for sustainability — whether that's environmental impact, fair-labor practices, or local production from independent makers. Kamea Chayne, writer and host of the Green Dreamer podcast, says finding a brand that meets all of these standards is "impossible" for most companies right now, but it serves as her "North Stars for sustainability, and the more boxes the brand checks off, the better!"
We asked five experts, including Nova and Chayne, about the best sustainable-mask brands. We also investigated the sustainable practices of a few disposable-mask brands based on our experts' criteria. Since we're talking about different kinds of masks, and different criteria of sustainability, we have divided this list by mask types and areas of impact — focusing on fair labor, environmentally responsible production, and waste reduction in both disposable and fabric face masks. And it's worth noting that this is far from an exhaustive list. Instead, you might consider it your so-called North Star for what to consider, since there are many other brands following these same sustainability practices.
If reducing waste is your main concern
Kristy Drutman, host of the podcast Brown Girl Green, tipped us off to these recyclable, FDA-registered KN95 masks from Vida — the second-most-popular mask brand on the Strategist in 2020. Each order includes a prepaid return label so you can send your masks back after use, and the brand will properly recycle them, which slows down the hundreds of billions of disposable masks that are now ending up in landfills every month.
If fair labor is your main concern
If you want to reduce the chances that you're buying disposable masks made under abusive conditions, both Nova and Lynne Fox, international president of Workers United, suggest looking for masks made by unionized companies, since unions protect workers' rights, and those companies are more likely to "pay a decent living wage and supply benefits," says Fox. We did find several unionized companies that are producing fabric face masks (more on that below), but we couldn't find any unionized companies producing disposable face masks.
So Nova recommended looking for disposable face masks made in the United States, because he has slightly "less concern" about fair-labor practices in U.S. factories, which are subject to more labor-oversight laws than those abroad in general (barring small contract factories in the Los Angeles area, where "wage violations and other forms of mistreatment are common," he says). We found several companies on the forefront of the burgeoning American-made disposable-mask-manufacturing business on the basis of their sourcing and workplace practices. It's a better option, but it's not fail-safe: As Nova notes, since none of these factories are currently unionized, "it is not possible to reach any firm conclusions as to labor-right compliance without on-site inspection and substantial worker interviews."
Luosh USA — a family-owned and -operated disposable-face-mask business based in Marietta, Georgia — is the only U.S.-based disposable-mask company that had an employee we were able to speak with. Calvin Felder, the brand's lead technician, told us he normally works about 50 hours a week and vouches that the factory is "well ventilated" and safe. "They treat me just like I'm one of them," he says of the family-operated business ethos. Jeremy Briggs, the company's president and founder, adds that most of the current team — which began as a group of family members and has now grown to a dozen or so people — is paid on an hourly rate, and a couple of folks in management positions are salaried employees, including Felder. The brand sources all of its mask materials from companies based in Pennsylvania and Ohio.
Another company that we looked into is Armbrust American, a mask manufacturer based near Austin, Texas. Part of what makes it stand out is that it sources four of its five surgical-mask materials from other American manufacturers. "A lot of the manufacturers here in the United States — like 3M, for example, in their South Dakota facility — assemble masks here but source materials from China, so you could have those same labor issues," says founder and CEO Lloyd Armbrust. The one foreign import is the mask's plastic-coated metal nosepiece, and that comes from a factory in Mexico that's run by the family member of someone on the team. The Armbrust American factory operates in two ten-hour shifts with cleaning in between. Most of the couple-dozen workers are paid hourly, including overtime. Though we weren't able to talk with a factory worker, Armbrust detailed the company's safety measures (including no-touch thermometers and O2 sensors upon entry), social-distancing practices, and companywide health-care benefits.
If environmentally responsible production is your main concern
While Turmerry produces its masks at outsourced factories where it doesn't have oversight on the labor policies (with materials made in China), it is the only U.S.-based disposable-mask brand we found that focuses on environmentally responsible packaging and production. All of its masks are shipped in Sustainable Forestry Initiative–certified cardboard boxes, which are sourced from sustainably managed forests that limit their clear-cutting and use of pesticides. Turmerry also operates out of a warehouse in North Carolina that doesn't have central air-conditioning, because "it has such a big impact on the environment to have a large warehouse constantly running on central air," says Maddie Rogers, the brand's PR manager. Turmerry's other bedding products include GOTS- (Global Organic Textile Standard) and Oeko-Tex-certified items as well as an organic-cotton face mask that is made from locally produced organic cotton. The brand also partners with American Forests to plant trees with every one of the brand's sales, including its disposable face masks. In its 18 months of operation, the company has helped plant over 16,000 trees.
If fair labor is your main concern
Unlike the disposable-mask manufacturers mentioned above, there are several fabric-face-mask companies that have unionized workplaces. One example is Martin Greenfield Clothiers, the oldest union menswear shop in New York, which has made suits for politicians and costume designers alike and is now making masks amid the pandemic. The shop is currently selling six-packs of multilayered, thick cotton masks that include filtration and a bendable nose wire. The price of $108 ensures that you get six masks, and six are donated to essential workers. That comes out to $18 per mask, which is admittedly on the higher side, but as Fox points out, "If the price is too good to be true, then it's probably too good to be true. A rock-bottom price indicates how the worker might be paid — or not paid." Another unionized company that Nova stands by is Alta Gracia, a factory in the Dominican Republic that is committed to paying workers a living wage and currently sells face masks in custom orders of at least 1,000.
Second best to a unionized workplace or shopping locally from independent individuals, Nova suggests looking for face masks produced by publicly traded apparel brands, which have a "greater degree of accountability" than an unheard-of company. One example of a responsible, publicly traded brand is Hanes, which the Worker Rights Consortium investigated in 2016. Nova says he sees "some positive indications" of workplace conditions at the company, though he notes "we haven't done on-site inspections of all the Hanes factories that are making masks." Hanes is also listed on the Fair Labor Association's list of participating companies, meaning it meets the association's standards for working conditions and workers' rights, which include safe and respectful working conditions that pay minimum wages and don't employ forced or child labor. When we asked doctors and nurses about their favorite masks, one even recommended Hanes' for exercise since "they're made from breathable, tightly woven cotton that wicks moisture from your face to the outer layer of the mask."
Outdoor skate and lifestyle brand Volcom is also an accredited FLA member, like Hanes. We haven't tested this mask, but we like the two-toned aqua design and the practical, adjustable nose bridge.
One element of fair labor is a living wage, and some companies disclose the amount they pay their workers, including Nisolo, which digital creator and social-media marketer Gi Shieh recommends. She points out that the brand is transparent about its pay and that it ensured, with the help of a third-party audit, that the lowest-paid workers in each of its factories are still receiving a living wage. Plus, the company has partnered with Ecosphere+ to help offset its carbon footprint, and protect against the deforestation of the Amazon Basin, by taking sustainable steps like using upcycled materials — including the ones used to make this cotton-and-linen mask.
If environmentally responsible production is your main concern
In order to find fabric face masks that meet environmental standards, the experts we spoke with turn to their favorite sustainable-clothing brands, which, for Chayne and Drutman, includes Mate the Label. The brand makes all of its products, including these masks, with 100 percent organic, GOTS-certified cotton, and the products are locally manufactured, "so you know no fast fashion was involved," says Drutman. Both experts point out that the masks are lightweight and come in five neutral colors, "so I can have them match various outfits and also have enough to ensure time to rotate through washing and drying them in the sun," says Chayne.
Shieh also recommends Etiko's masks, since the brand makes them from fair-trade and GOTS-certified organic cotton, the use of which "limits the number of chemicals and pollutants used in production."
If reducing waste is your main concern
Making masks from fabric scraps, sometimes referred to as deadstock fabric, is a significant way to reduce waste associated with the garment-production process. One such mask brand that Chayne recommends is Repurposed by Karen: Each handmade mask is made from fabric scraps and has a nose wire.
Shieh's favorite sustainable brand that has pivoted to mask-making is Christy Dawn, a company that has translated the fair-labor and ethical-production standards it uses for its upcycled floral dresses to its equally breezy masks. Shieh especially appreciates that the printed face masks are made from deadstock fabrics, meaning they're more sustainable and each design is limited, which feels more one of a kind to her. Christy Dawn's masks come in sizes for both adults and kids, and we have recommended them as a great lightweight mask for double-masking in warmer climates.
Collina Strada's much more expensive, high-fashion face masks are also made with leftover fabric, which is why the design of each one is one of a kind. Plus, for each mask purchased, the brand donates three others to Seeding Sovereignty, an Indigenous-led collective.
The Strategist is designed to surface the most useful, expert recommendations for things to buy across the vast e-commerce landscape. Some of our latest conquests include the best acne treatments, rolling luggage, pillows for side sleepers, natural anxiety remedies, and bath towels. We update links when possible, but note that deals can expire and all prices are subject to change.