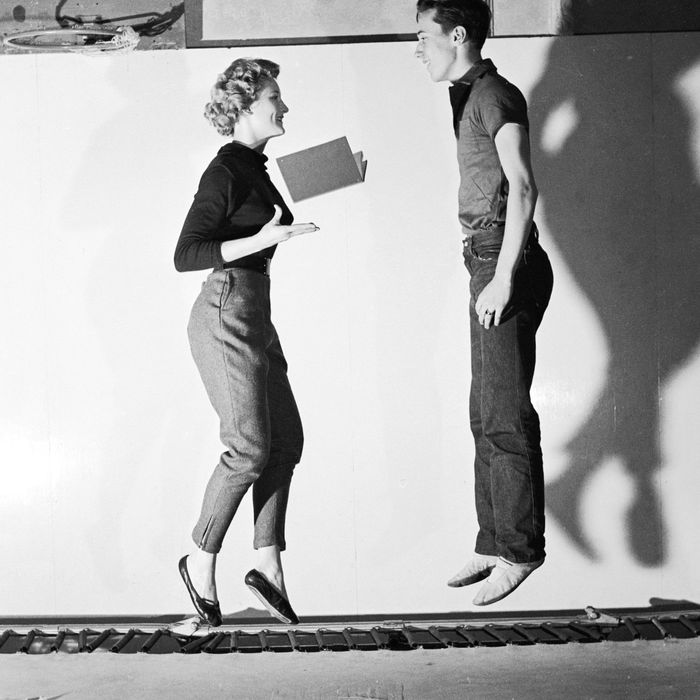 Photo: Nocella/Getty Images
Here at the Strategist, we like to think of ourselves as crazy (in the good way) about the stuff we buy, but as much as we'd like to, we can't try everything. Which is why we have People's Choice, in which we find the best-reviewed products and single out the most convincing ones. (You can learn more about our rating system and how we pick each item here.)
And while we've written about lots of toys for kids before — including the best water tables for kids, the best creative toys for kids, and the best toy kitchen sets — here, we've rounded up the best trampolines, as praised by the most enthusiastic reviewers on Amazon.
Best-rated trampoline
"I am not kidding. This is the single best investment I've ever made as a parent," writes one very serious customer. They continue, "My kids, and half the neighborhood, have been jumping on this thing almost every day rain or shine for two months. There is no single better investment than a trampoline to get your kids to exercise, and to bring peace and quiet to the house." Another owner says that this trampoline gives her kids "hours of outdoor activity," adding that even "the whole family enjoys it." One dad says he bought this because the "kids were bored with the old swing set," and they love it: "Yee-haw. I can't keep them off this thing. For that matter, I can't stay off it myself." A few complain that it's difficult to assemble, but one dad had no problem and even enjoyed himself during the process, explaining, "It makes me feel sexy it went so smoothly. I assembled that bad boy in no time flat. It made me feel like a better dad and even a better man. As a single dad, I am pretty sure the divorced moms in the neighborhood saw me assembly it like a pro and probably thought, 'What a dad. What a man.'" And as this reviewer puts it, "If you are looking to buy a trampoline, this is the one to buy."
Best-rated (less expensive) trampoline
Many reviewers purchased this brightly-colored mini trampoline for their preschool-age children. "Worthy every penny," notes one content mom. "My little one is 18 months so she's a little small to really get bouncing on it yet, but she loves 'jumping' on it and it tires her out, so I'm happy." More parents love that it helps their kids "burn off energy" as this reviewer puts it. One even calls it, "the best thing I could have ordered for my three year old," adding, "Keeps her busy all day and she loves, loves, loves it." Many appreciate how stable it is, especially with the handle, like one grandmother who describes it as, "very sturdy and safe from turning over," and this mom who says, "My kids love it, as do all their little friends. The safety bar is perfect for when they are learning to jump." As this parent concludes, "This trampoline paid for itself in no time."
And now for some micro-picks for every type of trampoline you might be looking for.
Best medium-sized trampoline
"Just right," comments one parent on the size of this 10-foot trampoline. "The boys have plenty of space to bounce but it doesn't consume my whole yard." But the relatively small footprint doesn't mean it can't satisfy larger families. As one parent writes,"The size of the 10 foot trampoline is doable for our family of five. Quite often we have 'family jump time' in the trampoline and all five of us (our kids are seven, five and two years old) are in there at the same time having fun." Another owner says that playing on this trampoline has become her kids "go-to activity," adding, "In these five months, not one day has gone by where the kids have not been jumping in this thing." Many even think the assembly was easy, like one who concludes, "For the money, you absolutely cannot beat this trampoline. My husband assembled it by himself in about two to three hours, and since I heard very little swearing I assume it was fairly easy to put together."
Best trampoline with safety net
Although several parents admit this is one of the pricier trampolines on Amazon, many appreciate the extra safety precautions available on the SkyBound. "Very good construction," evaluates one mom. "The safety net is designed to be laced on instead of clipped which makes it safer for children. Two thumbs up. Kids love it." One parent "knew that if we were going to get a trampoline, we needed to make sure it was a good one," and calls this one, "very sturdy. And I'm glad we have the net. I've watched my kids go flying and face plant into the net and stand up and continue jumping. The net certainly holds them in and keeps them safe." Another calls it, "one of the best 'sports equipment' purchases we have ever bought," adding, "If you are on the fence about ordering I would say go for it. With proper care and supervision this thing provides hours of entertainment, fresh air and exercise."
Best easy-to-assemble trampoline
Dozens of reviewers call this enclosed trampoline from Upper Bounce "easy" to set up. "Easy as hell to assemble," celebrates one such owner, who even says, "You really don't need two adults. Took me about two and a half to three hours to assemble." Another reviewer calls this the "best thing we ever purchased for our kids," continuing, "My children spend much more time outdoors than playing on their phones or with video games. The netting that comes with it is a life saver, no one falls out." One thinks it's perfect size for the whole family, too: "Our family is big on spending time together on the trampoline and it has been holding up great. Two adults and two kids and it's super bouncy and easy to assemble compared to our last trampoline." A fourth reviewer admits that his six kids "just get rowdy," but this trampoline is "tough," concluding, "Awesome trampoline for our six children who use it every day. It's awesome that my kids can have so much fun on the same 'toy' as often as they do."
Best trampoline for young kids
"Deserves more than five stars," admits this thankful parent, who says that this folding trampoline, "Has lasted through two jumping toddlers and provides a perfect release for pent up energy." Another calls this a "godsend" for her "little guy," explaining, "He has gotten a lot of use out of it and it was well worth the money we paid for it." A few mention this might not be sturdy enough for rather rambunctious jumpers, but as this reviewer advises, "Physics being what it is, my athletic 32-month-old grandson immediately starting tipping the rear when he leaned into the bar. Roping 50 pounds of barbell weights solved that." One parent appreciates her kids "are never in danger of flying off of the toy accidentally." And this mom's daughter loves it so much that she "won't stop jumping. I have to tell her to take drink breaks."
Best trampoline with a basketball hoop