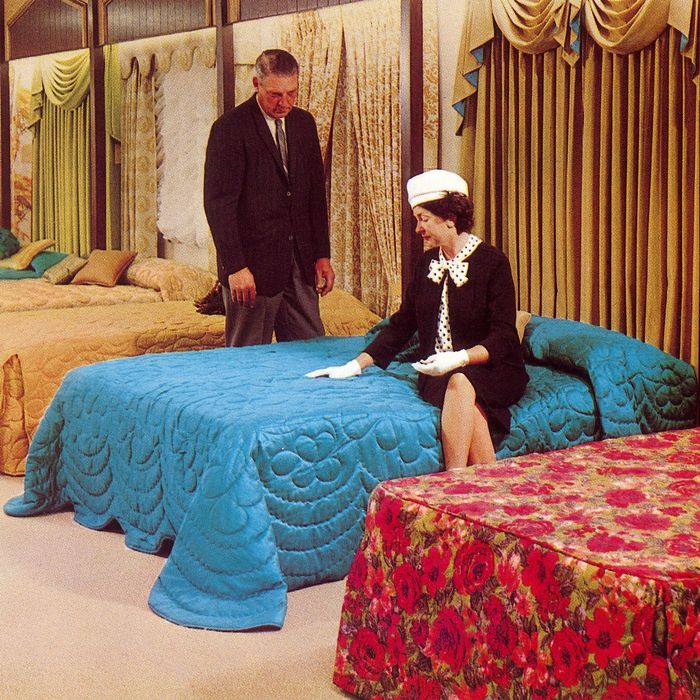 Photo: Found Image Holdings Inc/Corbis via Getty Images
Cyber Monday isn't just for buying TVs or shoes. No matter your personal budget, it's a great time to pull the trigger on that mid-century bed frame you've been eyeing, the perfect dining-room table, or even a new linen duvet cover. We'll be culling all the best deals on furniture and bedding to make it nice and easy for you all the way through this crazy sale season. You can also follow us on Twitter for more timely sales coverage. The holidays are almost underway — we're here to help.
Floyd
Through today, the Detroit-based furniture company is offering up to $250 off on its goods with code CYBR19. This stain-resistant, "take-apart-able" flat-pack sofa was one of our favorite sofas-in-a-box we tested.
This super-simple platform bed is $100 off.
And this minimalist oval coffee table is also $50 off.
Burrow
Burrow, another furniture upstart we've written about before, is offering 15 percent off on items up to $1,499 all week with code CYBER — including the Nomad sofa, which we called the "designiest" of the new crop. The code also gets you $250 off orders over $1,500, $300 off $1,800, $400 off $2,000, $500 off $2,500, $600 off $3,000, $800 off $4,000, and $1,000 off orders over $5,000.
With the discount, this handsome leather couch is just under $1,700. That seems like a pretty good deal for something that reminds us of a pricey vintage Borge Mogensen sofa.
In addition to its furniture, Burrow now offers rugs, like this earthy wool-and-viscose one inspired by mid-century-modern design and the Bauhaus school.
Macy's
This sectional, which one Strat editor and no fewer than three of her friends own, is nearly half off as part of Macy's Cyber Monday sale. It comes in a bunch of colors and configurations (smaller or larger) and is truly the perfect sofa for vegging out on — even if it isn't the most stylish one out there. It's a solid, comfy sectional that will withstand years of abuse.
An incredible price on a basic arm-rolled sofa.
A tufted-and-upholstered queen bed with excellent reviews for under $300? Virtually unheard of.
If you've always liked the classic Eames lounge chair but couldn't fathom paying thousands of dollars for it, then you might want to consider this swivel chair and ottoman set that's definitely reminiscent of the Eames. For just under $1,000, we'd say it's a pretty good deal.
Hay
Danish design house Hay is offering 20 percent off everything, including this "2.5" seater that looks extra cushy.
Wonderfully curved and in a soothing gray. (It's available in a bunch of other nice colorways, too.)
With legs that are curved just so, this minimalist coffee table would look great in just about any décor scheme.
We adore this faceted shade designed by artist Ana Kraš. It's hand-wrapped in colored yarn.
Sur La Table