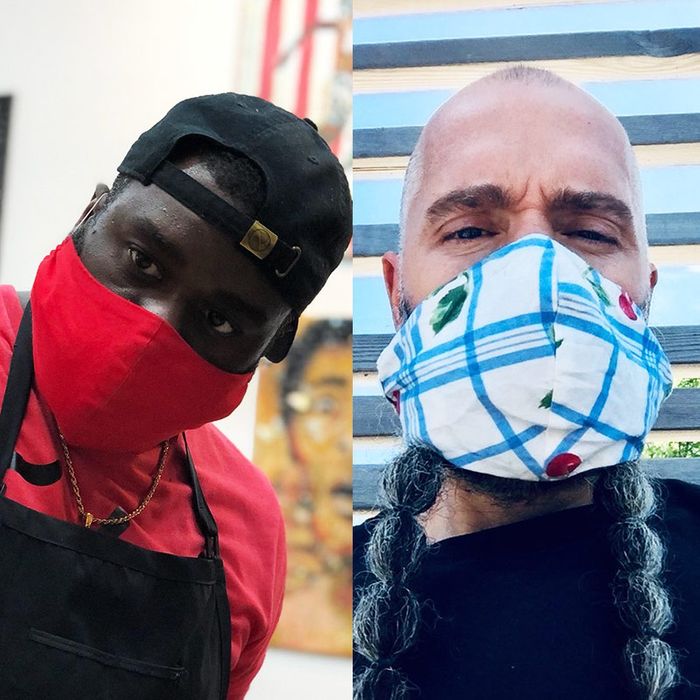 Photo-Illustration: Courtesy of Marcus Harvey, MJ Johnson, and Brian Delaurenti
More than 30 states now mandate wearing face masks in public. But what if one's face happens to be sprouting a beard the size of a Persian cat?
Depending on the shape and girthiness of your facial hair, finding an appropriate face covering can be tricky. The mask that works for a guy with a Wyatt Earp mustache won't necessarily work for the guitarist in ZZ Top. The list of potential complications is a long one: Some masks are too loose, others too scrunched or smothering. Masks ride up, masks fall down, masks pull on your ears and give you a headache. And the most common gripe we hear from our bearded pals: Masks cause divots (the beard equivalent of hat hair).
"Let's be honest — wearing a mask of any kind doesn't make your beard look better," says Greg Schoenwolf, the heavily bewhiskered president of Salt Lake City's Salty Saints Social Club and Facial Hair Society. "A mask smashes and dents your beard, and trains mustache hairs to go up your nose and tickle your cheeks. It also leaves your beard wet from breath and sweat." That said, Schoenwolf would never leave home without one. His wife has been sewing him custom masks; for everyone else, we asked 15 hirsute gentlemen, including many who've won national and international competitions for their prizewinning facial hair, which masks are the most comfortable, protective, and best suit their personal style.
One last thing to keep in mind if you're bearded: The CDC has cautioned that some facial hair can render masks useless, and when we spoke to Dr. Sten Vermund, infectious-disease epidemiologist and dean of the Yale School of Public Health, he told us he trimmed his own facial hair down "so that the mask could completely cover my beard." The key, he added, is to make sure there are no gaps and that the mask is hugging your skin, not your facial hair. But, as many experts have said, any mask is better than no mask.
The best pleated face masks for voluminous beards
Bryan Nelson, president of the World Beard and Moustache Association as well as the Austin Facial Hair Club, has also experimented with several styles. Some masks had a pouch he could tuck his beard into; others had a split seam down the middle with a shapable nose bridge. The one that worked best, however, was a pleated variety from Tultex. "It looks like a cloth surgeon's mask and ties around the back in two places: behind the ears and at the top of the neck," says Nelson. "It's washable and reusable and, at under $2 each, quite affordable." To wear it, he ties the top straps behind his head first, then ties the bottom straps to ensure the mask is snug under his chin, with his beard "being smashed as tightly as possible." Though the pleated style feels more secure, Nelson also likes Tultex's ear-loop mask because it's easy to slip on and off.
Chris Donnelly, co-owner of SouthSide Vintage & Quality Goods in Minneapolis, also prefers a pleated style over flat or more fitted masks. "The pleats allow flexibility in how the fabric is arranged on the face," he says. "The bigger size is key for comfort, and the double layers of thin, finely woven cotton are cool and comfortable. It's still sweaty on a hot day but bearable." If the weave of the material is tight and the fabric is washable, Donnelly is okay forgoing the filter, and he tends to lean toward bright colors and vintage/retro patterns — as exhibited by masks from Minnesota brands Miah Gabrielle and Mille.
The best fitted face masks for voluminous beards
Taylor Welden, an industrial designer from Austin and vice president of Beard Team USA, has found two mask-makers he "absolutely loves." One is Trakke, which sews its double-layer waxed cotton masks by hand in Scotland; the other is DEFY, a small accessories company in Chicago that offers a range of sizing. This is an important detail because, as Welden notes, it "provides extra volume for a large mustache or beard." The outside of DEFY's mask is made of denim but it's lined with supersoft Micro French Twill, making it cozier against the face. As VP of the Austin Facial Hair Club, Welden also plugs his official club mask — a three-ply, polyester rainbow-skeleton number made for folks with or without facial hair.
The best bandana-mask hybrid for ultralong beards
With a beard past his belly button, Jacksonville, Florida, teacher Devon Holcombe, a.k.a. Moustache Devon, struggled to find a mask that could wrap around his chin without crawling up his face and blocking his eyesight. At first, he was using hair clips to attach a conventional mask to his beard. Then he discovered Unhinged Labs, a Las Vegas–based purveyor of beard-friendly masks. These gently curved face coverings with clear acrylic side pieces and nylon paracord straps proved "more breathable than a normal mask," while the rear connector made it more adjustable. And so far, says Holcombe, "it hasn't been itchy." Most important, the bandanna-mask hybrid is cut in a shape that allows the beard to fall naturally down his neck.
The best masks for bearded guys with bigger faces
Yia Vang, chef-owner of Union Hmong Kitchen in Minneapolis, also struggled to find a well-fitted mask that didn't suffocate him while he was working the line. His best discovery to date is the XL mask from the Minnesota-based makers at Steller Handcrafted Goods.
"I have a huge face and my beard makes my face even bigger," says Vang. "This mask is longer, wraps around my face, and the elastic band makes for easier wear on the ears," he notes. "The material is breathable and also easy to wash and reuse." Best of all? No "mask beard" when he takes it off at the end of a shift.
The best masks for bearded guys with bigger heads
David Goldfarb, who works in business intelligence for a law firm in Philadelphia, started the pandemic with a poorly fitting mask he found on Etsy. "It made my beard puff out in a weird way at the bottom," he says. "I'm unfussy about both my beard and mask, but the combination of having a big head — I call ahead before going to get a ball cap because they don't always stock my size — and a beard had me struggling to get one that fit." He adds that he's "a big baby" about nonnatural materials touching his skin. "Cotton was a must," he says. Old Navy's masks, sold by the five-pack, hit all the right notes.
The best masks for men who appreciate a good pattern
Brian Delaurenti and Johnathan Dahl, the Portland, Oregon–based Instagram influencers behind the the Gay Beards, also vouch for Old Navy masks, explaining that their "looser fit doesn't leave such a restricting impression on our facial hair." They appreciate the brand's cheerful selection of fabrics, too, which includes florals, paisleys, polka dots, pastels, and leopard print. "Having to wear a mask in public is depressing," say the Gay Beards, whose whole mission is centered around spreading good vibes and positivity. "For this reason, wearing masks with lots of colors and flowers is a great option to lift the spirits of yourself and those around you."
The best masks for self-care enthusiasts
Marcus Harvey, an Atlanta-based celebrity barber and gallery owner, tested five different styles of face masks before he found one that suited him best. "I've tried ones with vents on the side, a velcro strap in the back, ones that go around the ears, and one that went around the ears using two bands." Outside of a custom "BarberStar" mask, his favorite face covering comes from DIOP, a Detroit-based, African diaspora–inspired brand that sews its masks with fabric imported from West Africa. In addition to reducing virus transmission, Harvey likes to think of mask-wearing as a spa treatment for his beard, buttering up his whiskers with Bevel beard oil and beard balm before slipping on a mask. "You get a lot of steam while wearing the mask," says Harvey. "This gives my beard a deep conditioning treatment, with the mask functioning like a satin robe or silk do-rag for the beard."