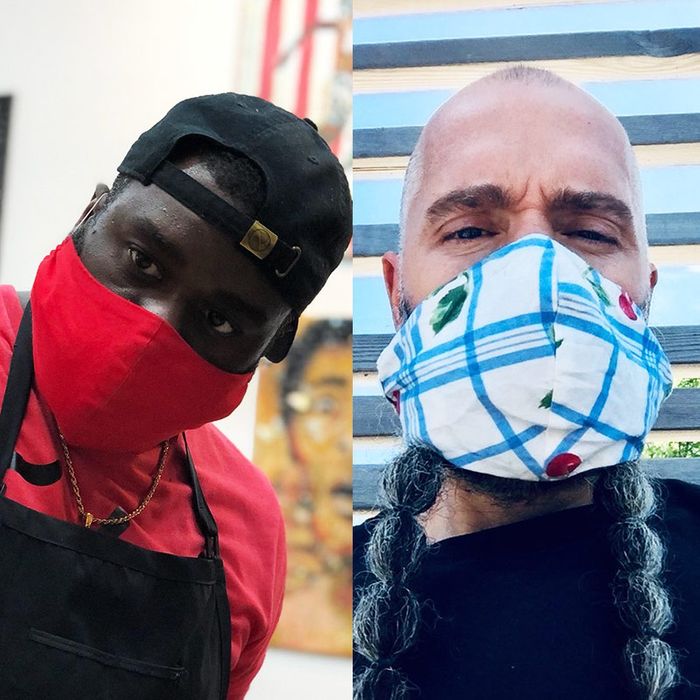 Photo-Illustration: Courtesy of Marcus Harvey, MJ Johnson, and Brian Delaurenti
In light of the Omicron variant and at the urging of public-health experts, the CDC has updated its mask guidelines. The agency's new standards stress that fabric masks are the least protective against COVID-19, whereas well-fitting N95, KN95, and KF94 masks — which use special nonwoven materials with an electric charge to block tiny aerosol particles — do a much better job of stopping the virus's spread. Of course, any mask is better than no mask, but since this article was last updated in January 2021, we've talked to doctors, scientists, and public-health experts to help you find the best and most protective of the bunch. So whether you're looking for a comfortable N95 you can wear on a plane, a child-size KF94, KN95 masks your teenager can wear to school, or advice on double masking, we can help.
More than 30 states now mandate wearing face masks in public. But what if one's face happens to be sprouting a beard the size of a Persian cat?
Depending on the shape and girthiness of your facial hair, finding an appropriate face covering can be tricky. The mask that works for a guy with a Wyatt Earp mustache won't necessarily work for the guitarist in ZZ Top. The list of potential complications is a long one: Some masks are too loose, others too scrunched or smothering. Masks ride up, masks fall down, masks pull on your ears and give you a headache. And the most common gripe we hear from our bearded pals: Masks cause divots (the beard equivalent of hat hair).
"Let's be honest — wearing a mask of any kind doesn't make your beard look better," says Greg Schoenwolf, the heavily bewhiskered president of Salt Lake City's Salty Saints Social Club and Facial Hair Society. "A mask smashes and dents your beard, and trains mustache hairs to go up your nose and tickle your cheeks. It also leaves your beard wet from breath and sweat." That said, Schoenwolf would never leave home without one. His wife has been sewing him custom masks; for everyone else, we asked 15 hirsute gentlemen, including many who've won national and international competitions for their prizewinning facial hair, which masks are the most comfortable, protective, and best suit their personal style.
One last thing to keep in mind if you're bearded: The CDC has cautioned that some facial hair can render masks useless, and when we spoke to Dr. Sten Vermund, infectious-disease epidemiologist and dean of the Yale School of Public Health, he told us he trimmed his own facial hair down "so that the mask could completely cover my beard." The key, he added, is to make sure there are no gaps and that the mask is hugging your skin, not your facial hair. But, as many experts have said, any mask is better than no mask.
The best pleated face masks for voluminous beards
Bryan Nelson, president of the World Beard and Moustache Association as well as the Austin Facial Hair Club, has also experimented with several styles. Some masks had a pouch he could tuck his beard into; others had a split seam down the middle with a shapable nose bridge. The one that worked best, however, was a pleated variety from Tultex. "It looks like a cloth surgeon's mask and ties around the back in two places: behind the ears and at the top of the neck," says Nelson. "It's washable and reusable and, at under $2 each, quite affordable." To wear it, he ties the top straps behind his head first, then ties the bottom straps to ensure the mask is snug under his chin, with his beard "being smashed as tightly as possible." Though the pleated style feels more secure, Nelson also likes Tultex's ear-loop mask because it's easy to slip on and off.
Chris Donnelly, co-owner of SouthSide Vintage & Quality Goods in Minneapolis, also prefers a pleated style over flat or more fitted masks. "The pleats allow flexibility in how the fabric is arranged on the face," he says. "The bigger size is key for comfort, and the double layers of thin, finely woven cotton are cool and comfortable. It's still sweaty on a hot day but bearable." If the weave of the material is tight and the fabric is washable, Donnelly is okay forgoing the filter, and he tends to lean toward bright colors and vintage/retro patterns — as exhibited by masks from Minnesota brands Miah Gabrielle and Mille.
The best fitted face masks for voluminous beards
Taylor Welden, an industrial designer from Austin and vice president of Beard Team USA, has found two mask-makers he "absolutely loves." One is Trakke, which sews its double-layer waxed cotton masks by hand in Scotland; the other is DEFY, a small accessories company in Chicago that offers a range of sizing. This is an important detail because, as Welden notes, it "provides extra volume for a large mustache or beard." The outside of DEFY's mask is made of denim but it's lined with supersoft Micro French Twill, making it cozier against the face. As VP of the Austin Facial Hair Club, Welden also plugs his official club mask — a three-ply, polyester rainbow-skeleton number made for folks with or without facial hair.
The best bandana-mask hybrid for ultralong beards
With a beard past his belly button, Jacksonville, Florida, teacher Devon Holcombe, a.k.a. Moustache Devon, struggled to find a mask that could wrap around his chin without crawling up his face and blocking his eyesight. At first, he was using hair clips to attach a conventional mask to his beard. Then he discovered Unhinged Labs, a Las Vegas–based purveyor of beard-friendly masks. These gently curved face coverings with clear acrylic side pieces and nylon paracord straps proved "more breathable than a normal mask," while the rear connector made it more adjustable. And so far, says Holcombe, "it hasn't been itchy." Most important, the bandanna-mask hybrid is cut in a shape that allows the beard to fall naturally down his neck.
The best masks for bearded guys with bigger faces
Yia Vang, chef-owner of Union Hmong Kitchen in Minneapolis, also struggled to find a well-fitted mask that didn't suffocate him while he was working the line. His best discovery to date is the XL mask from the Minnesota-based makers at Steller Handcrafted Goods.
"I have a huge face and my beard makes my face even bigger," says Vang. "This mask is longer, wraps around my face, and the elastic band makes for easier wear on the ears," he notes. "The material is breathable and also easy to wash and reuse." Best of all? No "mask beard" when he takes it off at the end of a shift.
The best masks for bearded guys with bigger heads
David Goldfarb, who works in business intelligence for a law firm in Philadelphia, started the pandemic with a poorly fitting mask he found on Etsy. "It made my beard puff out in a weird way at the bottom," he says. "I'm unfussy about both my beard and mask, but the combination of having a big head — I call ahead before going to get a ball cap because they don't always stock my size — and a beard had me struggling to get one that fit." He adds that he's "a big baby" about nonnatural materials touching his skin. "Cotton was a must," he says. Old Navy's masks, sold by the five-pack, hit all the right notes.
The best masks for men who appreciate a good pattern
Brian Delaurenti and Johnathan Dahl, the Portland, Oregon–based Instagram influencers behind the the Gay Beards, also vouch for Old Navy masks, explaining that their "looser fit doesn't leave such a restricting impression on our facial hair." They appreciate the brand's cheerful selection of fabrics, too, which includes florals, paisleys, polka dots, pastels, and leopard print. "Having to wear a mask in public is depressing," say the Gay Beards, whose whole mission is centered around spreading good vibes and positivity. "For this reason, wearing masks with lots of colors and flowers is a great option to lift the spirits of yourself and those around you."
The best masks for self-care enthusiasts
Marcus Harvey, an Atlanta-based celebrity barber and gallery owner, tested five different styles of face masks before he found one that suited him best. "I've tried ones with vents on the side, a velcro strap in the back, ones that go around the ears, and one that went around the ears using two bands." Outside of a custom "BarberStar" mask, his favorite face covering comes from DIOP, a Detroit-based, African diaspora–inspired brand that sews its masks with fabric imported from West Africa. In addition to reducing virus transmission, Harvey likes to think of mask-wearing as a spa treatment for his beard, buttering up his whiskers with Bevel beard oil and beard balm before slipping on a mask. "You get a lot of steam while wearing the mask," says Harvey. "This gives my beard a deep conditioning treatment, with the mask functioning like a satin robe or silk do-rag for the beard."
The best masks for urban woodsmen
"I'm fortunate to have a clothing designer as a girlfriend, so we've been making our own masks from a modified design we found online," says Madison Rowley, an artist, filmmaker, and two-time World Beard Champion based in Portland, Oregon. His first mask was made with scraps of Pendleton wool the couple had leftover from a coat. This Pendleton mask, sourced on Etsy, is similar, but note that Rowley prefers elastic that goes over the back of the head, as opposed to loops around the ears, because he finds it more secure.
The best mask alternatives for men who prefer bandannas and gaiters
Editors' note: Earlier this month, a study out of Duke University claimed that bandannas blocked very few particles and that wearing "fleece neck gaiters," such as Buffs, might actually be worse than wearing no mask at all. A day after that study was released, Slate made a compelling case for why it should not be blindly accepted. Buff issued its own statement as well.
Nate "Chops" Johnson, founder and president of the Gentlemen's Social Club of Los Angeles, has been in the competitive bearding scene for nearly a decade. "When all this started back in late February, early March, I knew we'd all eventually be required to wear a mask," he says. "As a man with 21-inch sideburns, this posed a problem." Johnson experimented with cloth masks that looped behind his ears or had filter pockets. But these were designed to fit over the mouth and chin, which lead to the dreaded mask beard. "It also looked kinda funny — all that hair squishing out of the bottom of a mask," he says, adding that the 6-year-old son of a friend astutely asked him, "Did you kill a wolf and make a scarf? Because that's what your beard looks like with a mask on." For a while, Johnson wore a "bank-robber-style bandana," tied behind his head with its knot tucked into a hat. "That was the most comfortable, because the beard flowed freely down without obstruction." He did, however, worry how intimidating this style looked in public: "I was afraid I'd get stopped by security!"
That's when Johnson bought a neck gaiter to pull up over the mask. Now he wears them in tandem, treating the gaiter as an added layer of protection. "Masks are annoying but necessary," says Johnson, who tries to "take some of the seriousness out of the situation" by having fun with the designs. To wit: the glaringly faux Louis Vuitton and Gucci masks he bought outside a local grocery store, and a Great White–print gaiter from shark enthusiast Euan Rannachan. "I get a ton of compliments on it," he says. "I also have a Jason Vorhees COVID hockey mask on the way, made by Tom Savini — the guy who created the makeup effects for the first four Friday the 13th movies."
MJ Johnson, a Minneapolis-based World Beard and Moustache Champion and director of growing operations at Beard Team USA, tried to make a medical-grade N95 mask work but couldn't get a good seal. His sister then sewed him a custom mask with a filter pocket and ties in back (easier on the ears), but that still required him to braid or band his beard before tucking it in. The workaround: bandannas. "You can cover your nose, mouth, and most or all of your beard — plus you look like an outlaw, which is a bonus," laughs Johnson.
Both Johnson and Nelson are fans of the neck gaiters from Oscar Mike. "These are super for people with bigger beards," says Johnson. "They're high-quality and [offer] lots of coverage." Nelson concurs: "It's a three-layer mask that is machine-washable and very comfortable. Also, all Oscar Mike sales benefit injured or disabled veterans."
Delaurenti and Dahl of the Gay Beards loathe a beard dent. "Fresh out of the shower, beards are more malleable," they explain. "Putting on a mask that's too tight during this 'soft' stage can leave your beard with a terrifying divot once the mask is removed. From there, recovery is challenging." That's why, when they're not sporting their Old Navy masks, they lean toward paisley-print bandannas and gaiters, like this lightweight multi-clava from Eddie Bauer. "This style of face covering allows a beard to maintain its form without string messing up its shape," say the Gay Beards. "It's a sleeker look."
Steve Manning, a soccer coach in Seattle, is also firmly in Camp Gaiter. He has mostly been sporting an ultrastretchy BUFF mask — except during protests, when he switches to a traditional bandanna. "Marches can get extra hot, and [a bandanna] makes it easier to breath." (BUFF also makes a more traditional face mask with a filter.) And like Harvey, Manning adds a dab of beard oil before slipping on a BUFF or bandanna. His go-to is an arboreal organic oil from Deschampsia, whose scent he describes as "calming and pleasant."
And a few mustache recommendations, too…
When Atlanta-based photographer and five-time World Beard and Moustache Champion Jeffrey Moustache ventures out in public, he twirls up his impressive mustache and tucks it into a LaViebyCK cloth mask. "They have a nice soft lining inside, so it doesn't brush or pull on my facial hair or stubble, and they contain a filter pocket for added protection," he notes. "I also enjoy the designs and supporting an African American–owned business that is donating masks to hospitals in need." In fact, 100 percent of the proceeds fund the production of free masks for medical personnel.
When the pandemic first began, Universal Studios Hollywood guide Al Underwood sewed his own five-layer cloth mask using instructions posted online by a surgeon. But he didn't like that a neighborhood kid didn't recognize him without his signature Musketeer 'stache on full display. (Underwood is known locally as "Wonderstache," or simply "that mustache guy.") That's when he decided to craft a large white mustache that could be Velcroed onto his homemade mask. "Presto! Neighbors and people at local markets and restaurants knew it was me straight away," says Underwood. "And people who don't know me just thought it was a fun mask."
But then his artistic friend, Loren Tripp, came up with an even better idea: a grommeted mask, inspired by the plague doctor beaks of yore. "She must have noticed me grousing that my long mustache gets snarled and damaged being shoved behind such a confined space," says Underwood. "[So] she made a great guess as to exactly where the holes should go and how big they should be, as not to be ineffective. It was a perfect fit. Covers the whole lower part of the face, leaving plenty of room to breathe without feeling restricted. It secures across the nose bridge with embedded soft wire and has adjustable straps over the ears. I am so happy with it! It keeps the mustache healthy and now I can wear my whiskers up and out of the way with style."
The Strategist is designed to surface the most useful, expert recommendations for things to buy across the vast e-commerce landscape. Some of our latest conquests include the best acne treatments, rolling luggage, pillows for side sleepers, natural anxiety remedies, and bath towels. We update links when possible, but note that deals can expire and all prices are subject to change.