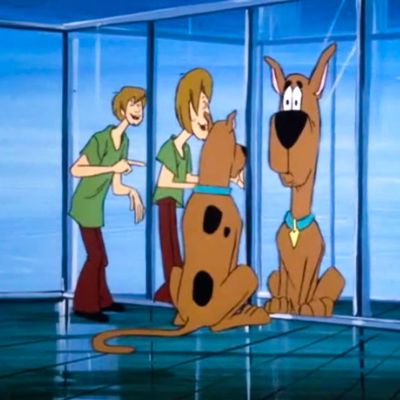 Photo: Hanna-Barbera Productions
I was excited about the many purchases I would make when I moved into my own place last year. A TV larger than 32 inches, new plants that could thrive with access to sunlight, and a full-length mirror were at the top of my list. My old bedroom was too small for that last item, and I dreamed of being able to get a head-to-toe look at myself before leaving the house (and maybe take a selfie or two).
During a trip to a New Jersey HomeGoods, I found a seemingly perfect full-length mirror. It was the right height and an ideal width. It had a thin black frame — subtle and stylish — and, most important, was under $100. Within a few days, I had it mounted on my wall, and while I loved the way it looked, I didn't love the way I looked in it. I assumed it was just me. The headlines about quarantine weight gain have been inescapable; perhaps that could be the reason for the change in my appearance?
But then, as restrictions lifted and I began to have friends over, others were similarly horrified by their reflection. That's when I realized it was the mirror, not me. In search of an explanation — and some guidance on how to find a mirror with a more reliable reflection — I reached out to two mirror-makers and an interior designer to learn some tricks of the trade and what we as consumers should know before buying. Ahead, how to find a truly honest mirror.
Everyone I spoke with said the thickness of the mirror is the most important factor in finding a good one. As Sergio Mannino, the principal designer and founder of Sergio Mannino Studio, explains, "a mirror is just a layer of silver applied to the back of a glass," so the thickness of that glass is a crucial part of a quality mirror. "We want everything cheap, but cheap means that they are making them thinner and thinner and thinner. And when the glass is thin, it warps," he says. And when the glass is not perfectly flat, you get the fun-house-mirror effect. Mannino recommends looking for a mirror with glass at least three-eighths of an inch thick. Cailee Rae, the artist behind Fuugly and its curvy-framed mirrors, agrees that the thickness is super-important. She uses quarter-inch-thick glass to make hers. "I wanted to make sure that from any angle, the mirror wouldn't warp or look bent, which usually happens if it's a really cheap mirror," she says. Rae says you can also spot a problem by just turning the mirror to the side: If you can see the back of the glass when you flip it around, that's a good indicator that you may look warped. Good-quality mirrors are typically mounted on wood or plywood, which brings us to our next tip.
In addition to the thickness of the mirror, what it's mounted on matters. The frame and backing need to be strong enough to support it. "If a mirror is thin, the reflection will become distorted because most mirrors will bend over time due to their own weight," explains Paul Jarda, the co-founder of West Mirrors. He adds that some of his brand's mirrors have wooden backing, "which significantly increases the rigidity of the mirror" and prevents it from bending over time. This could be where I went wrong. My mirror has a brown paper backing, and if you poke through it, there's nothing between it and the glass. Our experts say this would be less of an issue with a smaller mirror, but large floor mirrors need a stronger frame, thicker glass, and rigid backing.
The mirror needs to be not only thick and secure but also straight. If you're shopping in person (or once your mirror arrives), you can do the ruler test to make sure. Just place "a long metal ruler perpendicular to the mirror to check if the wood panel is straight or not," Mannino says. If you don't have a ruler with you, he says you can study the reflection a bit: "Let's say you're in the middle of a store, and you see a door behind you reflected in the mirror. Does the frame look straight, or does it look a little warped? It might be hard for an untrained eye to detect it, but there are things that you can pick up on immediately."
Rae does what she calls the 360 check, "which is when you put your face in the center of the mirror and move around in a circle. You can usually tell if the imagery is slightly off," she says. "Cheaper mirrors are really good at that front-on view, but it's usually from the side that things look odd."
Hanging and Lighting Tricks
Unfortunately, a mirror that checks all of these boxes probably won't be the cheapest. If it's a full-length mirror you're after, our experts say you should consider it an investment. "It's obviously glass, so it's not always the cheapest to buy. But a really nice mirror is worth it," says Rae. Jarda adds, "Picking a mirror based on price can be a bad long-term decision, as the mirror will most likely warp and distort over time and will give your home a cheap feel." If it's not in your budget, you can deploy some tricks to improve your cheap mirror. Mannino says if you are mounting it, you should make sure the surface you're mounting it to is straight. He also says lighting is crucial: "Let's say you put the mirror in your house, and you have a light installed in the ceiling. When the light is right above your head, your face will create shadows. The best way is always to point the light toward you from the front, not from the ceiling." He explains, "If you go to a dressing room in a fancy retail store, often the lights are installed on the left side and the right side of the mirror, and that's because the light comes toward you and it doesn't create a shadow." If you prefer natural light, placing the mirror by a big window is a good idea.
With all of these tips in mind, below are a few honest mirrors worth a try.
Photo: Courtesy of Vendor
Mannino likes this mirror from Bi-Rite Studio; he appreciates the cool colors and trusts the brand. Here, a one-eighth-inch-thick mirror is mounted onto a wood-and-laminate frame.
This mirror from Jarda's West Mirrors line has a strong backing — and a glowing endorsement from a reviewer confirming that it's honest. "I was worried the reflection would be off, as some low-quality mirrors often are," they write. "But this mirror has an accurate reflection, so I am super-happy with my purchase."
Photo: Courtesy of Vendor
The floor-length version of this arched mirror is on the more expensive side, but it is backed by engineered hardwood, which is promising.
This similar style costs about $200 less and has faux-wood backing and a stainless-steel frame.
The Strategist is designed to surface the most useful, expert recommendations for things to buy across the vast e-commerce landscape. Some of our latest conquests include the best acne treatments, rolling luggage, pillows for side sleepers, natural anxiety remedies, and bath towels. We update links when possible, but note that deals can expire and all prices are subject to change.