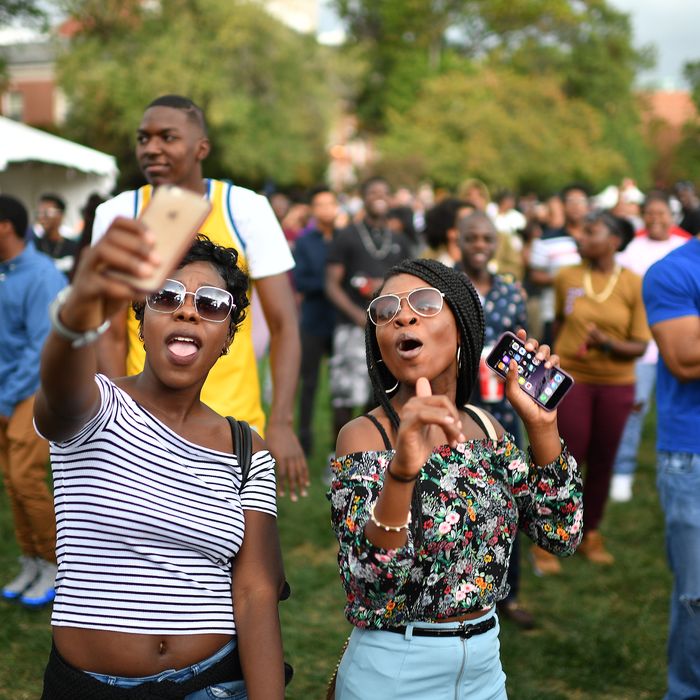 Photo: retailer/The Washington Post via Getty Im
Chaz has been celebrating Juneteenth since middle school. As a Houston native, it was almost a given. The holiday commemorates the date soldiers arrived in Galveston, Texas, and emancipated enslaved people in 1865. Chaz describes it as an occasion to get together with family and friends, which meant parades in downtown Houston, afternoons spent watching slabs (customized candy-colored cars that are slow, loud, and banging) drive by in Emancipation Park, and cookouts with barbecued meats and line dancing to zydeco and Black classics like "Before I Let You Go." This year, he's bringing Texas barbecue to New York and hosting a cookout in Riverside Park in Harlem. "It's traditional to meet at Emancipation Park, so we're going to bring that to Riverside."
While Juneteenth has been celebrated for decades in America, last year brought its importance into focus. Summer 2020 ushered in a racial reckoning in America and across the globe, while a pandemic devastated the Black community. All of this left lots of people (myself included) feeling joyless, exhausted, and in need of ways to be in community with other Black people — to come together and relax. Juneteenth, with its celebration of Black liberation, fit the bill. "July 4th doesn't represent freedom for us," says Emily Anadu, an organizer of the event series the Lay Out. "We celebrate when we gained our freedom. It's about reclaiming and holding space for the community."
This year, there are countless events to attend — ranging from parades to community service to park meetups to private backyard cookouts. "When I was at the Lay Out in Fort Greene Park last weekend, I think I got invited to like 14 things," says Brittney Winbush, founder of candle company Alexandra Winbush. Lots of people are newly vaccinated and ready to venture outside again, so, unsurprisingly, many are particularly eager to celebrate.
Even though there's lots to do, we talked to three experienced party throwers about how to host a Juneteenth celebration, ranging from an intimate gathering of friends to an open-invite cookout.
Set the tone at the door
Hosting should begin from the moment people arrive, especially if you have a specific vision for how people should move and flow through the space. If you know your guests well (or you know their standard drink orders), Brittany recommends having everyone's favorite drink ready upon arrival with name tags. Alternatively, you could come up with a specific cocktail to commemorate the holiday that incorporates traditional Juneteenth fare (like Big Red soda or strawberry soda), or give old favorites new names like Red-rita (riffing on the traditional margarita). "It gets people talking," says Winbush.
Give guests something to do
Winbush also likes activities that keep people entertained. "I like to give people the chance to move through the space at their own pace," she says. Most recently, she had a tattoo party where her friends were able to get inked from the comfort of her living room with a drink in hand. "I would bring that back for Juneteenth," she says. "I'd have a Black tattoo artist pull up and come up with a curated, specific list of small tattoos in celebration of Juneteenth. You want people to say this wasn't just a party, it was an experience." Anadu, is taking a similar approach to this year's festivities. "We're celebrating expressions of community through games like Twister, Connect 4, double Dutch, and dominoes."
Chaz plans to make airbrush T-shirts for himself and other organizers of the event, but you could easily have people DIY their own. While airbrush tees might be a little more complex, tie-dye is fairly easy to nail and you can customize the colors to fit your theme. If you'd like to keep with a traditional color scheme, red, black, and green — the colors of the Pan-African flag — or red and blue (the colors of the Juneteenth flag), could be a good place to start.
When we spoke to tie-dye expert Michelle Rizzi, she recommended Rit dye, which comes premixed and can be easily applied to dye the garment of your choice.
As far as T-shirts, Rizzi recommended Hanes Men's, which get softer with each wear.
Card games like spades and Uno are popular and give people a chance to connect and get competitive. Chaz likes this classic Bicycle playing cards deck, but any deck of cards will do.
Uno is standard, but if you'd like to take it up a notch, consider investing in these special-edition cards from the game's Nina Chanel Abney collaboration, which adds the artist's iconic graphic style to the cards, along with a new rule that enhances gameplay.
But if you're a purist, we understand that too.
You'll also need a table to play on. A simple four-sided one like this will do.
These beaded double-Dutch ropes are 16 feet long (lengthy enough for four or five jumpers) and will offer hours of nostalgic fun.