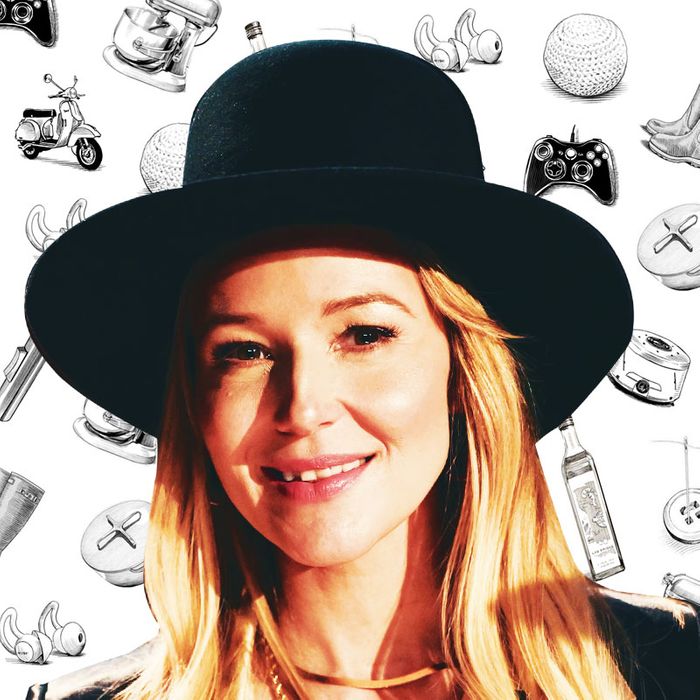 Photo-Illustration: Getty
If you're like us, you've probably wondered what famous people add to their carts. Not the JAR brooch and Louis XV chair but the hair spray and the electric toothbrush. We asked singer-songwriter Jewel — the founder of jewelry line Songlines by Jewel — about the protein bars, collagen powder, and sunscreen she can't live without.
I tend not to wear a lot of makeup so instead of a tinted moisturizer, I use this tinted sunscreen. It's pretty rich and may be better for dry climates than humid ones. A friend of mine who's a dermatologist recommended the line to me, and I fell in love with it. The products are well researched and developed by a dermatologist.
If I go into any kind of drug store, I'm compelled to buy a red lipstick. It's ridiculous because I don't need any more — I have a drawer full of red lipsticks. But it remains a really weird habit of mine. I don't know if this happens to anybody else, but a lot of the lipsticks that promise to "stay" make my lips peel. This one doesn't do that and it lasts like nothing else I've tried. The color is gorgeous, rich, and saturated. After I've washed my face at night, I'll often open my red lipstick drawer, put one on, and go to bed wearing it. I'll do it when I'm by myself — I don't know why. This one doesn't end up on my pillows, which is another sign it's good.
My morning drink is a bottle of this with two cap-fulls of apple cider vinegar, a quarter of a lemon, and a little bit of Stevia to sweeten it. I'm pretty religious about it. I don't like to drink hot things in the morning because I just get too hot. And coffee tends to be too acidic.
I put it in smoothies. For breakfast, I make smoothies using vegetables that have a really low glycemic index, this collagen powder, and a protein powder. I'm always looking for bioavailability: Can my body really absorb it? A lot of times an ingredient list will say what is in something but not the bioavailability of whatever it is. So I do a lot of research to find things that are bioavailable and my body can actually utilize. This is very clean — it's also creamy and very mixable, so if you're just putting it in, say, coffee, it'll blend nicely.
I've been using this for a long time, well before the pandemic. It smells great and I like a spray: Something about squeezing gloop into my hands just isn't as fun as misting them. I live in the Rocky Mountains, in a super-dry climate, and this doesn't dry my skin out very much. Occasionally I'll follow it with a hand cream.
I do my own makeup for all the online interviews and videos I've been doing lately. I like to experiment with different products, it's fun for me. I'll do a clean eye and then use this as a liner and draw a wing — I do it pretty bold so there's a little bit of drama. Sometimes I'll mix this blueish color with the brand's purplish one. The product is vegan and I like supporting the founder, who started the business herself.
I was hypoglycemic a lot when I was young. You really have to treat that condition with your diet, so I'm very keyed into the world of low-glycemic, low-sugar foods that also have some protein in them. I found this cereal when I was looking for low-sugar snacks. The Fruity flavor basically tastes like Trix; I keep it in my car because I can eat that dry. If I'm having the cereal for breakfast, I'll mix the chocolate and peanut butter flavors together and eat it with macadamia-nut milk.
I've been studying nutrition and herbology since I was probably 16 and have been able to learn from some of the best minds. This blend of mushrooms is very carefully curated and a great immune booster. It's very bioavailable and fortifying.