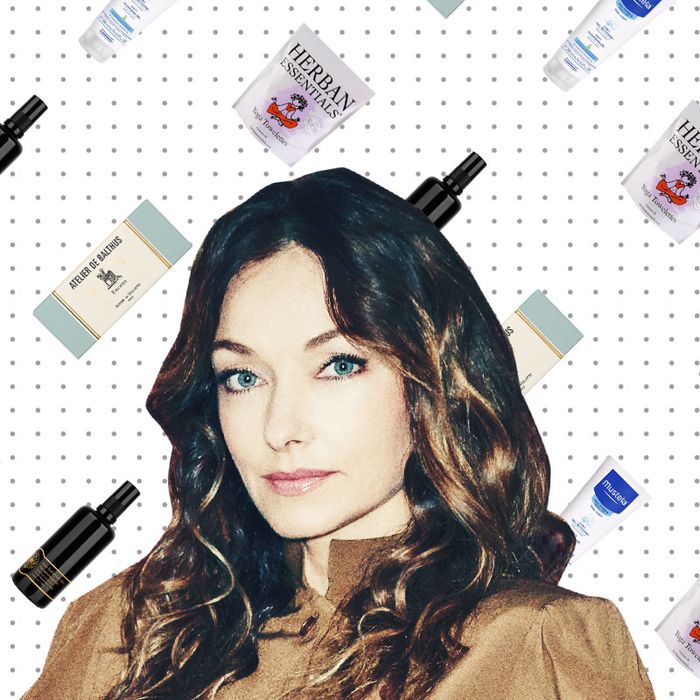 If you're like us, you've probably wondered what famous people add to their carts. Not the JAR brooch and Louis XV chair, but the hand sanitizer and the electric toothbrush. We asked interior designer Kelly Wearstler, who just designed San Francisco market café La Bande, about the ear plugs, face spray, and detangling comb she can't live without.
Our boys are in a band, so they have to practice once or twice a week. One of my sons also writes music. So I've always worn these earplugs when going to band practice, to protect my ears, but because I'm such a light sleeper, about three years ago, I started putting them in to go to bed, and now I sleep so much better. I'm super sensitive about my ears, but these are so soft and pliable that I barely feel them. I use them when traveling internationally to block out sound if I don't want to put my headset on.
I found this at Erewhon like 15 years ago. It's German and has been around for like 40 years. I'll use the lip balm day and night because it's all-natural and has this scent that's — I don't want to say it's medicinal — but it smells like it's working.
Mustela is really sentimental because the first time I ever used it was when I washed my boys with it when they were little. The smell reminds me of when they were babies. Now I use it on my body and my face — it's not drying and it's super gentle.
Everything actually stays on the hanger with these. If you have a delicate feminine blouse or something with a thin strap, it stays put! It's quite thin so you can maximize the space in your closet, too. I found them through this organization expert I've worked with in the past.
I love these for traveling and keeping the germs away and when I'm out running around. I use them for everything — wiping myself down, wiping other things down. I actually have a few different kinds, but the one scent I really love is the lavender.
All of May's products are completely natural — she makes them in her own lab. I truly believe that keeping your skin hydrated is an amazing antiaging remedy. I use it three to five times a day. I keep one at my desk. I have one in my car. I have another at home. It's very refreshing during travel, too. You know Evian's water spray? That's just water, but this has jasmine and also additional antioxidants.
Two or three times a day, we burn this incense in the studio because it's calming and smells amazing. We actually tried a whole bunch of different incenses, and everyone agreed that this was the best. It's become this studio ritual that everyone loves.