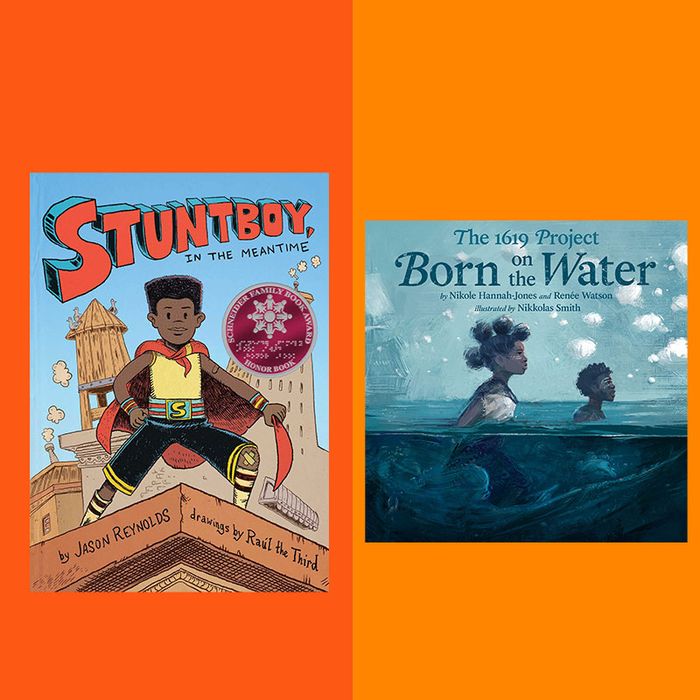 Photo-Illustration: The Strategist; Photos: Retailers
If you're looking for a way to celebrate Black History Month with the kids in your life, reading books that lift up Black voices is a great place to start. But February is a short month, and it shouldn't be the only time we read books that celebrate the history of Black people and their accomplishments and contributions to the world at large. According to Sheneatha Frison, a school outreach librarian at the Brooklyn Public Library, it's important to realize that Black history is American history, and learning about it can and should be happening all year long.
Before buying any books or borrowing them from the library, Ramon Stephens, executive director of the nonprofit the Conscious Kid, recommends first considering the original intentions of scholar Carter G. Woodson, who is now known as "the father of Black history." In 1926, Woodson created Negro History Week, which would later become Black History Month; his aim was to address the overall lack of Black history and education in the United States by providing empowering narratives about Black people and combating the overall injustices that they face. That was 96 years ago, but so many of the same injustices and a lack of empowering narratives persist today. That's why Stephens suggests looking for titles that specifically support Woodson's mission, whether directly or indirectly. Educating children (and adults) about the resiliency, contributions, and joy of Black people throughout history is a way to push back against harmful, dominant narratives, he says.
When it comes to choosing exactly which books to read with your kids, educator Brittany Smith says, "Don't limit yourself! Reading Black literature in all of its beautiful forms will always be beneficial because books themselves are beneficial; they teach us something, whether it be self-love, the value of community, the history of a leader, or simply more social-emotional awareness." Mollie Welsh Kruger, a professor at the Bank Street College of Education, suggests paying attention to the books or genre of books your child enjoys and expanding from there. Lastly, Stephens says it's important to offer a balance of books that deal with the real injustices Black people face as well as books that show joyful scenes from ordinary life. "If a book talks about obstacles, make sure it talks about resiliency as well," he says.
We asked Frison, Stephens, Smith, Kruger, and two other experts about the best children's picture books, board books, fiction and nonfiction books, and graphic novels to start reading during Black History Month and keep reading all year.
Preschool, kindergarten, and first grade
"Everybody benefits from learning about other people's experiences," says Kazz Alexander Pinkard, executive director of Hit the Books, an after-school nonprofit in Harlem. With that said, the experience of having to explain how to pronounce your name correctly because of language or ethnicity is something that children from all over the world can relate to. Your Name Is a Song is about a young girl who struggles with correcting people when they don't say her name the right way, and how she overcomes her fears and learns to appreciate the music in her name. "I wish I learned how to stand up and ask people to say my name correctly when I was younger," Pinkard says.
Frison says that it's important to read many different kinds of books, including books that explicitly discuss race like Our Skin. Starting the conversation early helps prepare children for lived experiences and helps them develop empathy. Pinkard says that kids start to understand similarities and differences at around 2 years old, so it makes sense to address different skin tones at that developmental stage. But he also adds that children and parents of color haven't had the luxury of choosing whether or not to talk about race, the way white families have, because their lived experiences make it unavoidable. This board book is the first in a series of books meant to help parents start important conversations with clear, concrete language and beautiful imagery that young children can grasp.
"I love the book Brown Boy Joy because the characters look like me and the kids that I teach," says Pinkard, noting that it's one of the few books that has multiple brown boy characters in it, and they don't all look the same in the illustrations.
Smith recommends Mae Among the Stars, which she calls a "dreamy nonfiction book" that celebrates the pioneer Mae Jemison, the first African American woman to go to space. In it, little Mae imagines floating among billions of stars. Her dream of becoming an astronaut is fueled by her curiosity and determination, but also her parents' encouragement.
Sailaja Joshi, founder of Mango & Marigold Press, recommends Hair Love because, as she says, "Positive depictions of Black fathers often get stripped away in children's stories." Instead, Hair Love shows a Black father and his daughter bonding over an extra-special hairstyle he learns to create for a special day. Pinkard likes the book because his students feel seen when they pick it up. "One of our students literally jumped up when she saw this book and said, 'I love this book, it's about me and my dad,'" he says.
Second through fourth grade
All but one of the six people we spoke to recommended these books by Vashti Harrison. Frison loves that each book introduces children to many incredible historical figures in diverse fields. "The biographies are short but meaty, so they are great starting points to spark interest in further exploration," she says. Smith says the illustrations are wonderful, and Harrison's talents as both a writer and illustrator are worth celebrating.
Along with her work as a politician and activist, Stacey Abrams is an accomplished author — including eight works of fiction under the pseudonym Selena Montgomery — but Stacey's Extraordinary Words is her first children's book. It's also a New York Times best seller. Joshi, whose kids are currently learning to spell complicated words in first and third grade, says she loves the book almost as much as she loves Abrams herself: "It talks about her own story with words and her love of the spelling bee, and some of the prejudice that she faced," she says. It's easy to see parallels to Abrams's political career in the story, especially when little Stacey faces off with the school bully at the spelling bee and learns a valuable lesson about perseverance.
If you're looking for something that will appeal to kids who like comic books and superheroes, Stuntboy, in the Meantime, which comes recommended by Frison, is a fabulous choice. It follows the secret superhero adventures of Stuntboy, whose real name is Portico Reeves. Portico lives in the biggest house in the whole city and spends his time navigating bullies, hearing his parents fight, and managing his own anxiety. Meanwhile, as Stuntboy, his job is "keeping other superheroes safe, so they can save the world!"
Ada Twist is an especially curious second-grader who uses the scientific method to investigate the origins of a strange and unpleasant smell. This book and others in author Andrea Beaty's STEM-themed Questioneers series have been recommended to us many times over, and there is even a Netflix animated series and several toy lines inspired by Ada Twist, making the character a celebrity in many kids' eyes. "In the diversity of the classroom and the way each one of the stories gets told, the world they are creating is phenomenal," says Joshi.
"This book reminds me of the lessons I had when I was younger about the importance of the many contributions of Black Americans in American history. It was often phrased as 'you wouldn't have this if it wasn't for a Black person,'" says Pinkard, who recommends Have You Thanked an Inventor Today? for both its message and its illustrations.
There are now more and more books available to young people that challenge past historical conversations and whose stories were being told. According to Joshi, who is working to make Read Across America Day (March 2) a more diverse and inclusive national event, these books are a great way to teach kids to ask questions about who is telling a given story, whose voices we are hearing, and whose voices we might not be hearing. Both she and Pinkard recommend The 1619 Project: Born on the Water as an example of one of these books. Written by Nikole Hannah-Jones, who started the 1619 Project — a 2019 initiative from the New York Times Magazine marking the 400th anniversary of the beginning of American slavery — Born on the Water speaks directly to the idea that race is essential to the narrative and history of America. "I like this book because it thinks about ways that we can approach our history, our family lineage in a contributive manner to the fabric of America. It doesn't only speak about the hardship and the struggle of the Black experience, it uplifts the Black experience," says Pinkard. At a moment in this country where schools are banning books and some people are trying to prevent teachers from talking about race in school, Pinkard says parents and educators have two choices. "You can either lean into the learning or you can try to ban it from the library. We are leaning into the learning because it is both our experience as a community of Black and brown people predominantly, but it's also the real experience of Americans in America. So we're not gonna hide away from that story," he says.
Fifth through eighth grade
Stephens says that even though Black History Month started in the U.S., it's still important to learn about the contributions of Black people globally because we know that due to colonialism, racism and white supremacy are global problems. Speaking of the diaspora, Pinkard recommends the National Book Award finalist and graphic novel When Stars Are Scattered by Victoria Jamieson and Omar Mohamed because it represents a very current story about the life of immigrants. The book is about a pair of brothers in a refugee camp in Kenya, and it explores questions like: What is it like to be in a refugee camp? What is it like to move to a different place for safety and for your family? "Honoring the experiences of folks that have come to the United States is part of the Black narrative and the Black experience," Pinkard says.
Stephens, Frison, Kruger, Smith, and Pinkard all mentioned the power of poetry as a way of connecting children with history. This book, which comes specifically recommended by Stephens, is both a National Book Award and Newbery Honor winner. The memoir tells the story of author Jacqueline Woodson's childhood in the 1960s and 1970s, living with the remnants of Jim Crow and her young perspective on the Civil Rights Movement.
"Two books that I like that specifically center young Black men and are city books about growing up in an urban environment are Tight by Torrey Maldonado and The Stars Beneath Our Feet by David Barclay Moore. Both books deal with making wise choices in an otherwise complicated environment," says Pinkard. Barclay Moore is an educator from New York, which is part of why Pinkard recommends his book, saying that it is meaningful to give kids who live in a specific place books written by authors who are from that same community. But he also adds that he would recommend these titles to any tween or teenager. "You're trying to search for answers, figure things out, and make sense of the world around you, and that is universal. I mean, I grew up reading the Hardy Boys," he says.
Pinkard also recommends that all kids (and parents) read The Hill We Climb by youth poet laureate Amanda Gorman. To him, the book, a special gift edition of her inaugural speech that includes a foreword by Oprah Winfrey, is about "the United States and the pursuit of happiness and a more perfect union. I think that's what history and Black history are about too."
The Strategist is designed to surface the most useful, expert recommendations for things to buy across the vast e-commerce landscape. Some of our latest conquests include the best acne treatments, rolling luggage, pillows for side sleepers, natural anxiety remedies, and bath towels. We update links when possible, but note that deals can expire and all prices are subject to change.