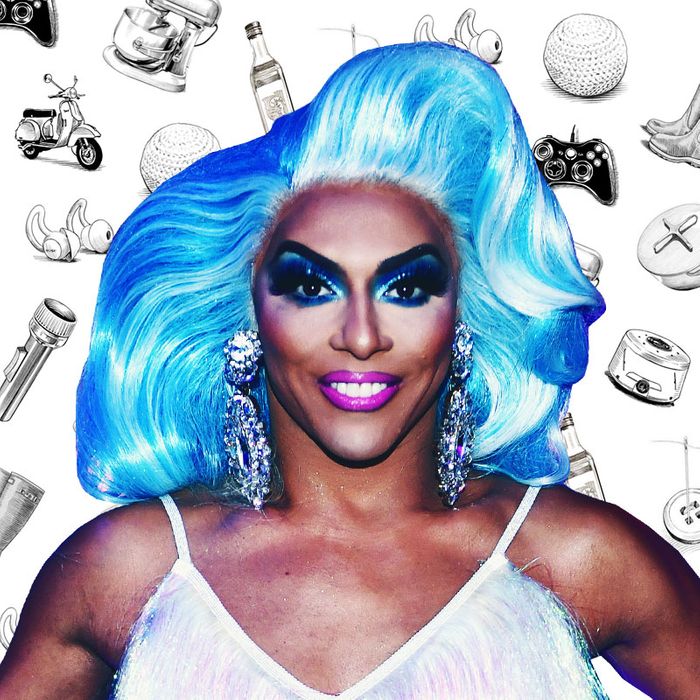 Photo: Dimitrios Kambouris/Getty Images for AT&T/Illustration: Joe McKendry
If you're like us, you've probably wondered what famous people add to their carts. Not the JAR brooch and Louis XV chair, but the hair spray and the electric toothbrush. We asked drag queen Shangela Laquifa Wadley — a star of HBO's We're Here and a RuPaul's Drag Race alum — about the foundation, deodorant, and razors she can't live without.
Out of drag, J.J. Malibu is one of my favorite brands of swimwear. They have a fun selection if you want to be vibrant while you're poolside. I've always been a mid-thigh kind of diva, but every now and then you'll catch me being bikini fish. I have all the styles. These shorts from their Pride collection are my favorite right now — I can't wait to put them on. It's Pride season, and you've got to find little ways to celebrate whenever you can.
I've used Capezio tights my entire drag career. They are a little jewel that divas before me passed down. Like, "Okay sis, you're getting in drag tonight? You're going to need these Capezio tights — wear three pairs plus a pair of fishnets on top and you'll be good." I'm a padded queen — I like to give the illusion of an hourglass shape because I don't have those natural hips. In order to shield pads from showing, drag queens, myself included, have always worn Capezio tights. They're the most durable.
I love the curl gloss. It keeps my hair, moisturized and rockin' throughout the day. I use it daily — every time I shower.
Dermablend Cover Creme Full Coverage Foundation in golden bronze is my base. I mix other colors in there to contour and stuff, but baby, you can't start without the base. They call it foundation for a reason. I am a man pulling off a transformation and I don't want my darker hair, mustache, and goatee shading to come through the makeup. A single application of Dermablend has lasted more than ten hours; it's such a nice, thick coverage. I have fallen in a pool, gotten out, and continued shooting without needing to reapply.