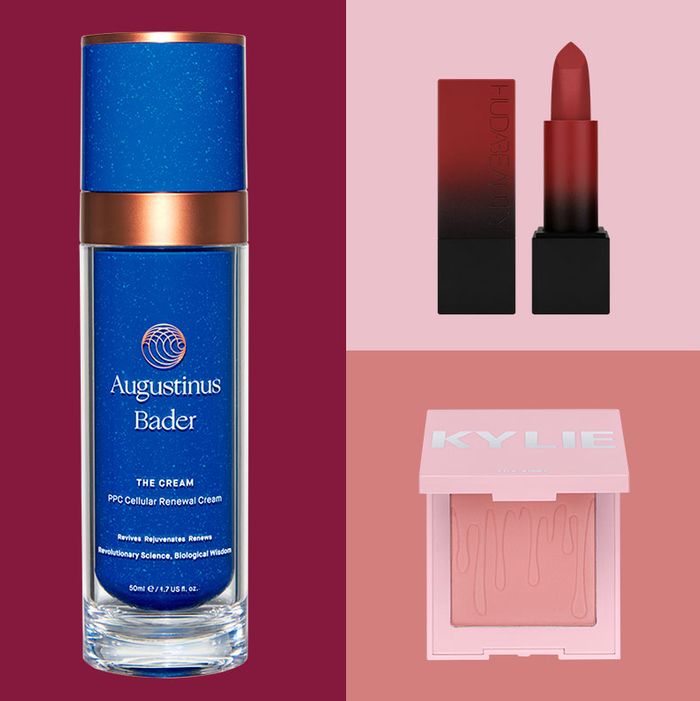 Photo: Courtesy of the retailers.
Shopping at a beauty brick-and-mortar at any time of year is stress-inducing enough (all those sample-wielding sales associates!), so it's understandable that walking into a packed Sephora during the holidays and trying to make sense of the hundreds of products as an aggressively loud soundtrack of Christmas music plays can feel particularly brutal. Especially if you're not fluent in all things beauty. Which is why I'm here to help! Below, I've curated a list of the 15 most giftable products for every type of beauty lover in your life, from your Gen-Z sister, to your fanciest friend, to that person who is always complaining about dry lips (because everyone has that someone who is always complaining about dry lips).
For the brow-obsessed friend
If you know someone who's fussed about their brows, I can guarantee they'll adore this kit of all-star products from the Eyebrow Queen herself, Anastasia Soare. It comes with the company's cult-favorite, waxy Brow Wiz pencil (beloved by Kim Kardashian West and Megan Markle), a travel-sized Clear Brow Gel (my favorite for grooming and keeping hairs in place all day), and its Brow Dip (which Victoria Beckham apparently won't leave the house without putting on).
For the teen niece who swears by pimple patches
These hydrocolloid stickers are just like my trusty Cosrx Pimple Patches (in that both suck all the sebum out of your zit so it's flatter the next day). The main difference is that these star-shaped patches are just a whole lot cuter! So cute, in fact, that I am actually willing to leave the house with one on if I'm running to the bodega or going to a yoga class.
For the highlight-loving younger cousin
I recently purchased this highlighter during a Sephora sale after seeing makeup artist and highlight queen Nam Vo rave about it on her Instagram Stories. I love it: it's dewy, but not too glittery or sparkly, so you can wear it during the day. And it's easy to build layers with if you want a more intense look for nighttime. Plus, its balmy consistency makes it great for on-the-go finger application.
For the environmentally conscious older sister
The Australian brand Fluff is all about recyclable and sustainably-packaged beauty. This bronzer and travel friendly brush are incredible — they give the skin an amazing, natural, sun-kissed warmth, and will not make you look weird and orange no matter how much you pile on. And the packaging is so beautiful!
For that someone who always complains about dry lips
I write about this product over and over again because it's truly that good. It's rich, nourishing, and will fix your dry, flaky lips faster than any other thing out there. A real game-changer for me, and the perfect gift for anyone whom you have ever heard say the words "chapped lips."
For the roommate who likes a spa night
If you tend to have dark circles under your eyes, the cold, dehydrating winter months can make them look extra sunken. These eye patches from Squish are not only soaked in aloe vera and lavender oil (which cool, depuff, and nourish the skin) — they're also insanely adorable. And since they're so big, they give your cheeks some treatment too. Perfect for anyone with raccoon eyes, and anyone who likes pampering themselves while watching TV.
For the no-makeup makeup mom
This do-it-all palette is a no-brainer for the mom (or friend) who loves their makeup clean, natural, and barely there. It comes with two shades of RMS's lip2cheek (a creamy, multi-use product that can be applied both as a blush or lip tint): Beloved (a bright cherry red which I've raved about before) and Demure (a pretty, coral-y pink). This palette also includes RMS' cult-favorite Living Luminizer highlighter — a blendable, pearlescent highlighter beloved Miranda Kerr and Candice Swanepoel that gives the skin a natural lit-from-within glow — as well as its Buriti Bronzer, an equally blendable cream bronzer. To top it off, there's a vanilla-flavored, nourishing lip balm that can be used to hydrate the lips or to add an extra-balmy sheen to the eyes or cheeks.
For the mom that prefers a bold red lip
My sister is red lip connoisseur. I used to wear her go-tos: M.A.C's Ruby Woo and Nars' Red Dragon, both of which I had to quit when I went cruelty-free. That's when I started using these lipsticks from Huda Beauty, which were my saviors. I originally heard about them on Rosie Huntington Whiteley's YouTube channel — she raved about their flattering high-pigment and ultra-matte-yet-not-drying formula. And she was absolutely right: Huda's lipsticks give you that perfect, bold red lip, and have allowed me to stop mourning my Red Dragon and Ruby Woo. I love the shade Promotion Day, which is a cool-toned red (perfect for the holidays). If you like a warmer red, check out the shade Cinco De Mayo.
For the aunt who loves crystals
Any crystal lover will be over the moon to receive this palette, as it's literally infused with diamonds, amber, sapphire, topaz, amethyst and tourmaline —all of which will make you super glow-y and (allegedly) "promote spiritual healing," if you believe that kind of stuff.
For your younger Gen-Z sister