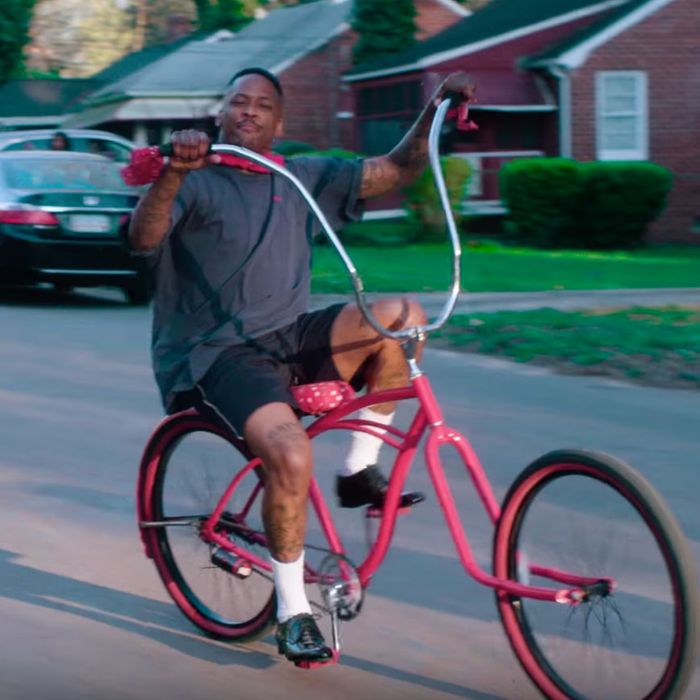 YG rides a bike in the music video for his song "Proud."
YG, the rapper from Compton, is a unisex style icon. This is not because he sits front row with Anna Wintour at Paris Fashion Week (he wasn't even at the Met Gala) or because he raps about wearing Gucci slides (he doesn't; buy Still Brazy out now.). He is simply a phenomenal dresser with original taste and amazing fits. Lately, that typically means oversize shirts that hang loose just the right way and cutoff shorts that say he's confident enough to show a little skin above the knee and some wild patent-leather shoes to make sure one thing is absolutely clear: YG will wear what he wants and he will always look amazing in it. It's a casual, put-together comfort to aspire to, which is why I want to dress like YG all the time, every day, from now until forever. Especially now that it's California weather here in NYC. If you, like me, are fully invested in this look, here's how to achieve it.
YG's shirts are always oversize. They hang loose across in that perfect, oh I just rolled out of bed and threw this on way. That not trying, secretly trying way. This tee comes in a few colors, all work.
If you're feeling splurgy (and like still buying Kanye products) Yeezy's Calabasas line similarly offers that California casual that remains the essence of YG.
Everlane, of course, also sells an oversize crew. This one comes in black, white, and gray. (Also see our best white tees for women).
Match the tees with a pair of biker shorts that just peak out beneath them.
Or go with some classic Hanes.
You'll often Catch YG in some loose-fitting flannel over a pair of denim cutoffs. I like the way this one hangs in the back, but ties in the front, for something a little more feminine.
<