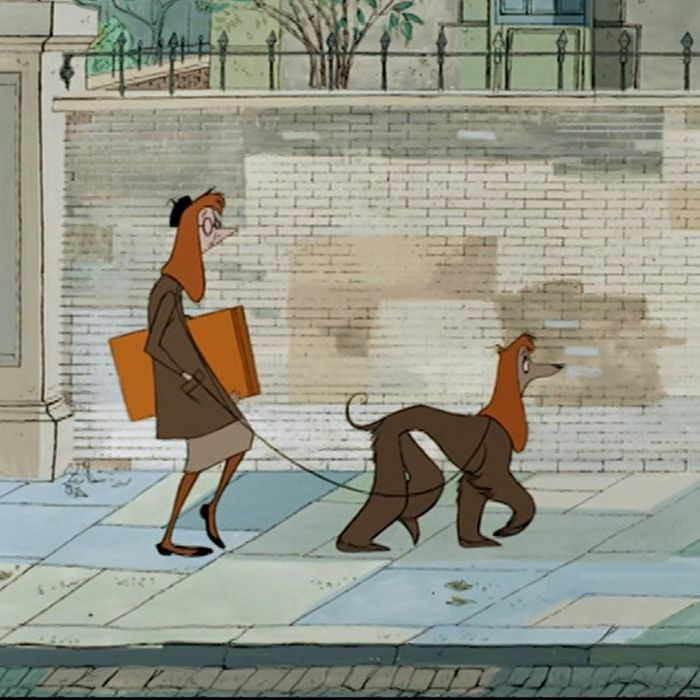 Photo: Courtesy Walt Disney Productions
First, we should say what a dupe is not. A dupe is not a doppelgänger or a knockoff or an impersonation — at least not explicitly so. With our experience testing and reviewing lots of products that are just like other products, we aren't particularly interested in those that are trying to be anything else. We prefer the thing that is simply itself, and in the process of being itself, just so happens to work just as well as — or sometimes, even better than — a fancier, more expensive, or more well-known product. It's about function more than fashion, like a vacuum cleaner that's as powerful as a Dyson but costs half as much, an incredibly Creuset-like cast-iron Dutch oven, or a pair of clogs from Amazon that your boss mistakes for No. 6. Welcome to Dupes Week at the Strategist.
The eco-friendly diapers cheaper than Honest Company's
After using Honest Company's chemical-, fragrance-, and synthetic-material-free diapers for his first kid, writer Steven John says that, following the birth of his second, he turned to Cloud Island — which also offers comfortable, absorbent diapers free of those worrisome ingredients. John admits that Cloud Island, as a brand, lacks the trust that Honest Company has built among consumers over the years — and that its diapers don't come in as many playful prints or patterns. But they do cost ten cents less per diaper than Honest Company's, which John notes "can add up to hundreds of dollars over the course of a year of diapering."
The portable mic that turns any room into K-Town karaoke
"This is for sure the simplest way to re-create everything a private karaoke room has to offer minus the $300 bar tab," according to writer David Lerner Schwartz. Part Bluetooth microphone, part wireless speaker, this so-called karaoke system even has a retractable holder for your phone — making it a fun surprise to whip out at parties, as well as an unexpected wedding or engagement gift, he adds. Just don't expect a recording-studio-quality solo: "It's really more akin to singing inside the trunk of a Ford Taurus than a large music hall."
The binoculars that are as good as a telescope
Rena J. Mosteirin can see the Milky Way from her backyard at night and even has attended some meetings held by the Springfield Telescope Makers Society — a Vermont-based group that sets up homemade telescopes annually at Saint-Gaudens National Historic Site. But if you're also interested in getting a closer look at celestial bodies, she recommends that you buy this pair of Nikon binoculars instead of a telescope. They're easier to use than a telescope, she explains, and they still let you see moons and stars. Plus, she writes, "The beauty of binoculars is they fit right in your backpack. And you can also grab them to go bird-watching or whale-watching, or spying on your neighbors; if you happen to live next to a bear sanctuary, it can get pretty interesting."
The resurfacing treatment that's better than Sunday Riley's
The ceramic knives that are as good as a handcrafted Japanese chef's knife
Hannah Howard owns a handcrafted Japanese chef's knife, which she bought right after college and loves. "In my hand, it just feels right," she writes; but "so do the colorful ceramic knives in this set of six that costs less than $24." They don't pick up funky smells, they're featherlight, and they can even survive a trip through the dishwasher.
The workout tee that's as versatile as one from Outdoor Voices
Searching for a T-shirt that she could both work out in and wear to work, Priya Krishna found an Outdoor Voices top for $55 that fit the bill — until it was replaced by this shirt from 32 Degrees, gifted to her by her mom. "In both cases, you basically get an exercise top disguised as a nice top. In both cases, the fabric is breathable and comfortable and doesn't get damp spots at the armpits, perhaps due to a comparable form of cooling technology," she writes.
The Apple dongle dupe recommended by the guy at the Apple Store
Steven John recently bought a new MacBook Pro, which has just two USB-C ports, and realized that he needed a bunch of Apple dongles in order to connect his external monitor and wireless mouse. Turns out the Apple Store guy recommended that he buy this hub adapter from Anker instead of a dongle from Apple, which he describes as "simply too expensive. The Anker model I use has two USB 3.0 ports, an HDMI port, and both an SD and a Micro SD slot — and it's never given me any problems."
The less expensive sheet set that feels like sleeping at a fancy hotel
"Apparently Italic uses the same manufacturers as the Frettes of the world before selling directly to consumers at factory prices, thus eliminating extreme markups," writes Chloe Anello of this cotton sheet set. And after putting them head to head against a pair of (very expensive) Frette sheets, she concluded, "I actually slept better on the less expensive version."
The eyebrow pen that makes brows looks like they've been microbladed
Using this drugstore brow pen from Maybelline, Crystal Martin says, "I get a naturally thick brow effect that is not unlike that of microblading. Without any of the pain (or $$$$)." Granted, it's not permanent, or even semipermanent, like microblading is, but, "I'm here for a look — dark, dense, natural — and the pen does that better than any product I've tried."
The workout gear that looks status-y but costs under $100
Our senior writer Karen Iorio Adelson surveyed trainers and fitness instructors to find the best athleisure dupes, and they recommended a bunch of less expensive options — including Forever 21 leggings that look like they're from Carbon 38, Reebok shorts that recall Patagonia Baggies, and these patterned leggings that are "very reminiscent of these Lululemon Align leggings — but for less than a third of the price."
The Amazon flatware that looks like Christofle
After admiring her mother's Christofle dinnerware, Charlotte Klein found this Winco flatware that's a "a near-identical version on Amazon, beaded detail and all." She writes, "They're not as heavy or substantial as the Christofle; each piece is not personally made by a silversmith in Normandy, France. But they've made me appreciate the idea of elegant flatware."
The mattress that's just about as comfortable as a Casper and costs a third of the price
Steven John owns, and loves, his Casper Wave mattress. But when it came to finding a mattress for the guest bedroom, he wanted to spend a little less without forgoing comfort. Enter this Signature Sleep Honest Elements Mattress. As he explains, "In both products, the mattresses breathe well, allowing excellent airflow that keeps you evenly cool and that draws away that moisture that might otherwise leave you feeling hot and sweaty or cold and clammy depending on the ambient conditions."
The $6 dupe for Rosie Huntington-Whitley's favorite eye shadow