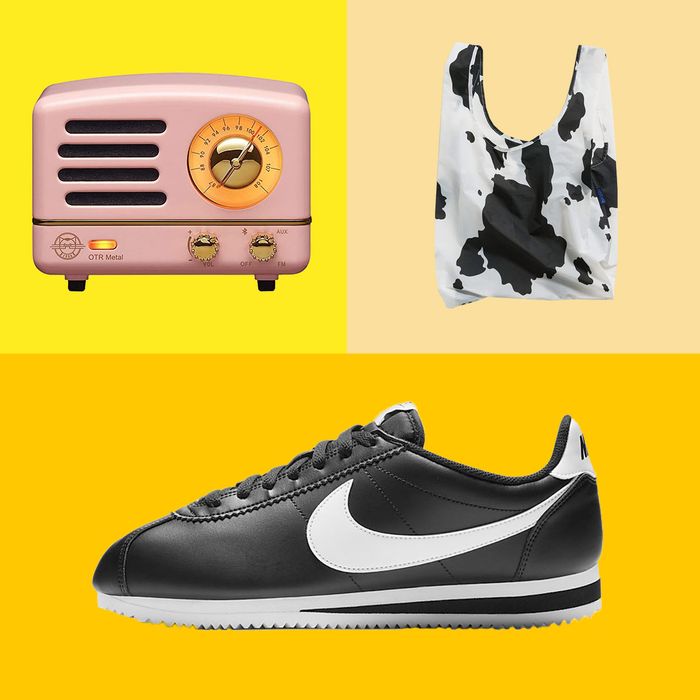 Global pandemic or not, the end of our "summer that didn't really feel like a summer" is nigh, and back-to-school season is officially upon us. But as millions of students return to class from the comfort of their own bedrooms, we couldn't help but wonder: What are teens and college students actually buying for back to school, when many of them aren't going back at all?
We spoke to dozens of young people about whether they'll be attending classes in person, virtually, or a mix of the two — and what they'll be purchasing in preparation. We found that while back-to-school shopping lists still include some of the usual suspects (namely, sneakers and makeup), tech is overwhelmingly top of mind — and, if they have any cash left over after upgrading their headphones and computer monitors, they'll consider spending it on clothes that prioritize both style and comfort. (As Gwen Attridge, 20, told us, she's only interested in things that "can be used for a fire fit pic and are still comfy enough to go to online classes.") Here's everything they're buying.
Tech
Tech spending for back to school is reportedly up 28 percent, according to Deloitte, and the students we spoke to echoed this. "I don't feel the need to upgrade my devices very often, but I'm definitely going to be asking for a new laptop this Christmas because all of these Zoom conferences have taken a grievous toll on my trusty old MacBook Pro," says Alex Morgan, 18, who is taking a gap year before heading to Pomona College.
Like Morgan, Elise Jamison, a 23-year-old student at UNC's School of Law, is also placing extra emphasis on tech purchases this year. "Since I will be attending class from my bedroom, I opted for a desktop monitor that I can watch my lectures on while I type my notes, a Bluetooth keyboard and mouse, and an HDMI adapter for my USB-C port to connect to the monitor," she says.
Grad student Lauren Cooke says that she's thinking about buying an iPad, since most of the materials she reads for school are electronic and she doesn't have access to a printer. In fact, many of the students we spoke to mention the importance of iPads, which come in handy for dual-screen work (or for when opening up a laptop is just too much trouble). Plus, they can be synced up to Bluetooth mouses and keyboards.
After months of having to switch headphones when using her phone and computer, Cooke gave in and purchased AirPods at the end of June. "This has helped greatly because I am no longer physically tethered to any technology and can switch between Zoom meetings and phone calls quickly," she says. "Since I am terrified I am going to accidentally lose them, even though I barely go anywhere, I also purchased a No Face case," inspired by the character in Spirited Away.
Georgia Freyer, 17, reports that this season, she's generally "buying much less and am much less excited for the prospect of shopping," adding that it feels "somewhat meaningless since my school will be almost entirely virtual." However, she is planning to buy noise-canceling headphones so she can learn better from home.
Several students we spoke to mentioned buying condenser mics to plug into their phones. For 19-year-old Carley O'Connor Campbell, a journalism student at Rutgers, "half of my classes are in person and involve new technology — microphones, cameras, tripods, etc. — so a lot of my purchases have been tech-related," she says. A no-frills condenser mic was a worthy (and affordable) purchase. "It gets the job done," she explains. "It's my first microphone, so I can't exactly vouch for what mic would work best for anyone else," but she says it works well considering it costs less than $50 bucks. Similarly, 20-year-old Camryn Garrett says that she and her friends have been spending "way more money" on tech than in previous semesters. "Since we're in film school and can't use any equipment, some classes are actually asking you to buy special products like a tripod for your phone," she says. She, too, recently bought a condenser mic like this one, which has handy recording capabilities for one's iPhone.
Wen Hsiao, 21, says she felt "very overwhelmed" having to switch between her Zoom lectures and Google Docs to take notes for class. This clever Moleskine find offered the perfect solution. "The Smart Writing Set transfers what's written on your notebook pages to any device you have, digitizing your ideas, allowing you to annotate your notes quicker, and allowing you to keep an additional copy of it for easy access," says Wen. "It is quite expensive for people who are still in school, so if you have a birthday coming up (or are finally getting your stimulus check), this is a great option."
And since we're already living in a strange sci-fi movie, why not record it? "I wanted to get a handheld video camera to document my life next year," says 22-year-old Brynn Eichenlaub, a student at the Parsons School of Design. "I recently bought a Sony HD camcorder on eBay, and I am so excited to use it. It's small, light, and will be easy to carry around with me." And, unlike fleeting TikTok videos, this footage will stick around forever.
Makeup and skin care
Second to tech, young people are spending more money on makeup, since cosmetics are one of the few ways to express oneself on a small, pixelated screen. "I've been paying more attention to makeup as of late," says O'Connor Campbell. "I've started researching goth/e-girl-style makeup styles because I'd love to try something new." Many of the teens we spoke to mentioned stocking up on eye makeup, in particular — after all, that's the only thing that shows when you're wearing a mask. Quaye Meadow, 21, decided to splurge on Lancôme Hypnôse for fall. "It's my favorite, besides the Glossier one," she says. "All people will be seeing are my eyes, so might as well make them look pretty!" With that in mind, she's also been playing around with bright eyeliner; ColourPop and Glossier are her preferred ones.
Like makeup, skin care is a bigger-than-usual priority this year. O'Connor Campbell reports that she's been "stocking up on face wash and face masks" — the nourishing skin-care-treatment variety — "because wearing a mask in August heat brings a terrible amount of sweat and clogged pores." Eichenlaub adds that prioritizing her skin and indulging in new products has helped her feel "a lot more put-together and ready to tackle all of her work." She says she's been loving the Ordinary lately. "Its products are made with amazing ingredients and are offered at a low price point," she says. "I am definitely going to invest in its skin-care sets."
Dorm décor
Given these uniquely housebound times, there's been an uptick in spending on home goods — and that extends to teens we spoke to, too. Whether they're living in their childhood bedroom or college dorm, making one's space more comfortable and aesthetically pleasing is more essential than ever. Eichenlaub says to make spending so much time in her small space more bearable, she plans to hit up Coming Soon New York for candles and dishes, as well as Urban Outfitters for a smart light bulb. "You can dim the lighting and change it to different colors all from an app on your phone," she explains. "I think these additions will make my space a lot more colorful and fun."
Wen has her eye on a vintage Bluetooth radio for livening up late-night studying at home, an upgrade from her iPhone's tiny speaker. "I have been crushing on this Bluetooth radio and speaker for a long time and decided that I will finally pick it up for the new school year," she says. "I love the retro design with the additional modern touches, and I can't wait to turn this on for my late-night study sessions! Its radio function lasts up to nine hours, and its Bluetooth-speaker function lasts up to four hours on battery life."
For many students, their bedrooms now double as sleeping quarters and work stations. That's the case for Neel Swamy, a 23-year-old graduate student at UNC-Chapel Hill, who decided that a new desk and desk chair were necessary purchases this season. "While these aren't the most glamorous products, they have been incredibly helpful in countering the physical fatigue I was feeling after spending so many hours in Zoom meetings and on my computer," he says. "I specifically chose both of these items to be appropriate for my height (I'm six-foot-one) so that I had enough knee space. The desk is also wide enough that it comfortably accommodates my laptop, chargers, water bottle, desk lamp, and any writing utensils."
Loungewear
It will come as little surprise that sweatpants and loungewear have replaced denim and dresses when it comes to back-to-school style. "I will definitely be spending way less this semester on clothes and shoes," says Drew Ellis, 19. "There is really no need for anything major, especially since I will be at home a majority of the time." Coco Zangi, 18, agrees: "I'll be cutting back on my fall wardrobe purchases. I'm usually the type to run out before school to buy a new pair of everything, including all my fall essentials, like boots, leather jackets, etc. Instead of the usual shopping haul, I'll be saving all of that energy and money for when life does go back to normal and going out becomes more common." Ellis and Zangi, both FIT students, say they plan to buy Pangaia sweat sets and Aviator Nation sweatpants to get them through fall.
Isabella D'Ambra, a student at the University of Southern California, agrees that sweat sets are "essential" for online school. "My go-to sweat short is from Boys Lie," she says. "I love styling them with a cropped white tank, thick gold hoops, and white Nike Air Forces for a casual yet still cute look." D'Ambra adds that she also likes monochrome sweat sets from Aritzia and Nasty Gal.