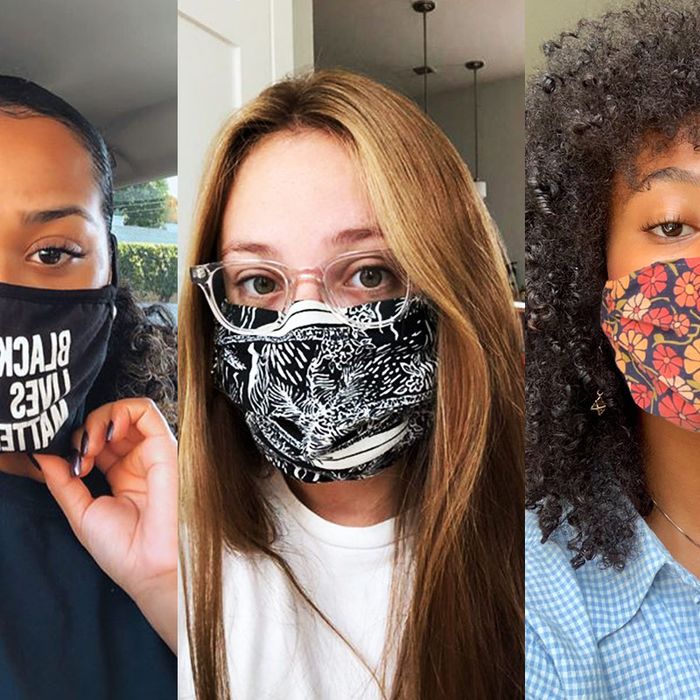 With classes across the country going remote — at least partially — sweats and slippers have ousted jeans and sneakers on many students' back-to-school shopping lists, and instead of new backpacks, teens are spending their allowance on a different kind of school supply: face masks. We talked to 30 stylish teens and undergrads about the masks they've been wearing to keep themselves safe, both on campus (for those who have returned) and off (for the great many who have not). Here's what they had to say.
Two students recommended Lisa Says Gah, the cool-girl L.A. label, for its baby rib knit masks. Boston University student Zoe Allen has it in lime and loves it "so much so, in fact, that I've already bought a second one in the color sage. It's colorful, breathable, washable, and enviable," she adds, noting that she's received countless messages asking where to buy them. Wen Hsiao, a student at the University of Amsterdam, is particularly impressed by the brand's knit mask and scrunchie set. "I love the color options and the idea of matching your scrunchie to your mask, creating a little silver lining through these trying times," she says. Both Zoe and Wen point out that Lisa Says Gah is donating $1 to the San Francisco-Marin Food Bank for every mask purchased.
Columbia student Thandiwe Genevieve, 19, says she's been wearing this '70s floral-print mask from the Latina-owned vintage shop Miracle Eye. "It's kept me stylish and safe this summer through protests, interborough bike rides, and reading days in my favorite gardens," she says. "Though I'm wary about the safety of going back to school, I'm grateful for a university that has the resources to keep its students safe — and a mask that has the color palette to complement any outfit."
19-year-old Maya Holley bought her mask at a Justice for George Floyd protest. "It's a peaceful way to demonstrate what is right and to remind people that POCs' fight for justice and equality is still going on and won't stop until we fix the systemic racism embedded in the culture and functionality of the U.S.," she says.
Maya Crawford, 19, says this mask — made by medical-apparel brand Jaanuu — "fits my face best by far because it molds to my nose and jawline, which makes it safer, as well." A five-pack costs $25, and they come in more than a dozen colors and patterns; Maya wears the "royal blossom," a pretty blue floral. "I love it because it's made with antimicrobial fabric, it's sustainable, and for every one purchased, Jaanuu donates another to an organization in need," she adds.
Isabella Dambra, a student at USC, says face coverings are her top priority for back-to-school shopping. "Masks are essential!" she exclaims. Plus, "there are so many small businesses selling masks that need our help." One of her favorites is by Reuse Masks LA, an indie brand making masks from dead-stock fabrics. Coco Zangi, a student at FIT, also loves the brand, which she found a few months ago via Instagram. "I love them because the material is super-breathable and comfortable and insanely soft," she says. "They can be easily washed and come in so many different colors and prints. I really don't feel like I'm wearing a mask with these!"
Daily Disco, a custom design studio based in St. Louis, introduced masks (as well as beanies embroidered with phrases like "social distancing") shortly after the pandemic hit. And though they make masks in loads of different colors and tie-dye prints, Claudia Olivos, 18, especially loves their leopard one. "With masks becoming an essential part of life, I've definitely started to incorporate it into my outfits," she says. "I love accessorizing, so masks were just another perk for me." Daily Disco's "express my style, are very comfortable, don't irritate my skin, and are super-affordable!"
Columbia student Tyrese Thomas says "as we face a global pandemic, struggle for infrastructural equity for Black, IPOC, and queer individuals, and endeavor to make the world better than it was yesterday," supporting brands that are moving the fashion industry forward is important to him. That's why he wears a mask from POC-owned streetwear brand Profound. "Not only do they come in an assortment of styles that can be dressed up or down, but they also have a PM 2.5 filter for additional protection — and a portion of each sale goes to the International Rescue Committee, health-care workers in N.Y./N.J., and to fund mask-making facilities," he says.
Another streetwear favorite is this one from Bianca Chandon, founded by pro skateboarder Alex Olson. With the word "Lover" in large letters across the mouth, "I feel like it's an outward projection of positivity, almost like a passive way to make someone's day, " says Northeastern student Chris Arciero.
Los Angeles label Johnny Was, known for its vibrant boho textiles, turned its signature prints into face masks that quickly became a brand best-seller. Soumya Jhaveri, a student at Northwestern, says, "They're supercomfortable, and the gorgeous prints easily dress up a plain outfit." She likes that the masks have a pocket to hold an additional filter, plus, "for every set bought, they donate one to essential workers, which is really great."
"So many students are being unjustly forced to go back to school even though it's not safe — thus, my back-to-school mask of choice is the blue surgical mask," says MoniQue Rangell-Onwuegbuzia, an Asian-studies major at Columbia University. But a plain mask is boring, so MoniQue — an illustrator and painter — took markers to it and drew a little Mt. Fuji, inspired by an "affinity for the Asian continent." "And voilà! Now we've got a trendy, unique, and safe back-to-school look."
"So, I love-love this mask," says Bebe Landau, 21. "The adjustable straps make it so you can easily tie it around your ears for quick on and off, or tie it around the back of your head for longer wear." She has two, the lanai pattern and the fruit salad pattern, "both super-versatile and match with literally anything I wear," she says. And if you want to get matchy, you can buy dresses and tops in the same prints as many of the masks.
When Kim Kardashian West's shapewear line debuted its face mask, the stock sold out almost instantly. And the second batch did too. But Celia Kelty, 18, was able to get her hands on one of them, and she says it's one of the best. "The Skims masks are so versatile because, depending on the shade, they can blend perfectly into your face and almost disappear," she says. "And it's only $8!" If the Skims mask sells out before you can grab one, Kelty also loves Morgan Lane's silk masks. "The neutral colors go with any outfit, but the texture can really elevate your look," she says.
André Angeline, a student at American University, likes the masks from English brand Ahluwalia. "I'm really into how each mask has a unique, multiple pattern scheme," he says. And though they're certainly colorful, they manage to match "virtually any outfit," he adds. "The style reminds me a lot of Vivienne Westwood."