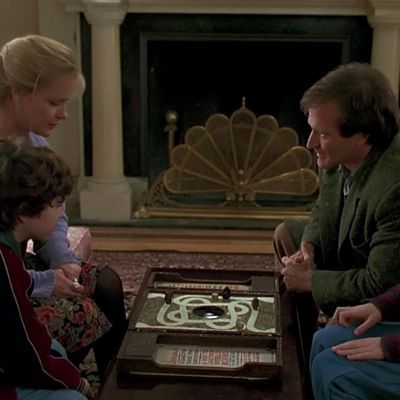 If you've already broken out your old Monopoly board and can't stand to look at another Scrabble tile, consider adding a shiny new board game or two to your collection. And while there are plenty of recent releases you could while away the afternoons with, it's also fun — and welcomingly comforting — to revisit old childhood classics. "Being a kid of the '90s, there were a lot of fantastic and fun games for all ages and skill levels, plus some deeper experiences that defined the modern board game hobby we know today," says board game designer Rob Sparks. To find the best gems from the era, we asked six experts, including board game bloggers, store owners, designers, and enthusiasts, for their retro favorites, including strategy games, party favorites, and kid-friendly options. Note that most of these games are designed for two to four players, with some additional options for larger groups.
Best overall '90s board game
Boardgame enthusiast and Cartamundi Tabletop Games Ambassador Sean Amdisen-Cooke says that Catan is "without a doubt a classic." He credits it as the title that first pulled him into the world of board games. "Catan is known in the board games community as a 'gateway game,' which has drawn thousands into the world of board games," he explains. The premise is relatively straightforward: Players collect resources to build a civilization from the ground up by rolling dice or bartering with other players, earning points along the way. "Catan turns 25 this year and has sold millions of copies since it first saw the light of day," says Amdisen-Cooke. "Catan is still outrageously popular for its simple-to-play, highly strategic," premise, adds Sparks. While he notes that not much has changed since the original release, there are plenty of expansions available to shake up the gameplay. Catan also earned a top spot in our best four-player board games roundup. "It's no accident that it's such a popular game," illustrator Stephan Walsh told us. "Catan is such an endlessly adaptive game, with so many opportunities to show off your skills at strategy."
Best '90s bluffing-style game
Photo: Courtesy of the vendor
According to Greg May, owner of The Uncommons and Hex & Company, "13 Dead End Drive had some fun commercials '90s kids may remember, but it's still widely available because it's such a great concept." Jenn Bartlett, pn bv bbn resident of the American Library Association's GameRT and contributor to The Dice Tower, YouTube's most popular board game channel, calls the murder-themed board game "a wonderful introductory bluffing game," that is easy for children to play and that the entire family can enjoy. After the death of wealthy family matriarch Aunt Agatha, characters play against each other for the contents of her will. The main objective of the game is to avoid your competitors and the house's traps to claim the estate for yourself. Both May and Barlett love the 3-D board, which May describes as being similar to Clue, with a more sophisticated design.
Best '90s party game
Up to ten players can take on this "fun, easy to learn, and absolutely merciless" game released in 1994, says Amdisen-Cooke. Each card is printed with a number and between one and seven bull's heads symbols, which represent penalty points. The game progresses until a player reaches 66 points, and then everyone's cards are tallied. "What I love about this game is the anticipation before everyone simultaneously reveals their cards to find out who's potentially going to rake up a bunch of minus points," says Amdisen-Cooke. The person with the fewest horns wins.
Best '90s auction-style board game
In Modern Art, players take on the role of an art connoisseur, buying and selling paintings to assemble the most prized, profitable collection in this "simple-to-learn, deeply engaging" auction game, explains Sparks. The gameplay is around 30 minutes and can accommodate between two and five players, making it suitable for beginners. While auction games are difficult to design well, "this one nails it," he promises.
Best '90s strategy card game
According to Amdisen-Cooke, no '90s board game list would be complete without Magic: The Gathering, created by famed game designer Richard Garfield, because it "will without doubt ring a nostalgic bell to millions across the globe." A favorite since it first debuted in 1993, 27 years later, the game "maintains a strong release schedule, with over 20,000 unique cards published, and millions of loyal fans regularly engage in planeswalker battles all over the world."
Best '90s board game for intermediate players
Another Richard Garfield-designed board game is Robo Rally, "a chaotic, simultaneous movement game," which May says "still holds up as a classic." Speaks agrees, calling it "a bit of a hidden gem." The players move their robots around using cards, but the catch is that everyone reveals their moves at the same time, and you can't adjust course once everyone's strategy is revealed. The game also has a "really flexible player count" of two to eight players, which means it scales well for different group sizes, and "it's easy enough to learn in minutes."
Best '90s board games for advanced players
Photo: Courtesy of the vendor
Sparks calls Twilight Imperium one of the "most ambitious, all-encompassing space dramas" but notes that it's "not for the faint of heart," since an average game will take between seven and 12 hours to play. The game is set in space after the demise of the previously dominant empire falls. Players take on the roles of rising empires, hoping to gain enough military and political control to take over the galaxy. Because of the in-depth strategy and extended gameplay, it's best for advanced gamers looking for a new challenge.
Best '90s world-building board game
Photo: Courtesy of the vendor
Euphrates & Tigris has players build their civilizations from the ground up in the fertile crescent by strategically playing tiles and gaining points in various categories, including farming, trading, religion, and government. The catch is that your final score is taken from your weakest category, so it's important to build a well-rounded society. Sparks told us that it's highly regarded among the board game community, especially for more experienced board game fans. And Walsh calls it "a must for any lover of ancient history."
Best '90s card-based games
Board game blogger Matt Montgomery describes Bohnanza as "a bean-trading card game with great staying power." The main objective of the game is to earn gold by planting large fields of beans and then harvesting them by trading and making deals with other players. The interesting catch is that players must play their cards in the order that they are drawn: You cannot rearrange your hand.
Photo: Courtesy of the vendor
Bartlett loves this "fun, silly, and irreverent," card game set during the French Revolution, where you must attempt to collect the most heads of the nobles. Released on Bastille Day in 1998, the game can be played with two to five people. "You'll be laughing with your friends and family as you play and collect cards," Bartlett promises.
Best family-friendly '90s board games
While technically published in 1963, the reprint in the '90s was extremely popular, explains Sparks. "Nothing could beat being a kid and unboxing this game to build a wacky Rube Goldberg machine," he says, adding that it's perfect for families, with simple mechanics for any age. The game is suitable for children ages 4 and up and can accommodate two to four players.
Similar to Mousetrap, Operation was initially designed in the '60s, but we're including it here because it was beloved by '90s kids. Walsh told us that while he loved this game when he was young, he also enjoyed playing it when he was older with his friends after a night out. The whole family can sit down and operate on Cavity Sam to remove his various ailments — including his wishbone, charley horse, and Adam's apple — without setting off the buzzer.
Best 90s board games for kids


Photo: Courtesy of the vendor
This game recently had a resurgence in popularity after a reprint hit the shelves, says Sparks, adding that while the gameplay is simple for kids, Looping Louie is "full of tense moments and laughter," as you attempt to protect your chickens from the diving plane. "It's an excellent, fun game that is all about timing," he concludes.
Milton Bradley's delightful shopping-themed board game Mall Madness is great for kids (or adults who want to take a trip down memory lane). The main objective is to be the first player to collect all the items on their shopping list from stores like I.M. Coughin Drug Store, The Write Stuff Card Shop, and 2 Left Feet Shoes and make it back to the parking lot. The original game was released in 1988, with newly designed versions coming out in 1989, 1996, and 2004. While you can track down used versions of the specific design you played as a kid on eBay, Bartlett also told us that "fans of the game will be treated with a reprint and update later this year."
If you want to relive some '90s movie magic, try this Jumanji-themed board game. While Sparks notes that the game itself is rather simplistic — no monkeys are going to come charging into your living room — "if you're looking for a bit of merchandise, this is a nice little box."
The Strategist is designed to surface the most useful, expert recommendations for things to buy across the vast e-commerce landscape. Some of our latest conquests include the best acne treatments, rolling luggage, pillows for side sleepers, natural anxiety remedies, and bath towels. We update links when possible, but note that deals can expire and all prices are subject to change.