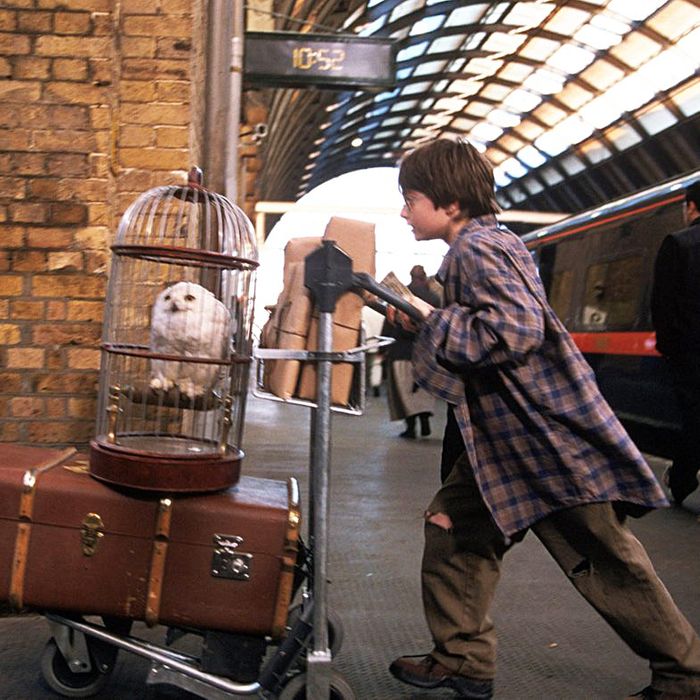 Photo: Courtesy of Warner Bros. Studio
Here at the Strategist, we like to think of ourselves as crazy (in the good way) about the stuff we buy, but as much as we'd like to, we can't try everything. Which is why we have People's Choice in which we find the best-reviewed products and single out the most convincing ones. (You can learn more about our rating system and how we pick each item here.)
And while we've written about lots of pet accessories before — including the best airline friendly pet carriers, the all-time best pet products, and the best litter boxes — here we've rounded up the best bird cages, as praised by the most enthusiastic reviewers on Amazon.
Best-rated birdcage
The main appeal of this flight cage for many reviewers is its size. "I have a male canary, two female canaries, three society finches and two fancy zebra finches. They are loving the room and are a happy family," comments one bird owner. Another bird enthusiast loves this for her eight parakeets because "it gives them tons of flying room." But even bird owners with just one or two birds like this large flight cage. As one explains, "there is more than enough space for all kinds of toys and they can still move around without getting tangled in it all." One reviewer bought this cage to cheer up her canary, who wasn't pleased with his old cage: "My canary is ecstatic to have more room, and now I no longer worry about him being cramped while I'm not home. After setting up this cage, he hopped right in, looked around, and sang happily." As this reviewer concludes, "Your feathered friends will love the space and safety from harm."
Best-rated (less expensive) birdcage
"I love this cage. It's sturdy and folds together like a dog kennel and collapses for easy storage," writes this reviewer. Another admits, "I had my doubts about this cage being retractable and all of that but I love it and so does my sun conure." They continue, "It was bigger than expected, which of course is good for longer trips or car rides." In fact, dozens of reviewers prefer using this as a travel cage, because, as one reviewer explains, it's "too small to keep a bird in full-time," but it's "great for traveling or night use. I move my cockatiel to a warm room at night and this cage makes a perfect nighttime cage." Others just love that they can travel with their birds easily, like one who notes, "This travel cage provided and excellent place to keep him safe while we dined out and overnight while he slept." Another reviewer adds, "Best of all, the price was fantastic."
And now for some micro-picks for every type of birdcage you might be looking for.
Best easy-to-clean birdcage
Reviewers raved over how easy to clean this small wire birdcage is. "There is no mess, and I mean no mess, around this cage," writes one. Another shares, "I love the way these cages are designed. So much easier to clean and keeps the mess inside. Every time I've switched to a different cage (we have several), there's always seeds all over the floor and my husband asks me to put her in this one." One reviewer bought this cage for her mother to quickly clean without a hassle, explaining, "When you want to clean the bottom of the cage you just unclasp the top off the bottom of the cage. You then lift bird and all off the bottom of the cage and set it off to the side while cleaning." In fact, it's so easy, they even note, "Almost makes me want to get a bird." Another appreciates the pivoting doors, commenting "I freaking love these things. I usually have one in, and one out, so they have a landing perch inside their cage to jump to, as well as keeping one side open with a perch to take off to leave the cage." One just loves how much room his parakeet has, writing, "If I were a bird I would want to live in it. It has lots of space to hop around and get excess energy out if you put enough perches in it."
Best wrought-iron birdcage
"This is hands down the best birdcage we have ever purchased," raves one bird owner, adding, "The metal is a nice heavy gage and easy to wipe and keep clean. Our bird enjoys his large cage and like his play area on top." Another calls this "the best birdcage there is," noting that this birdcage is especially easy to clean, thanks to "a grill that slides out like a drawer, and a bottom tray that's really deep for messy birds." One reviewer notes that this isn't a suitable cage for "birds smaller than a conure," but plenty of others recommend it for medium to large birds, like one who explains, "The bars spacing and thickness suites requirements of a medium parrot, like a cockatiel, he cannot escape in between, put his head through or bend them." Another who calls this "the most awesome birdcage ever" appreciates the wheels on this birdcage, adding that it's easy to transport your bird from one room to the other without taking the bird out. He writes, "Rio spends a lot of time in her cage due to her excessive biting. She sleeps in it in the kitchen at night and then we wheel her into the living room during the day so she can watch TV and the dog."
Best parakeet birdcage
Parakeet owners flocked to this charming, parakeet-specific cage. "As soon as he was transferred he started whistling and doing laps around it. He approves 100% and is much happier with more space," praises one parakeet owner. Another advises that it's "a little bigger" than typically recommended for a parakeet, but his bird "seems to be enjoying the new space." One loves that there is "plenty of room to hang toys and place perches without getting in their way," but more importantly, "Keets like to sleep high and this cage allows you to put a small perch up top so they feel very secure."
Best birdcage with divider
"I can finally put my love birds together," rejoices this bird owner, adding, "They love this cage and if they decide to bicker, I just slide the divider in and they play well by themselves." That divider is why many owners say that this is a great pick for those with quarrelsome birds. "We got this for two foster budgies who were in too small a cage and often fight. We figured we can use the removable divider to put them in separate timeout without traumatizing them by removing them from each other entirely," explains one. Another doesn't use the divider for fighting birds but for an easier cleanup, noting, "This cage is great. It's easy to clean with the pull-out pans and we use the divider to clean each half at a time so the birds don't get out." One with two mated canaries and a single male who needed to be separated appreciates that this gives you two cages for the price of one, sharing, "Whether you want one large or two smaller cages, this can work for either using the removable divider that just slides right in or out. Easy to clean and very easy to get to just about any area of the cage without your birds escaping. This is perfect for my needs and my birds."
Best flight birdcage
This flight cage is a hit among reviewers with small birds. "My canary really loves his new cage even more than me, if that's possible. He has had it three days and hasn't stopped playing or flying end to end. Excellent engineering details were surely done by a longtime bird owner because this cage is a joy to work with," raves this reviewer. Another celebrates how happy his birds are now that they have more room to fly, commenting, "Learned through research that our birds love to fly horizontally and this cage is perfect. They are much more active, talkative and seemingly happier birds since we've moved them into this cage." Another thinks his "parakeets are just loving the freedom this cage allows" so much so that his "parrot and cat are enjoying watching the parakeets in their cage," while another is just enjoying watching hi