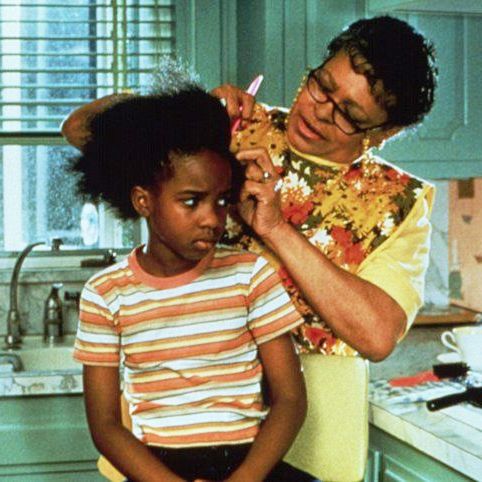 Photo: Universal Pictures
Caring for a child's hair can be challenging. Crying and squirming aside, there's a near-endless selection of products that makes it difficult to know what actually works. That's why we spoke to 12 moms with children under 7 about their favorites: Products they've used on their kids' natural hair since birth, and the things they've discovered through trial and error along the way. Most of the moms we spoke to prefer hair products that are ultragentle and fragrance and sulfate free. Another priority: teaching their kids from a young age how to care for their natural hair. "It's incredibly important to teach my daughter Corbin that her hair is easy, fun, and beautiful," says Hyper Skin founder Desiree Verdejo, a mom of two. "Most of my lessons and decisions surrounding her hair are based on giving her a feeling of ease and comfort surrounding caring for her curls."
We've rounded up their picks ahead — from body-wash-shampoo hybrids to a detangling spray that leaves hair shiny and easy to comb.
Best all-in-one shampoo and body wash for natural hair
This shampoo-body-wash hybrid from Aveeno is ultragentle and formulated with soothing natural oat extract. Million Dollar Flea founder Labria Golden uses it on her toddler, Chayse, whom she describes as having 3C hair. "I love this shampoo because although it's very gentle, it creates the perfect lather to remove dirt and oils," she says. "All you need is a pea-size amount to get the job done." Owner of New York–based salon A Curl Can Dream, Daryce Willis-Tolliver, is also a fan. "I like the cleanser for Lennyx's skin," she says. "It's gentle enough." Willis-Tolliver also likes to work the product through the hair with a comb or her fingers, which helps to smooth the cuticle and allow the ingredients to penetrate the hair.
Social-media and content-marketing strategist Alyssa Neilson uses this fragrance-free Pipette baby shampoo on her newborn whose hair is ultrafine and delicate. "I made a commitment to keep her products as clean as possible, especially for her hair," she says. "It terrifies me to think of the things I was being exposed to as a little girl so long ago, and I don't want to repeat that just by buying what's convenient and on shelves." This super-gentle wash uses plant-derived cleansers and natural moisturizers like glycerin and squalene, which work together to clean without stripping.
Best moisturizing shampoos for natural hair
Verdejo washes her toddler's hair once a week with this co-wash from Briogeo. "She's 3 and a half and hates the process of rinsing her hair, so a co-wash allows me to wash and condition her hair in just one step," she says. "This one is moisturizing enough that it leaves her hair shiny and tangle free." The hydrating cleanser uses ingredients like shea, avocado, and quinoa, which makes it easy to detangle hair.
Elyse Fox, founder of nonprofit organization Sad Girls Club, also likes to use a co-wash on her son's hair, which she describes as 4B/4C. Her favorite is Bread Gentle Milky Hair Cleanser, a lightweight option that uses moisturizing ingredients like aloe vera and argan oil. "The hair wash is the most hydrating shampoo I've ever used, and it smells incredible," she says.
Dana Oliver, a beauty director at Yahoo, swears by the Innersense Organic Beauty line for her son who has very thick, curly hair. "At the end of the week, when his curls are parched from the elements and whatever gets stuck in his strands from school, I can trust that this shampoo will wash it clean without stripping away natural oils."
Best deep-cleansing shampoos for natural hair
Writer Danielle Powell describes her 3.5-year-old daughter's hair as spongy, fine, and 4C. She often puts it in protective styles lasting anywhere from one to two weeks, so shampoos must deeply clean the hair. "This shampoo does such a great job of cleaning without my having to torture her (and therefore me) by washing it multiple times," she says. The lightweight texture makes it easy to distribute the shampoo throughout her hair to the roots. "I don't have to pull and tug to get it clean," said Powell.
Another deep-cleansing option: Writer Christy DeGallerie likes this cult-favorite Trader Joe's shampoo, which she uses whenever her kids' hair needs a deep clean. "The kids say it feels like it's giving them a handless massage." She washes with it occasionally and uses just a small amount to avoid stripping the hair. "We're a co-wash family more than anything."
Best moisturizing conditioners for natural hair
Oliver detangles and two-strand twists her son's thick, curly hair with this conditioner — it provides the slip she needs to do so, gently. The creamy formula is packed with ingredients like flaxseed oil, shea butter, monoi oil, and aloe that strengthen hair while also moisturizing, which helps with frizz.
Powell combines shampoo with this conditioner when detangling her daughter's hair because it prevents matting and cleans and conditions in one step. Jojoba and safflower oil lock in moisture, and the thick texture helps the detangling process. She also likes that this conditioner is phthalate, paraben, and sulfate free, and nontoxic — nonnegotiable for her daughter's products.
DeGallerie likes this conditioner for her sons who have normal porosity, 3B/3C hair. "It glides through their hair," she says. It protects the strands' moisture barrier, which encourages length retention and growth.
Best deep conditioner for natural hair
DeGallerie uses this conditioner on her daughter with low porosity, 4A/4B hair. "It doesn't weigh down her hair or leave it dry," she says. This conditioner contains lightweight oils like flaxseed and mango along with thicker, moisturizing ingredients like avocado and coconut oil, which contain fatty acids that help strengthen the hair. "It gives her hair a lot of volume, moisture, and shine — it's even softer after we wash this out."
Best hair mask for natural hair
For an additional dose of moisture, Powell uses the Girl+Hair Curl Cloud mask, which uses pimento oil, an antioxidant that promotes hair and scalp health. "I use this when her hair is in need of serious moisture," she says. "It is thick and leaves her hair really soft and manageable."
Best detangling sprays for natural hair
Two moms mentioned this detangling spray from Cantu, which blends shea butter, coconut oil, and honey. "It doesn't leave their hair feeling stringy or sticky, and it gives hair shine," says DeGallerie, who uses it on her three children. They have a range of hair types — from 3B/C to 4A/B — and this spray works on all of them.