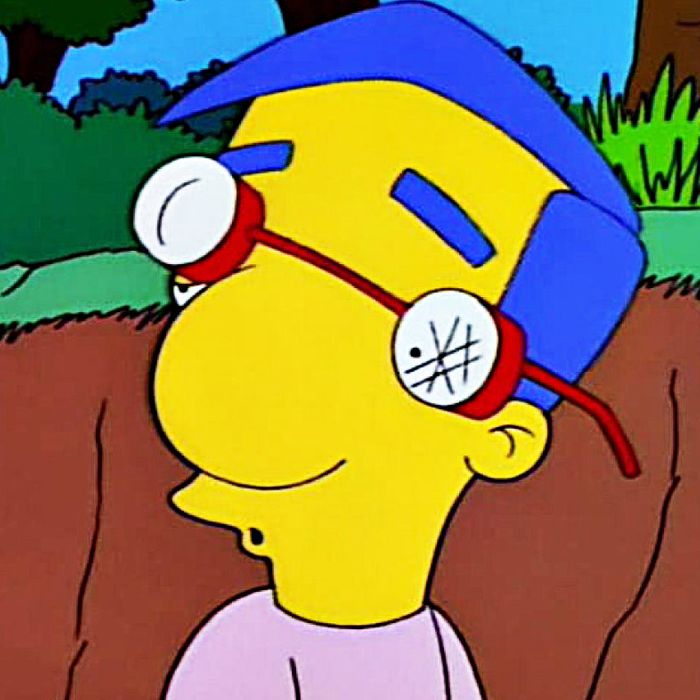 As stay-at-home orders drag on, many of us are looking for ways to DIY tasks we used to outsource to professionals. While self-treating anything you'd normally visit a doctor for requires more care and attention than shaping your brows and unclogging a drain, if you've noticed your vision has worsened, there are online resources available that you can use to check it at home — many of which don't cost a penny. "There is a whole host of free visual-acuity applications that are simple to use," says Sophia Saleem, an ophthalmologist at the New York Eye and Ear Infirmary of Mount Sinai. Dr. Ashley Brissette, an assistant professor of ophthalmology at Weill Cornell Medicine, has some tips on how to make the most of these at-home tests: wear your glasses or contact lenses if you usually wear them when checking your vision; check each eye separately; and, if using an app, be sure to turn the screen brightness all the way up to maximize the accuracy.
Brissette says these "at-home tests can be a good screening tool if you think that there may be a new problem with your vision," but stresses that they cannot test for refractive conditions like myopia and astigmatism, so any at-home test should not take the place of a proper eye exam with your ophthalmologist, whether virtually or in person down the line. Brissette, Saleem, and the four other experts we spoke with stress that tests you can take or find online will not by themselves leave you with a prescription you can use to order new lenses, either. Rather, at-home tests are meant to gather information you can share with a doctor to decide if you need a new prescription. Most doctors are offering virtual telemedicine visits over the phone or via video conferencing, and as Dr. Christopher E. Starr, an associate professor of ophthalmology and the director of refractive surgery and ophthalmic education at Weill Cornell Medicine, puts it, "While a virtual visit will never surpass an in-person one, between high-resolution photos, video cameras, and various mobile apps and computer programs, we can get fairly close."
Anyone experiencing "blurry vision, pain, double vision, or an eye injury" should contact their ophthalmologist to see if they need an in-office visit, says Brissette. If you do not have an ophthalmologist to call, Dr. Douglas Fredrick, the chief of pediatric ophthalmology for the Mount Sinai Health System, notes that there are many academic medical centers with ophthalmology departments in the greater New York area that are seeing clients, including the New York Eye and Ear Infirmary of Mount Sinai, Weill Cornell Medicine, New York University, Columbia, and Montefiore.
Eye
exams
to
take
at
home
Three of our experts recommend the Eye Handbook app as a resource for at-home vision tests. According to Starr, it "has various vision tests for measuring visual acuity, color vision, contrast sensitivity, and macular health." There's also the eyeCuity app, which provides a free near-vision chart and comes recommended by Fredrick. Starr and Brissette additionally recommend the free Verana Vision Test app, which has a visual-acuity test and an Amsler grid that can test for macular degeneration. Starr and Dr. Leila Rafla-Demetrious, an assistant professor of ophthalmology at Weill Cornell Medicine, also directed us to the Academy of Ophthalmology's website, where "one can find standard Snellen eye charts that can be printed and hung at the correct distance for testing far vision," explains Starr. That site, Rafla-Demetrious adds, also has a free "tumbling E" chart that can be used to test children's vision and specific instructions for how to use it.
Supplies
that
can
help
with
at-home
eye
tests
The best thing about using one of the free resources above to test your vision, say the experts, is that you typically don't need any additional tools aside from a smartphone or tablet. But if an at-home exam leads you to book a virtual appointment with an ophthalmologist, you might need to take photos of your eye, which Starr says can be hard to do on your own. If you don't live with someone who can take the photos for you, "then setting the camera on a tripod and setting the shutter on a timer can help produce clear ocular photos," he says.
If you're testing your vision using a printed eye chart hung on a wall, the Academy of Ophthalmology has a list of suggested products you probably already own that can help, including tape, a pen or pencil, a notebook, a ruler or tape measure (to measure the distance between you and the chart), and a flashlight (to illuminate the chart's lines and letters).
Best
retailers
to
order
glasses
from
online
Once you have a prescription you and your doctor are happy with, there are plenty of direct-to-consumer eyeglass companies that can deliver new frames right to your door. Three that our experts mentioned as being popular among their clients include Warby Parker, Zenni, and Glasses.com. Frederick notes that, in addition to your prescription, you may need to send the companies an additional measurement — your pupillary distance, or the space between your pupils — but says that retailers typically will tell you how to measure it yourself (another reason why you'll want a tape measure or ruler handy).
Of the three retailers the doctors mentioned, Warby Parker is the only one that also offers digital eye exams (for $15, via its Prescription Check app) you can take to get a renewed prescription. You will only be charged if a doctor issues you a prescription — and that prescription can be used anywhere, not just at Warby Parker. No matter the retailer you choose to buy glasses from, just be sure to check its return policy, in case you need to make adjustments once you receive your frames.
Best
retailer
to
order
contacts
from
online
If you're a regular wearer of contact lenses, several of our experts say now is the time to consider swapping them for a pair of glasses to reduce the number of times you're touching your face, in turn reducing your risk of contracting COVID-19. Dr. Pratik Patel, an ophthalmology instructor at Weill Cornell Medicine, adds that "anyone who feels ill with cold- or flu-like symptoms should discontinue contact-lens wear." And, as Brissette points out, "contact lenses can also lead to eye infections" that require in-person visits you might rather not make. If you must continue to wear contacts, "make sure to wash your hands before putting them in or out," properly disinfect the lenses and their case, and dispose of them as often as directed, Brissette stresses.
Should you need to renew a contact-lens prescription, Bissette recommends sticking with whatever brand you've been using. Anyone who has already been fit for contact lenses in person but has yet to order them online can likely find their brand at 1-800-Contacts, which she says carries "a broad range." If you have been fit for contacts by a doctor within the last year and feel like your vision is stable, 1-800-Contacts offers a free online exam to renew your prescription, which Fredrick says is generally safe. Dr. Monica Dweck, an ophthalmologist at the New York Eye and Ear Infirmary of Mount Sinai, agrees: "As long as you're not trying to change the shape of the lens, that's fine." But if you've never been fitted for or worn contact lenses, Dr. Paul Petrakos, an assistant professor of ophthalmology at Weill Cornell Medicine, does not "recommend getting them for the first time online, as that can increase your risks for complications like contact-lens intolerance or corneal ulcers."
The Strategist is designed to surface the most useful, expert recommendations for things to buy across the vast e-commerce landscape. Some of our latest conquests include the best acne treatments, rolling luggage, pillows for side sleepers, natural anxiety remedies, and bath towels. We update links when possible, but note that deals can expire and all prices are subject to change.