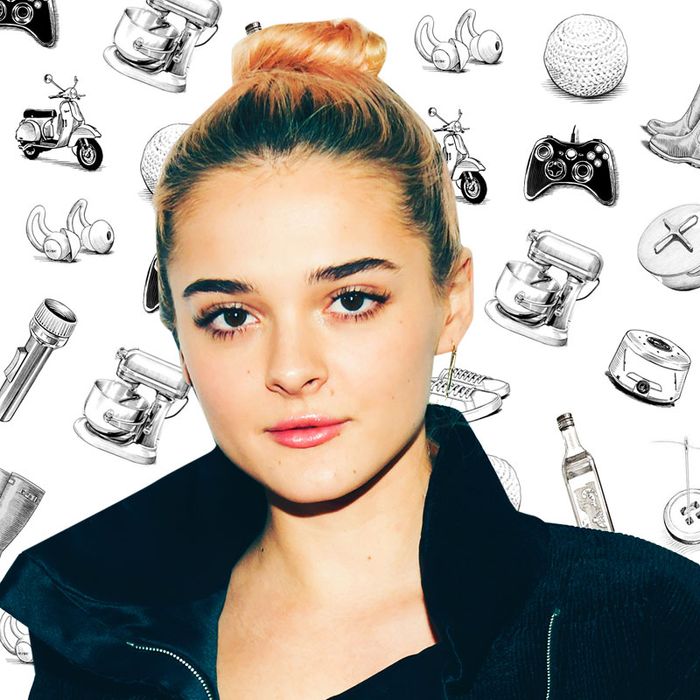 Photo-Illustration: Getty
If you're like us, you've probably wondered what famous people add to their carts. Not the JAR brooch and Louis XV chair but the hairspray and the electric toothbrush. We asked musician Charlotte Lawrence — whose EP Charlotte came out today — about the sweatpants, guitar, and lip balm she can't live without.
I'm addicted to anything sour blue raspberry. I have a candy section in my pantry, and it's all blue-raspberry sour candy. I eat it every single day. It's an addiction. I like the gross kinds of sour candy, like Warheads and Baby Bottle Pops and the Super-Sour Spray that literally tastes like acid. But these Blue Raspberry Sour Straws are the best. They're the kind of sour that makes your eyes water, and they make my tongue and teeth look blazing blue.
Beading is my quarantine hobby. Everybody else makes sourdough bread and paints and cooks, but my thing has been beading. I turned my dining room into a beading room. I have boxes of beads everywhere. I've probably made maybe 100 to 150 different things? Rings, bracelets, necklaces. I buy all of my beads on Etsy because it has the coolest, most random finds, like these glass beads.
My dog Winnie is the pickiest eater. She's a poodle-Chihuahua-terrier-Shih-Tzu mix and looks kind of like a ferret, unlike any dog I'd seen before. In the first three months of her life, she would rather starve herself than eat any sort of dog food. I fed her things like turkey from the deli and broccoli and matzo-ball soup. I made a lot of her food myself, which was so frustrating. But then I found Farmer's Dog, which makes human-grade dog food that she'll actually eat. It's actually healthy, and you can customize the food for your dog, too.
My mom put me onto this. It's supposed to be a lip mask that you sleep in, but I use it as an everyday lip balm. You know how Aquaphor makes your lips look fine for a second, but then you kind of feel like they're even more chapped, so you keep putting more on? Well, this Laniege stuff stays on all day and doesn't make your lips chapped. It's like Vaseline but smoother. I'm always stocked with it. If I were to ever run out, I'd freak. I have to have it.