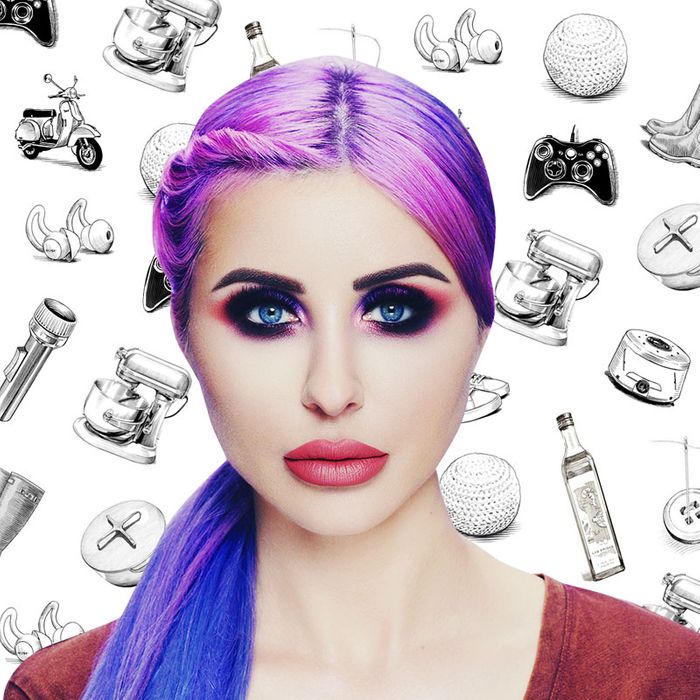 Photo-Illustration: The Strategist; Photo: Courtesy
If you're like us, you've probably wondered what famous people add to their carts. Not the JAR brooch and Louis XV chair but the hair spray and the electric toothbrush. We spoke to Claudia Soare, president of the makeup brand Anastasia Beverly Hills, about the candle she "inherited" from her mom (the "Eyebrow Queen," whose clients have included Cindy Crawford and Michelle Obama), the disinfectant wipes she carries everywhere, and her Chihuahua-proof flip-flops.
I carry these with me everywhere, especially at the gym. I go to the Gold's Gym in Venice, and a lot of people will sweat all over the treadmill or elliptical or stair-climber and won't clean it after. I like to have these in my bag to clean the machines before I start using them. It's so funny, whenever there's somebody on a machine next to me and I take these wipes out to clean, they just have this look of Ah on their face. Everyone loves the smell of Fabuloso — it's literally the scent of a clean house.
This is my favorite perfume, and I wear it almost every day. I never knew what absinthe smelled like until I bought this. It's like the coolest, mintiest fresh scent. It's just so unique. It always gets people to be like, "What are you wearing? That's amazing." And it smells good throughout the day. It never wears off.
I used to drink espresso shots, but then I realized that drip coffee is stronger. But when I made the switch, it gave me acid reflux. I would be like, Oh my God, this is burning my stomach. I did a little bit of research and found that Volcanica's Kona Coffee Peaberry has a lower acidity, so I gave it a try. Now I'm obsessed with it and drink it every day. I can drink as much as I want and never have stomach problems. It's also probably one of the best coffees I've tasted. I think even if you're not a coffee drinker, you would like this. I buy whole beans five pounds at a time because I'm surrounded by people all the time at the studio and always like to have coffee on-hand. I find myself making ten cups of coffee a day for myself and other people.
I know matches are a funny thing to include, but I always have a big box of them in my bathrooms. People usually get candles or room sprays, but to me, those are so annoying to burn for such a small room. What a lot of people don't know is if you just strike a match and let it burn halfway through after it smells bad, the smell completely goes away. It's very quick and efficient, especially for small guest bathrooms. It saves so much time. You don't have to light a whole candle or burn incense.
I inherited this candle from my mom. I would see that she and all her celebrity friends would gift this to each other, so I started buying it for myself about ten years ago. I always buy the really large ones because I work in a big room and I want to be able to capture this scent everywhere. It has a smooth, rich, a little woodsy scent, but it's not too overpowering. It has now become a holiday-gifting staple for me, too. It was actually sold out everywhere this holiday and I had to go through Selfridges to order it and have it out on time for everyone.
I only like Philosophy's shower gels. But the thing about it is if you buy them at most places, you only get a small size. I've only ever bought them on QVC because they have an exclusive there where you can get a jumbo size with a pump. I feel like such an old lady buying things from QVC, but it's always my go-to for buying this gel, and I always stock up on their seasonal and holiday scents. I like this lychee-and-rose scent because it's the perfect sweetness.
I use so many hair dyes to do my hair, which isn't very practical. So one of the things I do to maintain it is use this Overtone color conditioner twice a week. About four years ago, the company sent some to me, but I actually started buying it for myself. Not only is it a conditioner, but it's a color deposit, too. Most purple conditioners are made to take out brassiness in blonde hair but they're not meant to deposit purple color. This one does both. A lot of people don't know, but hair dyes don't last very long. The color starts to fade after your first wash, so you have to constantly maintain it. This toner helps so I don't have to dye my hair constantly.
My hairstylist introduced me to this leave-in mask last year. A lot of people think it's a wash-off, but you actually leave it in. What's amazing about it is if you color your own hair, you get a lot of patchiness or areas of color that don't grab or hold because of different porosity, and this helps with that. Trust me, I've tested this so many times. I just towel-dry my hair, put this conditioner all over, comb it through, and then apply. This helps so that the color grabs evenly and perfectly. There aren't any areas of patchiness. I also use it twice a week as a conditioner, and I like that it doesn't weigh my hair down too much. Some conditioners have a lot of silicone in them and create a film over your hair, making it look really flat. This doesn't do that at all.
My God, I'm sure people have known about this forever, but I just discovered it about two months ago while I was shopping with my mom in Miami, where she has a house. I just happened to pick it up while we were shopping in Bloomingdale's, and now I'm obsessed with the smell. It's sweet but really clean, and it's a scent that doesn't get annoying. I don't like anything too flowery or powdery since it lives on you and on your clothes. It just smells really nice and expensive.
I think Skims has the best basics ever. I have their shirt in black, but I love this almost bleached olive color. They do such an incredible job with desaturated colors, and it's very unique to them. They're also so comfortable and made of very good material. It stays perfectly stretchy and doesn't get loose around your waist after wearing it for a while. It stays tight, and they don't shrink either. They're also a great cut. Sometimes I don't like T-shirts like this because the sleeves are too short and make my arms feel and look weird — like, Why is there so much arm coming out? But this is just the perfect cut. I look really cute in it, and it can be dressed up or dressed down.
Tory Burch has the best flip-flops ever. They're cute. They're durable. They're an amazing-quality flip-flop. My Chihuahuas love chewing on my shoes, and they can't destroy these. And somehow, they never get worn down. I own multiple pairs in navy, white, and stripes. Whenever they release special colors, I get them right away. I especially love them in the summertime because I can't deal with real shoes.
Brow Freeze is a life-changer for me. I have the straightest hair in the world, and not only that, the way my brow bone is, half of my brow hairs always point down. It is what it is. And Brow Freeze is literally the product that I have to use to get those hairs to stay up. It immediately combs my brows up. I almost look like I have a different face when I use it. It completely changes how my eyes and forehead look because I can actually get all that stubborn hair lifted up. And my brows stay up all day long. It's incredible.
The Strategist is designed to surface the most useful, expert recommendations for things to buy across the vast e-commerce landscape. Some of our latest conquests include the best acne treatments, rolling luggage, pillows for side sleepers, natural anxiety remedies, and bath towels. We update links when possible, but note that deals can expire and all prices are subject to change.