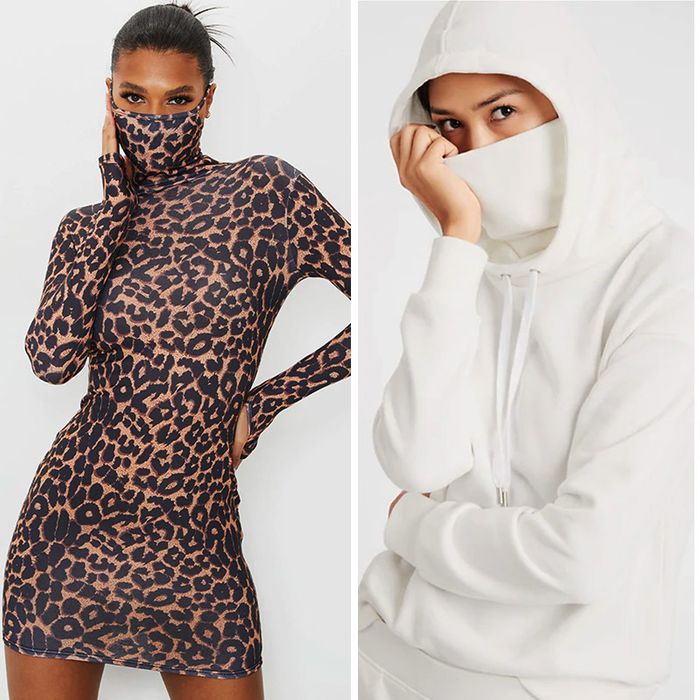 Photo-Illustration: retailers
In September, model Lottie Moss (Kate Moss's younger sister) was seen wearing a body-con dress with a mask attached. After the image exploded on social media, the dress, from British fast-fashion brand PrettyLittleThing, quickly sold out. One month later, Christine Quinn of Netflix's Selling Sunset was photographed at an L.A. gas station wearing the same dress in leopard print. Now back in stock, the dress is part of a growing crop of dresses, hoodies, and sweaters with built-in masks. While these pieces certainly make mask-wearing more convenient (it's hard to forget your mask when it's attached to your clothing) and, for some, more appealing from a fashion standpoint, we wondered how well they actually protect the wearer and others from the coronavirus.
When I showed Quinn's dress to two infectious-disease doctors, they weren't that impressed. "It's better than nothing, but that's not what the public-health officials have in mind when they're recommending people wear a mask," says W. David Hardy of Cedars-Sinai Medical Center. He explains that the thin, stretchy material found in most garments will not be thick enough to properly block respiratory droplets from escaping. As Strategist writer Liza Corsillo reported in her thorough explainer on fabric face masks, the most protective masks are made from multiple layers of thick, tightly woven cotton, and they block bright light from shining through. The mask on Quinn's and Moss's dress, however, is made from a viscose-elastane blend that more closely resembles a gaiter. While beloved by runners for being breathable, gaiters have demonstrated mixed results when it comes to containing respiratory particles. A recent study out of the University of Georgia showed that single-layer gaiters were more protective than not wearing a mask but not as effective as a two-layer mask or even a thicker gaiter.
Of course, any mask is better than no mask, and the extent of the protection you need will vary based on the situation. "Masks come in degrees of value," says Peter Katona of the David Geffen School of Medicine at UCLA. "The least valuable are the gaiter-type masks. A three-layer cloth mask probably has more value, a surgical mask has even more value, and then an N95 mask has the best capabilities of all the masks that are out there." Although the type of mask on Quinn's dress wouldn't be his top recommendation for wearing indoors while in close contact with others, he says it's probably fine if you're outdoors and can maintain proper social distancing.
In case you're not planning on being in close contact with people outside your pod and you want to try some mask-incorporating clothing, we've rounded up a few nice-looking options currently on sale and in stock (until another model or reality-TV star wears them, at least).
Here's Quinn's leopard-print dress. It's available in additional colors, like solid black and blue tie-dye. PrettyLittleThing sells a few other pieces with built-in masks, like this bodysuit for layering and this comfy-looking jumpsuit.
This hoodie has an extra front panel that can be pulled up and used as a mask. It doesn't have ear loops, so the fit will be more gaiterlike, but terry is a thicker material that some research, including this Northeastern University study, shows is fairly effective for blocking droplets.
For a more traditional (and effective) built-in mask, this hoodie comes with a removable three-layer cotton mask (including a water-repellent layer) that appears to fit most experts' guidelines. Snaps on the side of the mask attach it to loops on the sweatshirt, and the inside of the hood has a zipper pocket for storing the mask when it's not in use.