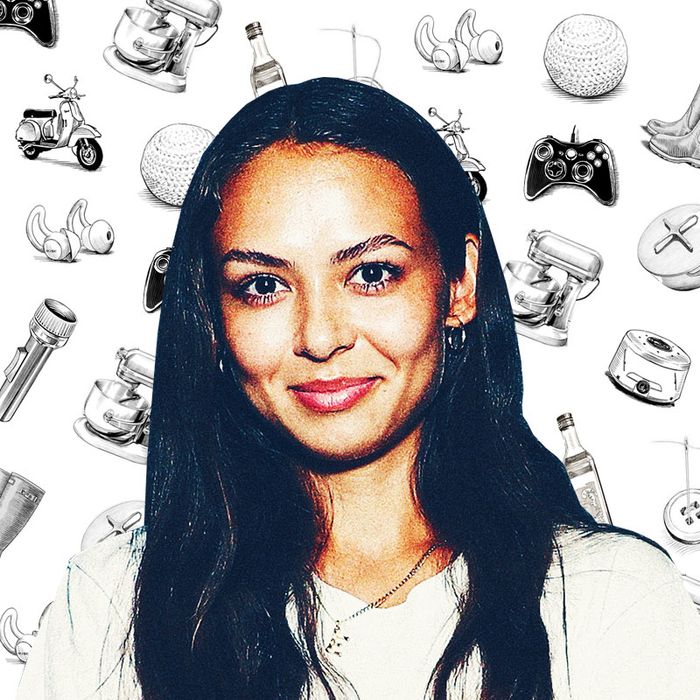 Photo: Brian Dowling/Getty Images for Zalando
If you're like us, you've probably wondered what famous people add to their carts. Not the JAR brooch and Louis XV chair, but the hand sanitizer and electric toothbrush. We asked streetwear influencer Emily Oberg — the founder of Sporty & Rich — about the earrings, comb, and face mist she can't live without.
I wear a pair of gold hoops every day, and this one is the perfect pair. I have a lot, but these are my favorite. I like Sophie Buhai's brand and the imagery in her campaigns. She has really good taste and I think it's one of the best jewelry brands right now. A lot of my friends have done work with her, and I see a lot of stylish girls on Instagram always wear her jewelry.
I'm very interested in digestion and I like to make sure my digestion is always good. I'm kind of anal about it. I take these every day with every meal. They help break down food, especially food that's hard to digest like raw vegetables and meat, and help keep everything regular.
I love to exfoliate my body, so I use these in the shower every day. I know you're not supposed to exfoliate your face every day, but I think the skin on your body is a bit tougher, so I find that it's okay for me. I use them with Nécessaire exfoliating body wash. I like Nécessaire's packaging, and it's a clean formula without artificial fragrances. Used with the gloves, it makes my skin super soft.
My skin is pretty dry because I live in Los Angeles and Paris, which are both super dry. Josh Rosebrook only uses organic and plant-derived ingredients. The smell is amazing — it's the best thing I've ever smelled. I can really never put enough of this on. I use it in the morning, after the gym, then later in the afternoon, and before bed. They have a mini one which I like, too, because I can keep it in my bag.