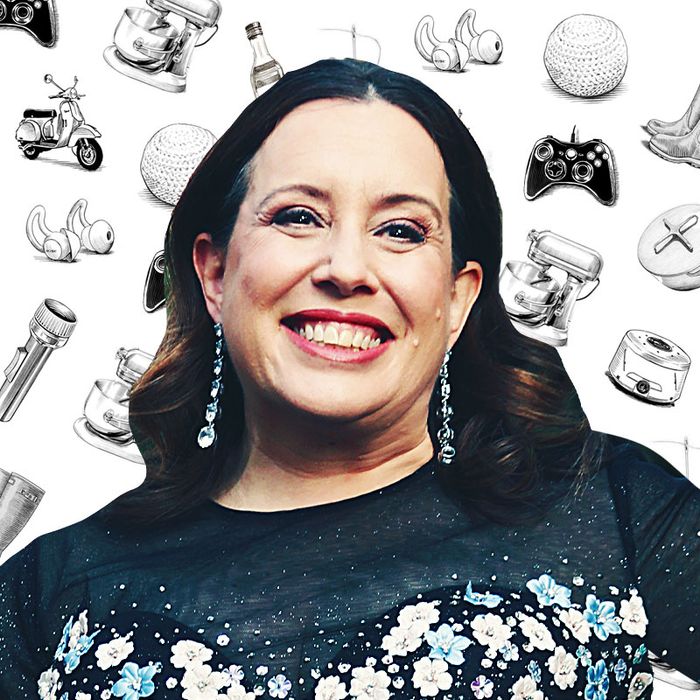 Photo-Illustration: The Strategist; Photo: Getty Images
If you're like us, you've probably wondered what famous people add to their carts. Not the JAR brooch and Louis XV chair but the hair spray and the electric toothbrush. We asked Julia Quinn — author of the Bridgerton series whose latest novel, Queen Charlotte, co-written with Shonda Rhimes, was released on May 9 — about the pen she uses to sign thousands of books, the supportive flip-flops she wears on the elliptical, and the treadmill desk she walks on every day.
I've had Away's carry-on suitcase for a long time, probably from when the company first started. I just recently got the Everywhere bag too. If you use them together, you can pack an astonishing amount of stuff and still carry on everything. I'm on a two-week tour right now, and I managed to pack without having to check in anything, which is incredible. I was like, Woo-hoo, I get a master's in Pack-ology. The suitcase rolls nicely and has the middle-divider compression strap that helps push everything down. That's part of why you can fit so much.
At home, I have a collection of pens I've stolen from hotels. I never buy pens for everyday writing. When I'm signing books, I buy these Paper Mate pens, always in purple. People would always provide Sharpies at readings, but I feel like those bleed through the pages. You also don't want a pen that has too fine a point because it tears through the page. These are such a non-fancy thing, but they do the job well. They glide nicely and are my favorite pens to sign with. I've probably signed thousands and thousands of books with them. I work with University Bookstore in Seattle, which is my hometown independent bookstore. Anyone worldwide can order my books autographed, and I've signed probably close to 10,000 books there alone.
I found out about these from my mom during a trip to Europe, I think, back around 2011. A little while after, I saw a sports-medicine doctor for an issue with one of my heels, and he described what would be the perfect shoe for me: something backless with a supportive, thick sole. I was like, "Oh, like these?" And pulled up the Fit Flops on my phone. He was like, "Yeah, pretty much." I bought a pair for myself and now live in them. I have them in four colors strewn around my house so I can put them on at any moment. I even wear them on the elliptical. Recently, I was in London while it was rainy and cold, so I had to wear sneakers. You'd think they'd be better for my feet, but I was having issues after the trip. I started wearing these again, and sure enough, my feet are feeling better.
At the beginning of the pandemic, while everyone else was racing around getting toilet paper, I panic-bought extra canisters for my SodaStream. I was like, Oh my God. What will I do if I run out? This was before you could get them in the mail, and I was terrified the store where I swapped them out would close. I drink carbonated water all day long. We used to buy two-liter bottles of soda water because buying cans seemed so wasteful, but we'd get three-quarters through a bottle and it would be flat. This is a great solution. It's so much better for the environment, and I don't have to plug it in. I've noticed if I'm on the road, I definitely don't drink as much water because I don't have my constant supply of soda water.
I found this by accident pretty recently. It came as a sample from a skin-care store, and I fell in love. It looks so good on me. The color is just right for my skin tone and doesn't turn me into a ghost even though it's a physical sunscreen. Now I use it every day instead of foundation. It's wonderful and not terribly expensive for a non-drugstore sunscreen.
I've been using this for a while, probably at least five years. I'm pretty clueless when it comes to makeup, so I need things as goofproof as possible. This is truly goofproof. It goes on so easily and blends in nicely. I don't know at what point I started needing to fill in my brows. It kind of crept up on me with age. I would go back and look at a picture of myself at, like, 22, and was like, I definitely wasn't using a brow pencil then. I use 4.5 or 5, depending on my mood.
I've been working at a treadmill desk for close to ten years now, and I've gone past convert to evangelical. I found a talk on NEAT, which stands for non-exercise activity thermogenesis. That refers to all the ways we burn calories during the day that aren't what we would think of as proper exercise, and how important it is to your health. So now, instead of sitting while typing, I'm either standing or walking. People are always like, "Oh, I'm too uncoordinated to do that." And I'm like, "No, no, no. You're not trying to break a sweat on this. You just walk at a regular, kind of sedate pace." Most days, I walk at least five miles on this. One thing I like to do on this is write political postcards for a group called Postcards to Voters while I'm watching TV. I feel like a triple threat when I'm doing that.
I have a StepBet membership, and it keeps me accountable and keeps me moving. How it works is you pay $40 into the pot and then need to make your customized stepping goals for six weeks. The basic one is four active days, two power days, and one free day. You get one week of warm-up, but after that, if you miss your goals, you're out. At the end of the bet, winners split the pot. My latest one, I think my active day was like 10,500 steps and power day was 12,800 steps. You don't have to pay for the membership to join, but being a member means you can join more games and sometimes exclusive games. I've explained to people, it's not like I can't afford to lose $40, but I refuse to lose it because I didn't do something that was completely within my control, which is walk more steps. It has honestly changed my habits. I park far away from a store. When I fold my clothes, I fold each item and then walk it into the room rather than making one pile. It's part of that NEAT thing. It's helped me be more active in everyday life as opposed to proper, organized exercise. Am I losing weight because of it? No, probably not, but I think I'm healthier.
The Strategist is designed to surface the most useful, expert recommendations for things to buy across the vast e-commerce landscape. Some of our latest conquests include the best acne treatments, rolling luggage, pillows for side sleepers, natural anxiety remedies, and bath towels. We update links when possible, but note that deals can expire and all prices are subject to change.