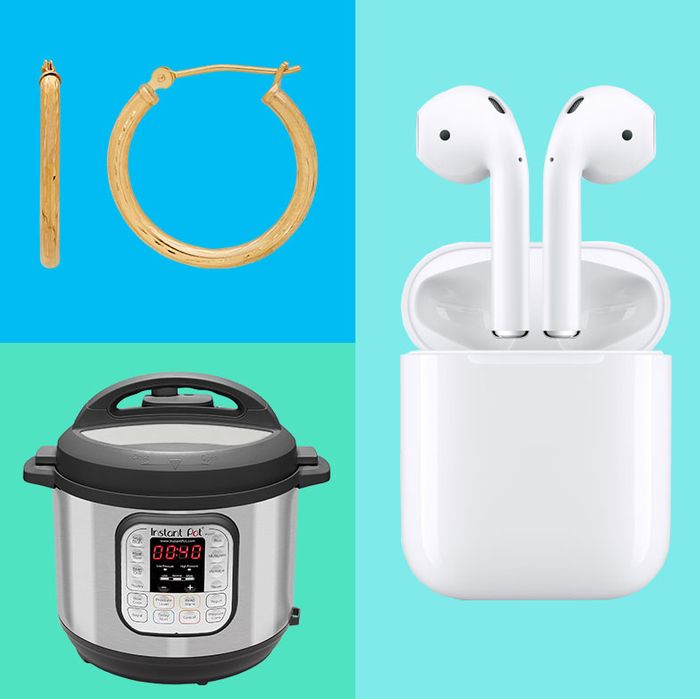 So, you waited until the last minute to get your gifts, and now you're scrambling to find something that will arrive in time and satisfy everyone on your list. We get it. It happens. Whether it's for the mom who has expensive taste, the dad into cooking, or the cool-teen cousin you never know what to buy, we've picked out 15 gifts we've written about before from Walmart that will still arrive in time for Christmas (or before the end of Hanukkah) with their free two-day shipping option still available for last-minute shoppers. Read on for more last-minute gifts for everyone on your list, and don't panic.
With a bevy of celebrities singing AirPods' praises and our resident cool guy Chris Black even hopping onboard, these seem like almost a foolproof gift for anyone on your list.
This foot massager appeared on our gift guides for moms and dads. Buy it for them both so they can sit side by side while enjoying the much-deserved massage with adjustable heat and pressure.
According to Toy Experts, last year Ryan's Giant Surprise Egg sold out, so this year Ryan (a real kid with over 4 million YouTube subscribers) created a "surprise safe" that's supposedly just as good. But it hasn't sold out yet and will arrive before Christmas.
Over a year ago, writer Leah Muncy uncovered the excellent selection of real-gold jewelry at Walmart. She ensures that they're shockingly good quality, and the gift recipient will never know they're from Walmart, instead of, say, Nordstrom or hand-selected from a vintage store.
A cheap but expensive-looking lamp for the little sister who just rented her first apartment.
This pillow from Drew Barrymore's surprisingly quite nice home-décor line will be great for the spunky friend who wants to redecorate.
A playful set of trays to brighten up any living room (and sort of look like they could be from Hay Design).
For the cousin who has seen Frozen 2 easily ten times now.
Writer Margaret Eby thinks this Instant Pot will work well for most people because it "offers all of the functions that made the Instant Pot into the must-have kitchen appliance of the mid-2010s without a lot of extra frills." Compared to other models, this is probably your best bet for a gift.
Ranked as our best overall flat iron, this straightener is a favorite among professional hairstylists. And it would also be an excellent gift.