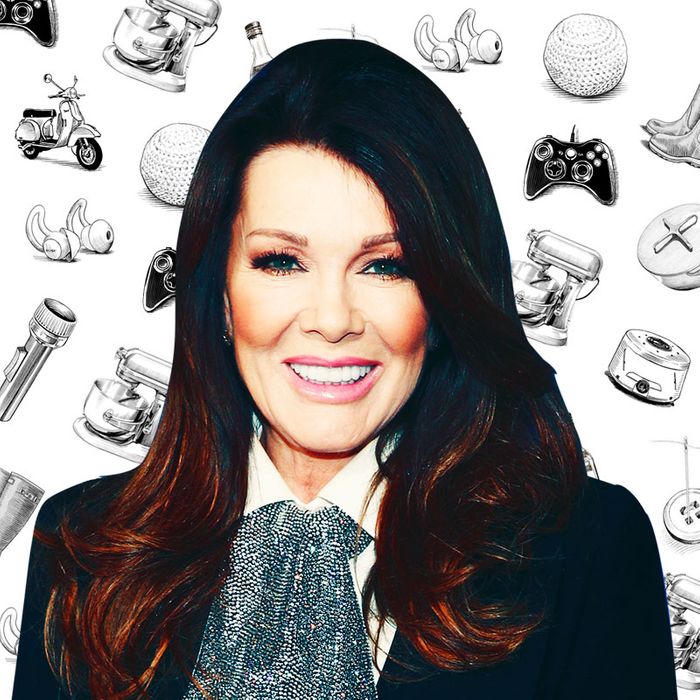 Photo-Illustration: Getty
If you're like us, you've probably wondered what famous people add to their carts. Not the JAR brooch and Louis XV chair but the hair spray and the electric toothbrush. We asked Lisa Vanderpump — who recently partnered with Febreze for the launch of its Unstopables Touch Fabric Refresher — about the makeup bag, tea, and chocolate she can't live without.
I have a little bit of an addictive personality, I have to say. I'm addicted to certain things, and PG Tips tea is one of them. It's something I grew up drinking. I drink a lot of tea — probably five or six cups a day, which some consider quite a lot. I have two or three cups in the morning with a little bit of 2 percent milk. They have to be made with boiling water. If it's not boiling, the tea gets kind of filmy. And I don't like decaffeinated tea, only caffeinated. I've had all the other common British teas — Tetley's, Fortnum & Mason — but I'm 1,000 percent a PG Tips girl.
You have to have a nice cup for drinking tea. It's important. People think my kitchen is all pink, but it's actually not. It's white and silver with pink accents. Le Creuset's Shell Pink color is absolutely gorgeous. I have all the cookware in that pink. The mug is a sweet little accessory, the perfect accent to my daily tea ritual. It keeps my tea warm for a decent length of time and feels nice to hold.
I probably eat a bar a day. I pick at it — I'll have a couple of squares here and there and by the end of the day the bar will be gone. I don't like American chocolate. I only like English chocolate, and this is authentically English. Sometimes I get it with fruit and nuts, but not very often. The basic chocolate is the best. If you open my fridge, you will see a huge stack of Cadbury chocolate. I've never bought just one bar; it will be at least 10 at a time.
We've definitely become more fastidious about cleaning in the pandemic, but I've always loved cleaning. I'm a little obsessive about it. Clorox wipes make cleaning very simple. I always tell my kids and husband that I've been cooking for them for 39 years and I've never poisoned them. I credit that to a lot of things, but mostly because I keep everything very sanitary. I don't eat a lot of meat, but we do eat fish and chicken, and you have to be very careful with things like fish and chicken because you never know what a raw piece leaves behind on the counter. I can easily wipe counters and other things down with these. They're brilliant. They're also great for cleaning up after all my dogs. I like the fresh scent.
No matter how drunk I am coming home from my restaurant, I always take my makeup off before going to bed. I never fall asleep with makeup on. That is a big no-no. These wipes have been a blessing over the years. They keep the process very simple. They don't sting my eyes, and I can get my eye makeup off and everything else with one swipe. I don't have to scrub. They even remove waterproof mascara, which can be tricky.
This is the best makeup bag. Ironically, it's made with the same fabric as some of my cushions. That they match is the most bizarre thing. I love that fabric. It opens up right in the middle, so I can see everything in it. I don't have to dig around to try and find a small tube of whatever — I can easily spot it. Because it's flat, it's easier to take around. It doesn't take up that much space. I have maybe five of them in all different sizes. I've used one as a wallet before, too. I don't remember how they ended up in my life, but my god, I'm so glad they did. I tell everyone about them because everybody should have them.
I do my nails myself. I haven't had a manicure in a year and a half. I'm pretty good at getting ready myself — unless I'm going on camera, then I need a bit of help. This makes my nails look like I've just had a manicure, very strong and healthy. People tell me my nails look amazing all the time, and I tell them they're my real nails, that I don't have anything on them. Then I tell them to get this. It will take a while, but I promise you'll see results.