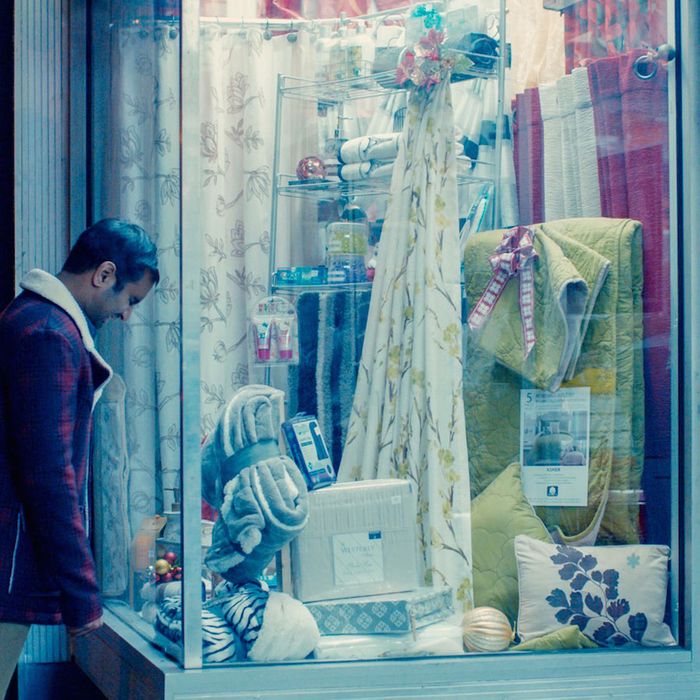 What's the deal with that darn coat?
It's well-known by now that Aziz Ansari's Master of None character Dev has excellent taste in clothes. His wardrobe in the first season — heavily reliant on Band of Outsiders shirts and Saint Laurent jackets — were just this side of believable for a sometimes-working actor. The clothes in season two are even more turned-up, with Dev traveling to Italy, not to mention landing a hosting gig on a Cupcake Wars–like show.
Perhaps, like us, you watched Master of None and thought, "Who makes that excellent plaid shearling coat Dev is wearing when he bangs his head against the store window?" We called up Master of None costume designer Dana Covarrubias (who's also worked on Louie and Broad City) to get the intel about what Dev wears onscreen (it's all pretty fancy), from that shearling jacket to his Italian linen trousers.
"Our favorite piece that we bought for Dev. It was just so beautiful and played with the idea of classic Americana. It looks like it could be from the '70s. We had some back and forth about whether Dev could actually afford this, but we ultimately decided that he could because he just landed that cupcake gig. He used his first paycheck. And then all his pants in the show are the Unis Gio, which we had to alter just so slightly to get tapered but they do fit him really well. They're such a great heavy weight too."
"We did a lot more Italian brands for Dev this season, because of course he's in Italy. If the first season was more inspired by The Graduate, the second season — particularly the scenes set in Italy — felt more like Fellini. This jacket is Brunello Cucinelli [Editor's note: this one is similar, though not exactly the same], his pants are Isaia, and the shoes are Alden."
"We actually had to prep all of Dev's clothes in New York before shooting in Italy so even though they were Italian brands, we had to be able to buy them all in New York. Luckily, so many of them are available here. You'll notice, too, that not everything he wore in Italy was necessarily Italian, but at least Italian in spirit."