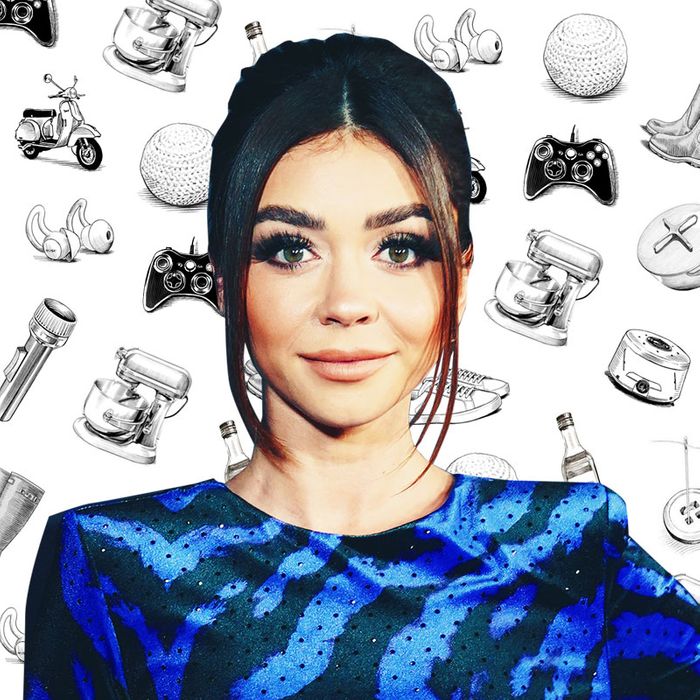 Photo-Illustration: The Strategist; Photo: Getty
If you're like us, you've probably wondered what famous people add to their carts. Not the JAR brooch and Louis XV chair but the hair spray and the electric toothbrush. We spoke with Sarah Hyland, co-founder of wellness brand Sourse, about the nonrubber yoga mat that doesn't slip, the leave-in conditioner that hydrates her hair even when it's dirty, and the mugs she uses to keep piña coladas cold in 100-degree heat.
I literally found this on Amazon. I typed in "electric tea kettle," skimmed through the options, and liked this one the best. I wanted a big tea kettle that stays warm all the time, so I can make a lot at once without having to reboil the water, which takes forever. I don't use it a lot for tea, per se — my fiancé Wells Adams does because there's a little thing on the inside where you can put loose tea leaves. But I put fresh ginger, lemon peel, and a cinnamon stick in it. It's so delicious, and I do this every single day. This kettle has all different settings, too. I'm a tea novice, so I didn't even realize different teas needed to be steeped at different temperatures, but it makes so much sense. There's a white-tea and a black-tea setting. You can just boil it or adjust the temperature yourself.
It's an amazing nonstick pan. It has a little holder for the spoon, and the spout makes it easy to drain things. It cleans so easily and cooks so evenly. I don't have to use a lot of oil, which makes my food a bit healthier. I don't cook a whole lot, but when I do use it, I make chicken tacos or salmon — just easy, good meals. I actually bought this pan for Wells for his birthday last year. It's really his pan, but I love to use it.
Everyone should have a candle snuffer. Instead of blowing out a candle, you snuff it. It feels better energetically to me than just blowing it out. Also, sometimes blowing out a candle can disrupt the wax. I probably keep one in every room where I have a candle. You can buy them anywhere, but my favorite one was given to me from someone I worked with on Dirty Dancing. He gave me a candle that looks like a tree branch, and the snuffer itself looks like a beehive. At the top of the beehive is this little gold bee. Mine is from a small business in North Carolina that was right by our hotel.
I really love my beverages. I use this when I'm on the go. When I was filming in Ireland last year, I would make my ginger-water-tea thing and pour it into my mug so it stays warm all day. I also use them in the summertime for frozen piña coladas in my backyard. I'll put it in the mug with a metal straw, and it stays cold for much longer than it would otherwise when it's 100 degrees in the Valley. I have a crapload of these mugs — maybe five to eight? Probably closer to eight. Wells told me to get rid of some because I had too many. But I love them so much.
I'm really bad at doing hair. I cannot give myself a proper blowout. I don't know how to use a round brush. I just end up looking like I have the frizziest hair in the entire world, so I just go over it with a flat iron, which, cool, I'll just kill my hair then. I'm pretty sure I saw an ad for this on Instagram, and I was like, "That's nuts." It's so easy for me to use. I wear my silk scarves and bonnets and stuff to bed for my curls, but it never looks as fresh as day one or two after washing. So if I don't want to wash my hair a whole bunch and have it still look presentable, I'll use the Airwrap. My favorite attachment is the big curler one that uses the air to wrap the hair itself. I have absolutely no idea how it works, but it's amazing.
Nikki and Riawna, who are the founders, do my hair at their salon in L.A. I've been using their line for literal years now. It's a UV-protecting leave-in conditioner that helps bring out the natural texture of your hair. A lot of the time I just put this in my hair and leave it be. My hair is naturally very, very curly. I don't really have an oily scalp, and I'd say it's more on the dry side. But with curls, I have to keep my hair as moisturized as possible. I also barely wash my hair once a week, to be honest. My hair is mostly dirty at all times, but at least it's hydrated.
I was given a bottle of this in 2017 and have been using it ever since. I love the smell. I love the way it makes my face feel. I love the results. When I pat it on my face, it feels so dewy and light. I used to have a really complex skin-care routine, but I've gotten so lazy since the pandemic because who cares? I think, No one sees me anyways, it's fine. Wells has a longer routine than me now. I've really fallen off the wagon, but I still manage to use the serum every day.
My mom taught me at a really young age about tarot. I grew up with tarot cards and crystals and numerology and all that stuff. It's very hippy-dippy, East Village in the '90s, witchy kind of stuff, but it's just a part of my life. I have a lot of tarot decks; I probably have four original tarot decks, then six different oracle decks. I've had a Rider-Waite tarot deck, which is obviously the OG, since I was a teenager — my mom gave it to me, and I actually think it may have been her deck. A friend gave me a Meryl Streep tarot deck for Christmas, too. But I really love this deck. The artwork is really, really beautiful. It comes in a really pretty box to keep it organized. Sometimes I read cards every day. I like to pull a daily card for myself or do a daily spread to see what energy I'm working with, but sometimes I'm just too tired. I never go more than a week without pulling a card, though.
I also saw this in an Instagram ad. It was one of those sponsored posts, and I thought, Well, that's really cute. I have a regular rubberlike one, but I really liked the look and idea of a fabric mat for inside the house. I also love that it's sustainable because most yoga mats aren't. I use it while watching TV or just a nice stretch. I absolutely love it. In my experience, it doesn't move around, but I've only used it on carpet, so I don't know how it would be on hardwood. But it has rib lines, almost like a stopper or gripper, at the end of either end, so if I'm doing a plank, I don't slide. I'm not taking it to a core power yoga — the whole thing would be drenched and gross by the end — but it's great for gentle, at-home stretching. I bought the oatmeal color because I'm not a big color person.
I take baths mostly for relaxation and sore muscles. If I'm not feeling well, I'll do an Epsom salt bath with echinacea and eucalyptus. I'll take a bath during full moons depending on what sign it's in. These Goop bath salts are so easy. I don't have to mix the salts altogether, especially when I'm feeling lazy. The Phys. Ed. one in particular is really good for sore muscles. It has Epsom salts, ginger, frankincense, lavender, and more that I think really helps.
The original founders reached out to me, and I was like, "I need to try these immediately. Send over the chocolate." They tasted great. I take a lot of pills every single day, so to be able to eat vitamins that I actually enjoy is really important to me. I wanted to get as involved as possible with the brand. The vitamins are really exciting because they're plant-based, vegan, gluten-free, allergy-free, non-GMO, and sourced from really thoughtful places. I love that I can bring health into people's lives via chocolate. We did an entire rebrand with packaging, and I came up with ideas for different types of vitamins that women and men need. We have four products now; I created the beauty and mood bites. Beauty bites help with your hair, skin, and nails, while the mood bites are best described as a mood balancer with vitamin D and saffron. I'm on prednisone, and I get crazy mood swings from that, as well as just being a woman, period — no pun intended. And women are constantly invalidated by doctors and called dramatic, so I just wanted to contribute to the resources available for women to address situations that I know I've been through and I'm sure a lot of other women have as well.
The Strategist is designed to surface the most useful, expert recommendations for things to buy across the vast e-commerce landscape. Some of our latest conquests include the best acne treatments, rolling luggage, pillows for side sleepers, natural anxiety remedies, and bath towels. We update links when possible, but note that deals can expire and all prices are subject to change.