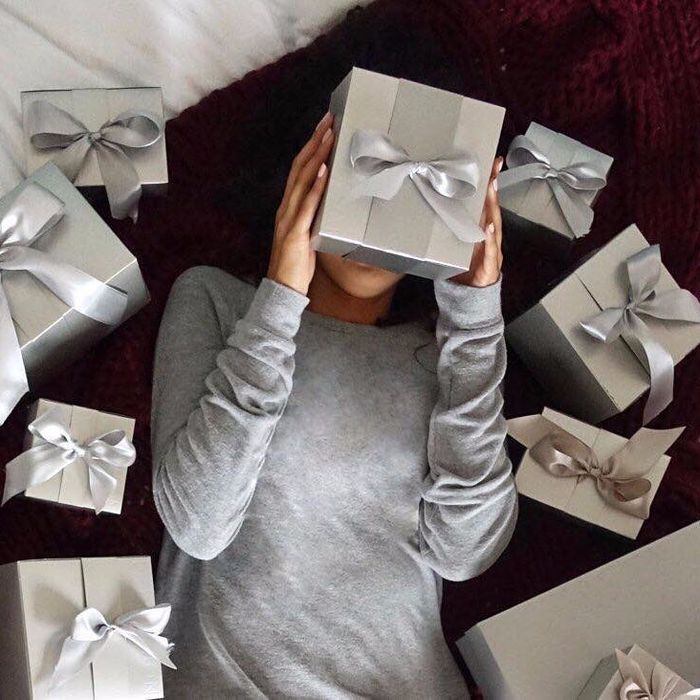 Photo: Nordstrom Instagram
Lots of things have gone remote this year, and the holidays are no exception: Family dinners will be enjoyed via Zoom (for better or for worse), and most of us will be shipping, rather than hand-delivering, our holiday gifts. But celebrating with friends and family remotely doesn't mean your presents shouldn't look festive. And though you can wrap gifts yourself, that also requires going to the post office to ship them. A much easier option is getting your gift wrapped by the merchant and shipped directly to the recipient, but that can be tricky, too: While most retailers offer personalized notes for orders containing gifts, there are a few that offer truly tasteful gift wrapping for the ultimate ease. So if you're hoping to order a loved one a little something that will actually look like a holiday gift, we asked our writers and editors for their go-to retailers who offer the best online gift wrapping during the holiday season. (And if you happen to be looking for a gift to wrap, we flagged a few of our favorites, too.)
The most-recommended merchant for beautiful packaging was MatchesFashion, which offers a complimentary "luxury box" on any online order, and the marble-printed, magnetic gift box is so nice-looking, senior writer Karen Iorio Adelson says they're "basically gifts on their own." They're so nice on their own, there's no need for additional wrapping, and so sturdy that Vox's senior vice-president of e-commerce Camilla Cho says, "You can also reuse them for storage around the house." Besides, according to Iorio Adelson, "they're too pretty to throw out!"
To be wrapped:
The statusy Comme des Garçons wallet (beloved by many a Strategist writer) in an unexpected colorway.
And this scarf and beanie set, knitted from Scottish cashmere, goes with everything.
Amazon offers gift wrapping — a box or bag appropriate for the item, decorative ribbon, and a printed card with your gift message — for most items fulfilled by Amazon, and deputy editor Maxine Builder was "pleasantly surprised with how nice it looked when I opened the cardboard box." She received a gift-wrapped present for her birthday in November — a Carhartt dog jacket — that came "wrapped in a lovely blue-and-gold bag that looked far nicer than what I'd expect from Amazon. The jacket itself was wrapped in white tissue paper, so I couldn't see it through the somewhat-translucent bag, which was another unexpectedly sophisticated touch. In fact, I like the look of the bag so much, and it seems so sturdy, I am hanging on to it and expecting to reuse it for my own gift wrapping this Christmas." The packaging varies by color and print, but all of the options — from metallic green stripes to shimmery yellow triangles — are equally (and non-denominationally) festive. Gift-wrapping prices start at $4.50 per item.
To be wrapped:
Some reusable Swedish dishcloths that one writer says "soak up 20 times their own weight in liquid" — in a funky dog print.
Or an apartment-friendly, gardener-recommended indoor garden for growing herbs.
"When I started receiving gifts from Crate & Barrel off my wedding registry a few years ago, I remember being impressed with how everything came packaged so nicely," says writer Lauren Ro. "It was simple (like its logo) — a white box (with a black base) and thick grosgrain ribbon to tie it all together — but effective." And depending on how big the gift you're giving is, Crate & Barrel offers two gift-boxing options: All items in one order can either be placed in one box, for an additional $5.50, total, or each item can be placed in individual boxes, at $5.50 per box.
To be wrapped:
A flatware set that one Strategist editor calls "modern without feeling too modern," and "heavy enough to feel substantial without giving you carpal tunnel."
Or a supersoft, subtly plaid knit throw.
While MoMA's gift wrapping isn't exactly Christmassy, it is tasteful, says writer Liza Corsillo. "For just $5 (or free if you're a member), the MoMA Design store will wrap your Hay lamp or Braun alarm clock in wrapping paper that's almost exactly the same turquoise as Tiffany's iconic boxes and ribbons, but MoMA uses a more modern navy sticker. Both are signifiers of a very good gift inside. Though, if I had to choose, I'd be more excited to unwrap something from MoMA these days." One word of warning: Some items on the MoMA Design Store website aren't eligible for gift wrapping, but all of the ones below are.
To be wrapped: