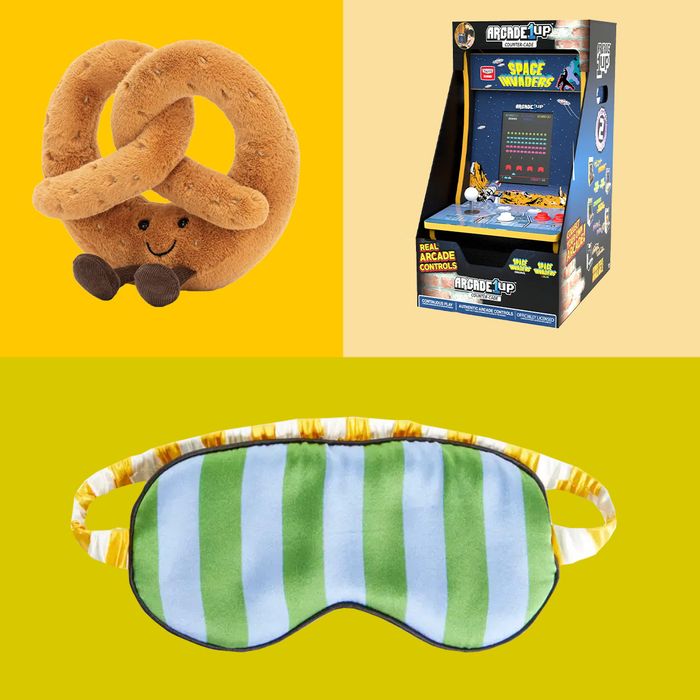 Photo: courtesy of the retailer
Experienced holiday shoppers know that buying most of your gifts from one or two retailers has its benefits. Importantly, you save time and money on shipping, while also cutting down (even if just a little) on the amount of packaging you rip open then throw out. Finding a way to buy a gift for every single person on your list from one place would truly make you a shopping MVP. That may sound like a Herculean effort, but it actually isn't if you know where to look (and what to look for). To help you streamline your gift shopping this year, we dug through the offerings at Nordstrom — a Strategist favorite for everything from cast-iron cookware and handsome wine decanters to cult-y face masks and kids' toys — to put together a curated list of Strategist-approved gifts for every person on your list.
For the grandkid who already has a stuffed avocado
Jellycat stuffed animals come in all shapes and sizes from unicorns and bears to coffee cups and avocados, but we like this furry pretzel best.
For the sister who's trying natural deodorants
The search for a natural deodorant that actually works can be terrible and stinky. Help her skip the worst of it with this Strategist-approved pit stick. If Rio stands by this all-natural rose deodorant, you know it's going to be good.
For the bald dad whose head is always cold
When you don't have any hair, chilly weather is even chillier. Which is why we suggest this Patagonia fisherman beanie in vibrant blue as a can't-fail gift for your follicle-challenged pa. Over the years, we have written a ton about hats and beanies, and Patagonia consistently wins out for quality and price.
For the niece or nephew who's into arts and crafts
If your brother's or sister's kid is into the arts, they'll love this "carve your own stamp" kit.
For the uncle who prides himself on wearing fun socks
Few socks are as comfortable and long-lasting as Bombas and the brand donates a pair for every pair it sells. Plus these have the added bonus of a jaunty stripe.
For the office white elephant
Boy Smells candles were named the new status candle, making them a gift trendy coworkers will covet. But they also actually smell and look really good, which will make them a hot-ticket item among the other white-elephant gifts.
For the best friend who wears cool glasses or masks
Whether they use it for their glasses or to keep track of their mask, this gold-plated chain makes a surprisingly stylish gift.
For the husband who's a coffee snob
Photo: retailer
Multiple baristas told Strategist writer Louis Cheslaw to look out for the launch of this flat-burr coffee grinder that brings professional-level technology to a consumer appliance. It's still not cheap but it's much quieter and delivers much tastier grinds than most other home grinders. Cheslaw recently tested the Fellow Ode Brew Grinder after reading a prerelease review on Grub Street and has been enjoying the results.
For the brother who's taking up cooking
For the cool aunt with great hair
We've written a ton about silk pillowcases because the fabric is gentle on hair. We've also heard from several successful women, including designer Karen Walker and contributor Bridget Arsenault, who say they won't leave home without their Slip silk eye mask. This set has both.
For the cool sibling who has trouble sleeping