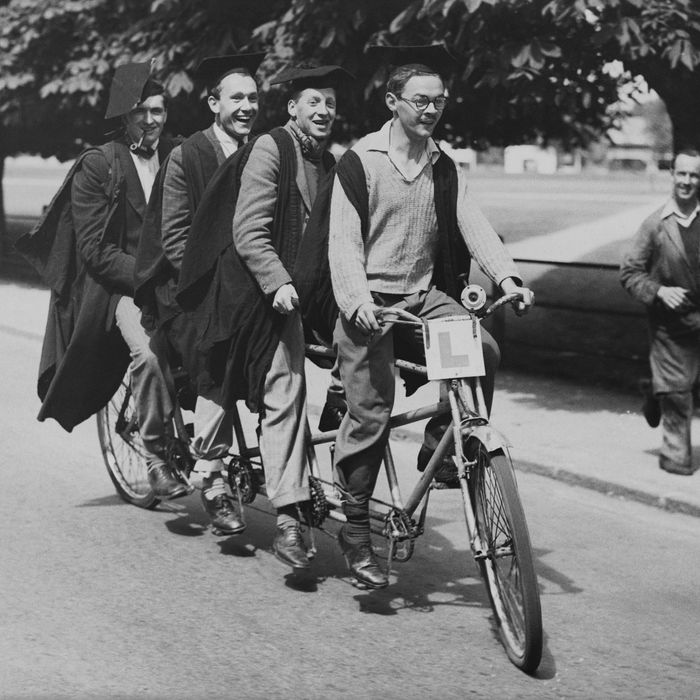 Photo: Hulton Deutsch/Corbis via Getty Images
Finding the right graduation gift is always a challenge (and never more so than now). Many of the more traditional graduation gifts for him — like ties and briefcases — can come across as stuffy and boring, and they don't exactly feel relevant when in-person job interviews are on pause. Other popular graduation gift ideas, like turntables or wall art, are fun, but they're also rather impractical (especially when he's still living at home). Though celebrations may look a little different this year, you can still give the special grad in your life a gift they'll appreciate as they navigate a not-so-ideal transition into the adult world. Ahead, 19 graduate-approved gifts, according to a handful of 2020 seniors.
In our poll of 100 teens, AirPods came in second only to phones when we asked what they always have on them (or want on them). And if your grad already has a pair, go for the upgraded Pros. "AirPods were a fashion accessory first," says Andrew Blum, Stanford University '20. "But now that me and my entire family are working from an NYC apartment, noise-canceling headphones are a necessity,"
Or, if your grad's a gamer, consider a different sort of headphone. "Whether you are a PC gamer or a console gamer, the HyperX Cloud Stingers are a cheap wireless headphone with amazing sound quality that will change the way you listen to games," says Jay Silver, Marist College '20. "The perfect headset for those late night Victory Royales or Pentakills with friends, you won't regret buying these headphones."
Just as the girls we spoke to wanted motivational memoirs for graduation, the guys mentioned they'd also appreciate inspiring books. "One of the books that helped me get through college was by former South Bend mayor (and presidential candidate) Pete Buttigieg," says Silver. "[Shortest Way Home] talks about how his experiences in many fields, especially coming out of college, prepared him to transform a small town into a thriving city."
"A stylish watch can serve as a sort of symbol of adulthood and is always a nice reminder of graduation when a person wears it," says CJ York, Duke University '20. "An engraving with the date of graduation is always a nice personal touch as well," he adds. York likes Swatches, but notes that, for fitness enthusiasts, an Apple Watch — which is easily connected to the Fitbit app — is a great idea.
These days, hanging with friends isn't an option for most but at least there are virtual ways to stay connected, like playing Animal Crossing with pals. "This portable console brings a new level of game night both in the apartment and on the road," says Silver. He loves the Switch, which is currently sold out most places, but the Switch Lite comes highly recommended too. (And for other console options, check out our favorite Switch alternatives.)
When it comes to video job interviews — a current reality for many — grads noted the importance of good lighting. "The ring light is [also] great for business Zoom meetings," says Blum. "Or trying to make new TikToks!"
With the pandemic, "anything that makes WFH better" would be an appreciated gift according to Joseph Turtel, University of Southern California '20. "A monitor with a Bluetooth mouse and keyboard would be great. Throw in a nice under-the-desk foot massager if you're really going for it," he says.
No longer confined to shared dorm rooms, he'll finally be able to crank up the volume and listen to his favorite music as loud as he wants. "Especially with how much time we're all spending at home right now, it's important to keep the good vibes up!" explains York, one of many grads who mentioned wanting a solid speaker system. "I love how stylish and utilitarian the Marshall speaker is," recommends Blum. Plus, "it has great sound."
You could give the gift of art — or you could give a TV that doubles as artwork. "I'll be moving out soon and looking for a new TV," says Blum. "For a slightly higher price, I can get a TV that serves as an art piece."