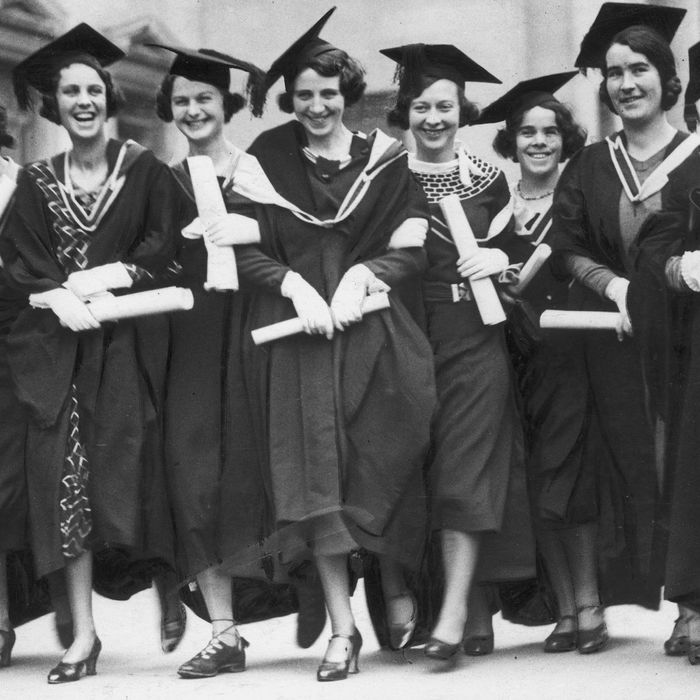 Photo: Keystone/Getty Images
With the coronavirus pandemic forcing millions of students to move back home and spend their senior year in their childhood bedrooms, the last leg of college has been anything but normal for recent graduates. Although backyard grad parties, long-anticipated backpacking trips, and IRL job interviews may still be put on pause, you can — and should — celebrate the graduate in your life. With that in mind, we asked a handful of recent graduates about the things they actually want as they enter into the "real world" (or our current version of the real world, anyway). Like the boys we spoke to, girls would also like cash to save up for an apartment or a vacation with their best friends. But if you would prefer to give something a tad more tangible, below we have 19 of the best gift ideas, according to recent college graduates.
"If COVID-19 has taught me anything," says Zoe Minton, Indiana University–Purdue University Indianapolis '20, "it's that technology is what keeps us connected and we need it now more than ever." That's why an Apple watch — which is our best-rated fitness tracker, in case your grad is particularly active — would be an ideal grad gift, she says, adding, "I'm always losing my phone anyway."
No recent grad would turn down a new laptop — they have to keep their résumé up to date somehow, after all — but the MacBook Air is the most coveted of gadgets. "For many students like myself, the last laptop they got was before college, maybe even toward the start of high school," says Emma Havighorst, Fordham University Gabelli School of Business '20. Emery Bergmann, a senior at Cornell University, informs us that "the average lifetime for a laptop is around three years," so "chances are, if your student got a new laptop at the beginning of college, it might be time for a new computer." Havighorst believes that when "entering the workforce, having top-tier technology is super-helpful." She likes the Air because it's "light and easy to transport to cafés, libraries, or just to your bed, given the quarantining." As for which color to choose, Havighorst says, "Personally, I'd die for the rose gold."
Despite having an unusual senior year, many students still loved their time at school and would like to be reminded of the good times, like Lizzy, a senior at Syracuse University. She's asking for this embroidered school-spirit pillow to keep in her first apartment after graduation. Pillows for dozens of other schools are available too, so you're likely to find the school your graduate went to.
For an equally sentimental but slightly more sophisticated school-spirit piece, Sofia Perez, a recent graduate of Barnard University, received this necklace as a gift and loved it. "I wear it every day," she says. More than 80 college crests and Greek letters for those involved in a sorority are available in silver, gold, and rose gold.
Havighorst says "the world is really scary right now, especially for college graduates who may be leaving their college experiences and entering into a really uncertain job market," and she believes a weighted blanket would be "the perfect gift for a graduate in quarantine." She likes that they "help people sleep better, calm anxiety, and all-around make you feel hugged."
Any graduates moving out as soon as they get their first job will need a little help filling their apartment. "Starting from scratch when your sheets are still sized twin XL can be difficult!" says Bergmann. She suggests "really practical gifts" like "bedding, a coffee-maker, a knife block, pots, pans, a vacuum, and silverware." This is one of our expert-recommended vacuums because of its versatility and efficiency. Your graduate likely won't have a lot of room in her new apartment, so a stick vacuum will be compact enough to keep in what little closet space she has without being a nuisance.
Bergmann says furniture is also a good idea. Because office life has yet to return to normal, chances are your graduate will still be spending a lot of time working from home and will need a good desk. This one came recommended as a great option for small apartments. It has shelving above for photos of friends and family and any books she's currently reading, making it a twofer gift she'll greatly appreciate.
Several soon-to-be-grads we spoke to mentioned that they're turning to powerful memoirs and motivational books for inspiration. "I already bought Untamed for myself and read it over spring break, but every woman needs to read it. And highlight it. And dog-ear it," says Kamrin Baker, University of Nebraska-Omaha '20, of Glennon Doyle's best-selling memoir. "This book rocked my world, turned my insides out, and allowed me to truly reflect on myself, my world, and my society. It was perfect for this uncertain, transitioning time of my life, and I have spent many a quarantine night watercoloring, daydreaming, and meditating beside it." Autumn Greco, Stanford University '20, listed the widely lauded Educated by Tara Westover and Becoming by Michelle Obama as books she'd love to get for graduation.
A handful of grads mentioned they'd like a monthly subscription, which really is the gift that keeps on giving. Greco said she'd like a news subscription, since losing one's school-issued email address often means losing access to free or discounted publications, while Madison Zoey Vettorino, Marist College '20, said she'd be happy to receive any sort of box-of-the-month club. "It's a unique gift, and you can really personalize it," she says, noting that she'd especially like a Book of the Month subscription. "It's also really exciting to have something to look forward to in the mail every month. If I got this as a gift, I would think of the person who gifted it to me every time it arrived."
Because the country still isn't completely open yet, and we're still spending ample amounts of time at home, recent grads are finding themselves with a little extra time to figure out what they'd like to do next, now that college is behind them. A goal-oriented journal is a good place to start, Havighorst says, and she calls this one the "perfect planner for a new graduate." She likes that it "has a focus on helping the user break down long term and short-term goals, build their passions into daily life, and of course, be productive."
If you don't know the graduate you're shopping for super well — or need to add a little extra something to round out the present — Vettorino describes the Moleskine journal as a "stocking stuffer" of graduation gifts. "It's sleek, mature, and usable, making it a great present for writers and non-writers alike," says Vettorino, who studied journalism. "Grads can use it on the first day of their new job to jot down notes, or journal about all those graduation-related feels — and trust me, there are a lot of them!" (For more well-reviewed notebooks, we rounded up our 100 favorites.)
A status tote bag is fine for lugging textbooks, but when it comes to job interviews, grads want something a little more professional. For Bella Cimarusti, American University '20, only the Telfar Shopping Bag — also known as the Bushwick Birkin — will do. "I've always used the excuse of being a college student to carry around backpacks and totes into professional spaces where I've interned," she says. "I want to feel a little more like an adult when I enter back into a workplace post-quarantine, starting with a nice bag." She calls the Telfar shopping bag an ideal "mix of casual and professional," adding that, "when I am employed and have this bag under my arm, I'll feel a little less immature than when I would bring my college backpack or Harry Styles tote to work." Getting your hands on a Telfar bag isn't terribly easy, so if your grad is set on having one, we suggest checking resale sites. You'll probably have to splurge for the markup price, but if you have the budget, your grad will surely appreciate it.
More accessible than the Telfar (but just as useful) is Madewell's best-selling Transport tote. When looking for a good work bag for a recent graduate, Bergmann suggests finding one that's made from "some good-quality leather with a few interior pockets (so it can stay at least a little organized)." We like the medium-size tote because it zips across the top so she can keep everything safe and secure inside, and it comes with a cross-body strap for more comfort when it gets heavy. You can even add her monogram for an extra-personal gift. (If you're not sold on this one, check out our roundup of work bags for women for more inspiration.)
When a new grad gets her first proper paycheck, she'll need a proper wallet to put her well-earned spending money in. "I've been using the back of my phone as a wallet, but I'm looking to start using a real wallet post-graduation," says Greco. She suggests picking one that's "bright, so it won't get lost in the depths of a work tote, and neatly organized," like this Kate Spade one.