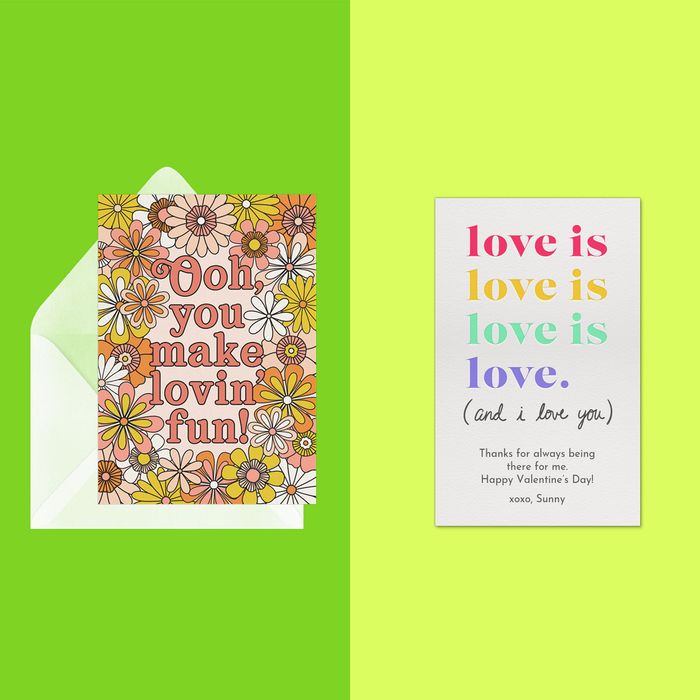 Even before the pandemic, the process of going to the drugstore to find an actually great greeting card, procuring a stamp, and dropping the card in the mailbox was laborious. But now the prospect of leaving the house just to find, buy, and send a card is even more of an impossible task, especially when you consider the all-too-frequent delivery delays with snail mail. Electronic greeting cards make the process so much easier. Not only can it be done from the comfort of your couch, but there's also something for everyone out there — no more settling for a just-okay card because you need to get it into the mail stat. Some e-card services will even physically send out your "handwritten" card, without you ever having to touch it. Below, the ten best e-greeting-card services, from free to fully customizable.
Greenvelope launched in 2008 as a way to send more environmentally friendly invitations. It offers hundreds of designs that you can fully customize — from the card to the envelope to the stamp — and send via email or text, as well as greeting cards for specific occasions like birthdays, Valentine's Day, and anniversaries. You can add your own text or even upload images and videos to send along with it. They also give you the option to throw in a gift card to retailers like Nordstrom and Uber Eats. In the trial mode of Greenvelope, you can send your card to up to ten people for free; after that, packages start at $19 for 20 recipients.
Photo: retailer
If you're looking for maximum customization, Smilebox offers plenty. You can change the text, change or upload your own music, change the color scheme, and add photos. You can create an unlimited number of designs monthly at no cost — but without the $5 a month premium version, you won't be able to share them with anyone. The premium membership allows you to share via email, Facebook, and Twitter, add your own music and remove the watermark, while Smilebox Pro, priced at $12 a month, will allow you to download the card, remove the logo, and give you an embed code for your website.
Photo: retailer
Punchbowl is one of the original electronic-greeting-card services. At the most basic level, you can customize one of its designs and send it via text message or email to the recipient at no cost, although there will be a banner ad at the top of the page. If you'd rather send an ad-free card, you'll have to opt for a monthly payment plan. Starting at $3 a month, you can add a video message or a gift card to your greeting and send up to ten cards a month. At the highest level, currently discounted to $5 a month, you can send up to 500 cards and schedule delivery. Punchbowl is also known for its electronic invitations, which it offers at no cost and can be used for everything from a small dinner party with your pod to a Zoom wedding.
Like Punchbowl, Evite made a name for itself in the electronic-invitation world long ago, but you can now send sweet just-because e-cards too. Evite allows you to design your own card or choose from its selection of premade ones, which you can further customize by adding a message or attaching a photo or video up to three minutes long. You can even choose to send a gift straight from Amazon. Another nice feature: Evite's Invitation Package allows you to send up to 750 premium cards for free during the pandemic (this offer automatically applies at checkout).
Photo: retailer
Paperless Post is another electronic service known for its invitations, but it also offers really beautiful greeting cards. The company partners with design-y brands like Vera Wang, Marimekko, and Rifle Paper Co., meaning many of the options are much nicer than the name e-card suggests. Some designs are free for up to 50 recipients, but most cards are priced by the "coin"; coins start at $10 for 25, with many cards priced around two coins.
If you want the experience to be virtual on your end, but still want your recipient to receive a physical card, Postable is the perfect solution. You can choose a card or upload an image of your own, and it'll send it out — you just have to pay for the price of the card and the stamp. We first learned about this service from comedian Sarah Cooper, who is "horrible" at sending cards and says this company makes it easy. "It manages all of your addresses and also has a feature where you can save a birthday and then it will send the person a card for their birthday," she adds. Inspired by Cooper, I used the service to send my mom a birthday card last year. The card arrived in perfect condition, but it arrived well after her birthday, so plan ahead.