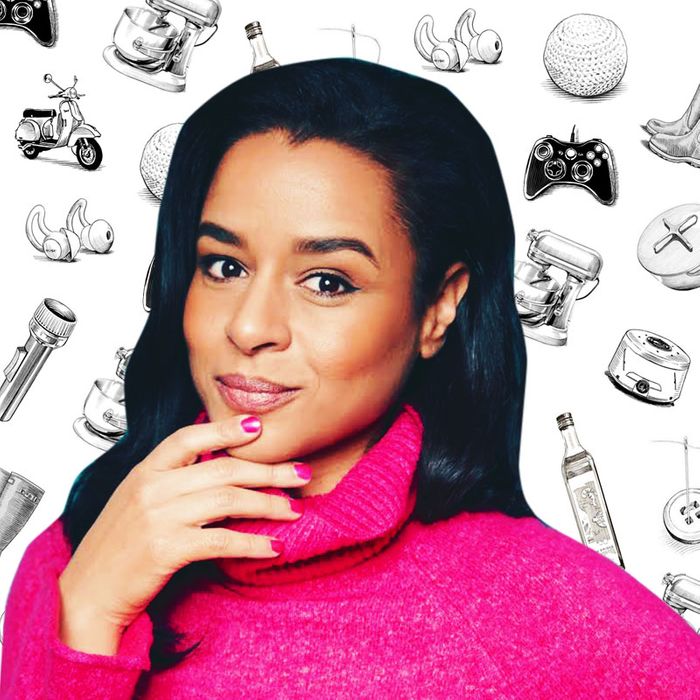 Photo-Illustration: courtesy
If you're like us, you've probably wondered what famous people add to their carts. Not the JAR brooch and Louis XV chair but the hairspray and the electric toothbrush. We asked comedian Sarah Cooper — whose comedy special, Everything's Fine, recently debuted on Netflix — about the bra, journal, and cleaner she can't live without.
Photo: retailer
I wore the same underwear for like ten years. It was really gross underwear that my ex-boyfriend bought me for Valentine's Day. I just never got rid of it because I never buy underwear. This club basically sends you really high-quality underwear every month. It's beautiful. It has really high-end brands, but I never look at that. I'm just like, "Oh, this is so pretty." Now I have this amazing collection of underwear that I love. I actually like picking out the pair that I wear each day.
Photo: retailer
I need my feet to be comfortable and I love soft socks. My husband bought me these socks last Christmas and I wore them every day, but then I lost them. I bought another pair and then I found the pair I lost, so now I have two! They last forever. I live in them at home, especially during the winter.
I've been using versions of this journal for at least five years. When I left Google, I was working for myself, basically. I built a website. I was trying to stay on schedule with blog posts and videos and all this stuff. One thing I missed about having a job was that it kind of told me what to do — I had deadlines and they made me do this or that. When I didn't have that, I needed to set those deadlines and goals myself. I needed to have a vision for my life. The journal segments your life into 13 weeks. You say to yourself, What do I want to get done in 13 weeks? Here are my long-term goals, and here are my short-term goals to get to those long-term ones. It is just a really awesome way to organize your life and actually get things done. I find that if I write down a list of things to do in a day, it is much more likely that I will get at least a few of those things done.
I love sleeping. I love naps. I love being comfortable in bed. These are the softest, silkiest sheets. My husband and I walked around Bed Bath & Beyond feeling all of the sheets. When we found these, we were like, "These are the softest sheets we could ever find."
I have a one-year-old cockapoo named Stella. When I first got her, I put her in puppy school and tried to make her the smartest dog I could. One of the things that you learn is that you need to do positive reinforcement for good behavior. She loves these treats so much. I can basically bribe her to do anything with them. She knows how to sit. She knows how to lie down. She's very good at exposing her belly for you to rub it. And she knew how to high five, but she can't do that anymore. She's forgotten how. We would not have been able to train her without these. I'll also hide them around the apartment when we leave, and then she's just totally occupied trying to find her tiny little treats.
These are hard-shell and really light, and each one fits so much stuff. Away also sells a matching dog carrier — you can put it right on top of the carry-on so that you can just walk with both. I love it and Stella loves it.
If anybody remembers my first video that went viral, this was the prop I used. There's a reason it is in the video: It's my favorite cleaner. It smells so good — lemony and clean and fresh. I love the smell of many cleaning products, but this one smells especially good. It makes me want to clean. With COVID, when you're supposed to be keeping all your surfaces clean, it's just a very smart thing to keep around.