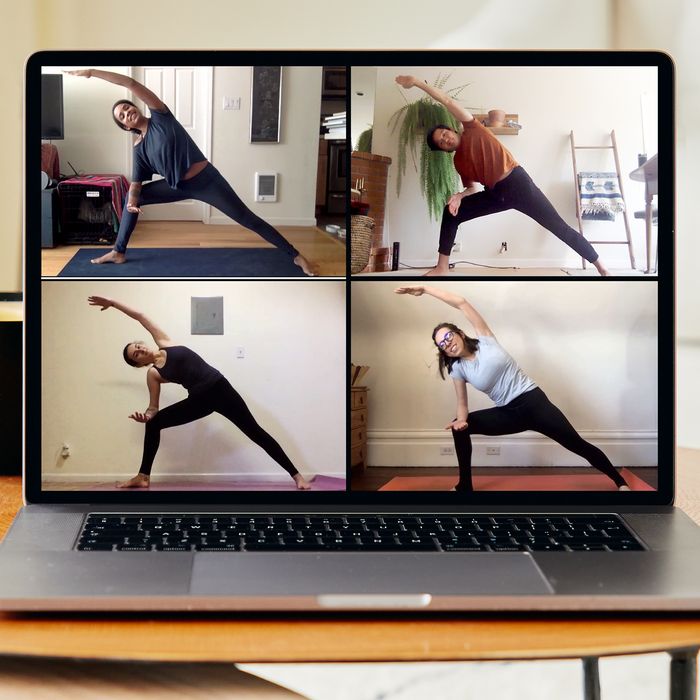 POV: You're taking a Zoom dance class through the Ailey Extension.
Photo: Retailer
The last two years of living and working at home have led to a renaissance in immersive digital classes and experiences that can be delivered with the click of a button and enjoyed right at home. This means that as shipping deadlines for guaranteed Christmas delivery continue to pass us by, you can still get everyone on your list a unique gift.  
Some of these offerings are one-on-one, allowing for a truly tailored experience, while others are group classes that still take place in the privacy of your home. A few even include supplies (like wine or cheese) that make the experiences even more immersive. All of these virtual gifts are delivered digitally, so you don't have to worry about them arriving late. It's just as easy as sending an e-gift card, but a little more personal. Below, we've rounded up 36 giftable digital experiences for everyone on your list, from the home chef looking to expand their repertoire to the musician trying to brush up on their skills.
Food and Drink | Fitness and Wellness | Classes | Activities
Virtual Food and Drink Gifts
For your friend who always pulls over when the light is on at Krispy Kreme
If hot and fresh doughnuts are what they're after, gift them a private doughnut-making class taught by the founder of New York-based shop Doughnuttery, Evan Feldman. The class is charged per person — $69 each — and each participant gets their own DIY Doughnut Kit, which contains one pound of doughnut mix, a reusable doughnut depositor, and four Doughnuttery donut sugars. (If you want extra doughnuts after the class, you can also order their doughnut kit on Amazon.)
For the person who just learned what a bloomy rind is
For the person who's been pinning nothing but charcuterie boards, a tasting package from New York City's Murray's Cheeses will bring their Pinterest dreams to life. The iconic shop offers virtual tastings via Eventbrite that cover everything from a beer-and-cheese pairing to an Italian-pairing cheese plate. Murray's also offers a couple of holiday-specific events that you should sign up for sooner rather than later, as they tend to fill up fast. Once you place your order through Eventbrite, a shipment of cheeses for the class will be sent to your giftee prior to the date. Then, on the day of, all they need to do is tune in via the provided link.
For the person who just learned what terroir means
Just because they might not be able to visit their favorite winery right now doesn't mean they can't enjoy the same sort of intimate tasting experience a vineyard can provide. Priority Wine's virtual tastings promise "no crowded Zoom calls with people you don't know," and allow you to choose bottles from nine participating wineries in Napa Valley, Oregon, and Virginia. To book, you just choose a package of wines to order directly from a vineyard, then schedule a tasting where your giftee can sip through their selections once they arrive. There are dozens of tasting packages to choose from, all of which are start at $75 a shipment.
For the person who wants to learn a new recipe (or two)
Even if travel is off the menu, the Chef & the Dish's one-on-one virtual cooking classes will still allow them to take a culinary adventure from the comfort of his own kitchen. Led by chefs from Spain, Japan, Thailand, Hungary, Italy, Brazil, Turkey, Vietnam, and the U.S., the classes will give the foodie on your list an opportunity to whip up an authentic regional dish made under the guidance of a local-to-that-country teacher. Classes are held via Skype and cost $299 for a two and a half–hour cooking session (for two people) that typically yields three courses. The cost also includes a shopping list (that they'll have to check off themselves) as well as access to a personal kitchen assistant to help set up and answer any questions in advance of the class. If your giftee wants to share their experience with more than one other person in the lesson, you can add up to two more (for a total of four) for $50 a person.
For the person who wants to learn more about the industry
If their interests go beyond cuisine, Delicious Experiences offer lessons on just about every aspect of the culinary world. You can take a class on food styling and photography or learn how to be a food writer from award-winning author Dianne Jacob. There are also more traditional classes like fresh pasta-making and cake decorating, too. You can gift a specific class, and your recipient will be able to coordinate with a chef to make the lesson even more personalized and receive a shopping list ahead of time so they're prepared. On the day of the lesson they'll be able to connect up to two screens, and more access can be permitted at fee. If you'd rather leave it all up to them, you can also purchase a gift card. Classes start at around $125 (and can be over $1,000).
Virtual Fitness and Wellness Gifts
For your cousin who doesn't live near an Alo studio