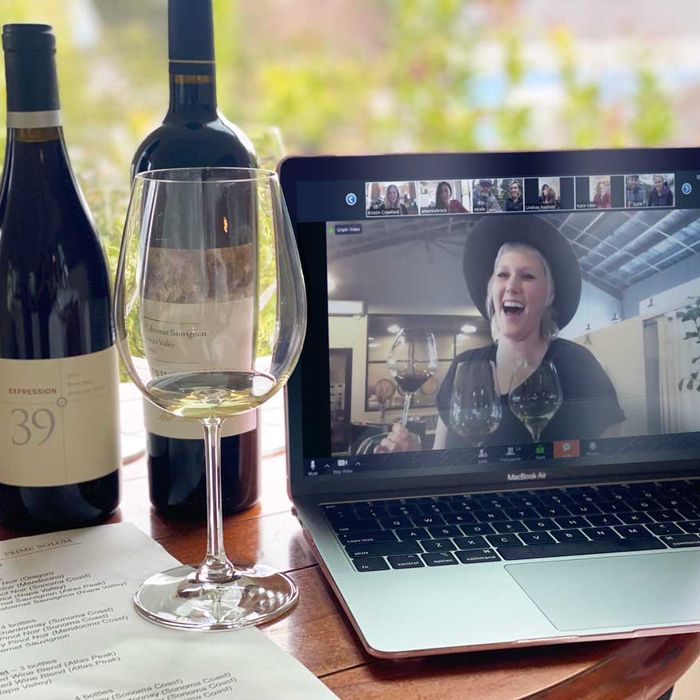 In the Before Times, this might have been a list of experiential gifts — with the best trips you could go on, classes you could take, and restaurants to try — but for the 2020 gifting season, those aren't exactly feasible. And while many things have reopened in some form or fashion, it's understandable if you, or the people on your list, are still limiting your interactions with the outside world. Thankfully, the past months of living and working at home have led to a renaissance in immersive digital classes and experiences that can be delivered with the click of a button and enjoyed right at home.
Some of these offerings are one-on-one, allowing for a truly tailored experience, while others are group classes that still take place in the privacy of your home. A few even include supplies (like wine or cheese) that make the experiences even more immersive. Plus, all of these virtual gifts are delivered digitally, so you don't have to worry about holiday shipping deadlines (many of which have already passed). It's just as easy as sending an e-gift card, but a little more personal. Below, we've rounded up 23 giftable digital experiences for everyone on your list, from the home chef looking to expand their repertoire to the musician trying to brush up on their skills.
Virtual Food and Drink Gifts
For the person who just learned what a bloomy rind is
For the person who's been pinning nothing but charcuterie boards, a tasting package from New York City's Murray's Cheeses will bring their Pinterest dreams to life. The iconic shop offers virtual tastings via Eventbrite that cover everything from a meat-and-cheese pairing, a deep dive into goat cheese, and an Italian-pairing cheese plate. Murray's also offers a couple of holiday-specific events that you should sign up for sooner rather than later, as they tend to fill up fast. Once you place your order through Eventbrite, a shipment of cheeses for the class will be sent to your giftee prior to the date. Then, on the day of, all they need to do is tune in via the provided link.
For the person who just learned what terroir means
Just because they might not be able to visit their favorite winery right now doesn't mean they can't enjoy the same sort of intimate tasting experience a vineyard can provide. Priority Wine's virtual tastings promise "no crowded Zoom calls with people you don't know," and allow you to choose bottles from nine participating wineries in Napa Valley, Oregon, and Virginia. To book, you just choose a package of wines to order directly from a vineyard, then schedule a tasting where your giftee can sip through their selections once they arrive. There are some 25 tasting packages to choose from, all of which are priced differently. Because of holiday demand, there are only tastings available for groups of 8 or larger, which start at $140 per shipment for December, but if you plan on scheduling your tasting for 2021, all group sizes will be available, and they'll start at $60.
For the person who wants to learn a new recipe (or two)
Even if travel is off the menu, the Chef & the Dish's one-on-one virtual cooking classes will still allow them to take a culinary adventure from the comfort of his own kitchen. Led by chefs from Spain, Japan, Thailand, Hungary, Italy, Brazil, Turkey, Vietnam, and the U.S., the classes will give the foodie on your list an opportunity to whip up an authentic regional dish made under the guidance of a local-to-that-country teacher. Classes are held via Skype and cost $299 for a two and a half–hour cooking session (for two people) that typically yields three courses. The cost also includes a shopping list (that they'll have to check off themselves) as well as access to a personal kitchen assistant to help set up and answer any questions in advance of the class. If your giftee wants to share their experience with more than one other person in the lesson, you can add up to two more (for a total of four) for $50 a person.
For the person who wants to learn more about the industry
If their interests go beyond cuisine, Delicious Experiences offer lessons on just about every aspect of the culinary world. You can take a class on food styling and photography or learn how to be a food writer from award-winning author Dianne Jacob. There are also more traditional classes like fresh pasta-making and cake decorating, too. You can gift a specific class, and your recipient will be able to coordinate with a chef to make the lesson even more personalized and receive a shopping list ahead of time so they're prepared. On the day of the lesson they'll be able to connect up to two screens, and more access can be permitted at fee. If you'd rather leave it all up to them, you can also purchase a gift card. Classes start at around $125 (and can be over $1,000).
For the person who really loves noods
The New York City–based community center 92nd Street Y offers a growing list of digital events and classes, including a month of hip-hop dance classes for kids, inspired by the musical Hamilton and an acrylic painting class for (adult) beginners. This one-off event happening next month is pretty special: a cooking class hosted by Jason Wang, the owner of Xi'an Famous Foods and, most recently, author of the eponymous cookbook, which we said was one of the best cookbooks to gift this year. You can register for your giftee, or give them a gift card for an amount covering the class if you really want to surprise them.
Virtual Fitness Gifts
For the person who wants to workout for the first time
Photo: FYT
As with a private language tutor, having a personal trainer can make all the difference if dad is committed to the idea of working out, but struggling with the execution. Fyt, which connects people with local personal trainers, now offers virtual one-on-one training sessions with instructors — so if dad's getting tired of relying on YouTube workout videos or coming up with his own regimen, he can let someone else encourage him — or yell at him — to get that extra rep in. Packages start at $119 for four sessions, but Strategist readers can get $50 off their first purchase for virtual (or in-person) subscriptions with the code STRAT50.
For the person trying to get back into a routine
If they're already someone who works out and is looking for a little structure, Obé Fitness offers more than 4,000 on-demand and 100 live weekly classes across multiple practices, including yoga, pilates, cardio boxing, HIIT, and more. Each class is 28 minutes long and requires no equipment beyond a mat, though if they want more of a challenge, they can incorporate resistance bands, weights, and sliders.
For the dad who's Peloton-curious
If you're not looking to drop thousands of dollars to give the gift of a Peloton bike, this membership will allow them to work out with the brand's trainers, who lead classes on the Peloton app and require none of the pricey gear. The classes — which can be streamed on demand from a phone, tablet, or TV — are broken into more than ten different disciplines, including outdoor running, strength training, yoga, cycling, and boot camp. Monthly memberships start at $13/month, after a 30-day free-trial period.
For the person who needs to let it all out
If they're interested in a less traditional workout, the Class by Taryn Toomey is certainly that. This exercise program has developed a bit of a cult following not only because of its celebrity clientele (Jennifer Aniston and Gisele Bündchen are fans) but also because of its unusual methods. It's a music-driven workout that aims to cleanse the physical, emotional, and spiritual, and primal screaming is encouraged. For $40 a month, or $400 a year, they get access to a robust schedule of livestream classes. On most weekdays, 11 classes are streamed from 7:15 a.m. to 9 p.m.
For the person who misses their masseuse
It's not the same experience as getting a massage, or even going into a Stretch*d studio in person, where they provide assisted stretching services, but the company's virtual one-on-one class is perfect for anyone on your list experiencing pandemic stress or makeshift-WFH-desk-related soreness. For $30, they'll get a 30-minute private session with demonstrations for customized stretches they can do on their own, with what they have.
Virtual Learning Gifts
For the person who wants to learn a new hobby
For the person who misses their college days for the electives
Photo: retailer
At the Greatest Courses Plus, which streams thousands of lessons on courses on hundreds of subjects, your giftee is sure to find just about anything they might be interested in, from a course on the science of cooking to how music and math relate to travel photography taught by a National Geographic photographer. After a free 14-day trial, membership plans start at $10 a month (billed every three months) and offer unlimited streaming of the platform's classes.
For the person who misses their college days for the core curriculum
Photo: retailer
While the Greatest Courses partners with organizations like National Geographic, the Smithsonian, and the Mayo Clinic, Coursera collaborates with top universities and companies like Stanford, the University of Pennsylvania, and IBM to bring on-demand academic lessons home. Priced as low as $39 (with most costing closer to $49), courses are typically four to six weeks long and include homework exercises, discussion forums, quizzes, projects, and a certificate of completion. Many courses, like the Science of Well-Being taught by a Yale psychology professor, are also free to enroll in, but free courses do not result in certificates of completion. (There's also the option to enroll in Coursera Plus for $399 a year, which gets you unlimited access to over 3,000 courses, specializations, and professional certificates.) If your giftee needs some help wading through all the classes, they can head here for more recommendations.
For the person who will only take classes led by certain instructors
If they're particular about where they get their information from, they might like the lessons from MasterClass, which are all taught by famous people with bold-faced names who excel in their given subject matter. For $180, they'll get an annual membership with access to all of the platform's 82 classes, so they can bop between a lesson on comedy taught by Steve Martin, the art of negotiation by Chris Voss, and a gardening how-to taught by Ron Finley — all of which come recommended by MasterClass students.
For the person who wants to learn a new language (and make a new friend)