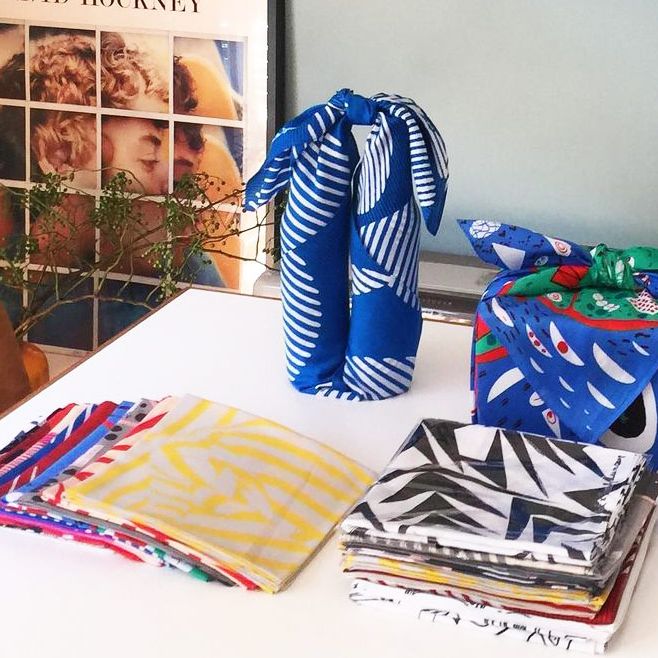 Photo: Link Collective/Instagram
I have vivid childhood memories of wading through piles of torn wrapping paper on my way to grab a plate of pancakes on Christmas morning once all of our gifts were opened. Now that I'm an adult, the pancake desire is just as strong, but there are way fewer gifts under my tree and a lot less trash left over. Along with wrapping gifts with recycled materials like paper grocery bags (that I cover in ink drawings to make my own wrapping paper), one big reason for this is that I learned about furoshiki.
Furoshiki are traditional Japanese cloths used to carry belongings and wrap gifts. Although they date back centuries, these square-shaped decorative fabrics that offer a sustainable alternative to paper gift wrapping really started gaining popularity outside of Japan in the past few years. Etsy is full of colorful furoshiki in every pattern imaginable — from florals and stripes to snowflakes and illustrated cats. This year, Anthropologie is selling its take on the wrapping fabrics, too, as is sustainably minded clothing brand Christy Dawn and soap brand Lush.
To find out more about furoshiki, including tips on where to buy them and how to make them look nice enough for even the most discerning friends and family, I spoke to Sam Gean of Rikumo, a Japanese-owned retail shop in Philadelphia that imports and sells a curated range of design objects that are made in Japan. The shop is currently operating online only, but when it was open in person, you could get anything gift wrapped in its house furoshiki.
"When you would go to a Japanese bathhouse, which is still a prominent thing in Japanese culture, you would gather your clothes and basically all the things that you couldn't take into the bath itself and bundle them together in a fabric called a furoshiki," Gean says. "The whole gift-wrapping thing kind of came later."
When you're given a gift wrapped in furoshiki, you might use it to wrap another gift — or as a makeshift tote bag or a good-looking and discreet way to carry wine. It's really a gift within a gift, one that Gean recommends you circulate throughout your family or friend group. While there are tons of variations on how to tie your furoshiki, Gean says the simplest way is by wrapping opposing corners over the gift and then using the remaining two corners to tie a nice-looking knot. Your recipient gets a unique and attractive gift, you don't have to deal with paper, tape, scissors, and a bunch of ribbons, and there's no chance of blocking anyone's access to pancakes. Here, eight decorative furoshiki you can buy right now along with a few tips on how to use them.
Unfortunately, the book the team at Rikumo uses for furoshiki-wrapping instructions has been discontinued. (If you were to get your hands on one, you'll also need to be able to read Japanese.) This book offers instructions in both Japanese and English as well as lots of photos you can use for inspiration. The biggest thing, Gean says, is to take your time: "Sometimes people will rush through it and tie the knots kind of willy-nilly, but the corners should be pretty tight, and the knot itself should look nice and lay flat."
Gean says to always make sure you have the right size furoshiki. "I've tried to use big furoshiki on a small package, and the thing just ended up swimming in fabric," he says. These printed cotton furoshiki are 17- and 19-inch squares, which are ideal for wrapping books, shoeboxes, and other similarly sized gifts.
"The other thing that I would recommend is some sort of embellishment, like a little branch or a dried flower. Little things like that go a long way to make it look more festive," Gean says. Once you wrap the gift, these items will slot into the folds really easily.