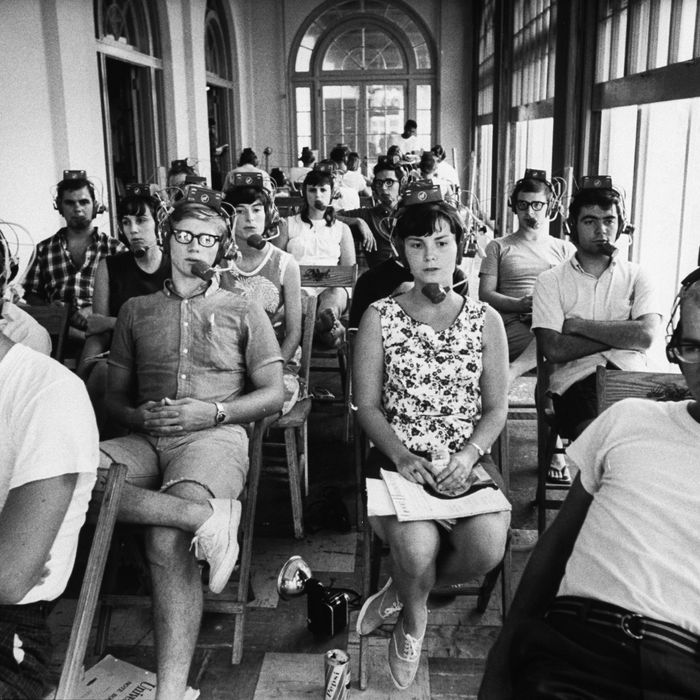 Photo: The LIFE Picture Collection via Getty/Time Life Pictures
If you've watched all of Netflix, played every board game in your possession, and baked more bread than you can possibly consume, consider spending some of your newfound free time learning (or relearning) a language. The prospect of finally mastering, say, French, guarantees hours of indoor entertainment during our seemingly never-ending imperative to stay indoors, but experts say the first step in successful language learning is to consider your motivations. "People's goals for learning another language can vary from something serious, like they need to move and function in another society, to the other extreme, of downloading a phone app and learning a new language just for fun," says Dr. Julio Torres, assistant professor of applied linguistics at University of California, Irvine, who explains that pedagogical methods differ based on learning goals. Another thing to keep in mind are your "internal factors," like learning style and interests, because "we tend to emotionally respond to something when it's meaningful to us personally," says Dr. Laura Baecher of TESOL (Teaching English to Speakers of Other Languages) at Hunter College's School of Education.
With everything from yoga classes to lectures currently taking place online (often for free), this is a unique moment to learn another language with the help of technology. "Language learning has always happened outside the framework of official learning online, but now you can easily find Zoom calls in other languages to participate in," says Dr. Sandy Fox, postdoctoral research fellow at Stanford University and founder and producer of Vaybertaytsh: A Feminist Podcast in Yiddish. "It's a very special time for practicing language."
So, whether you want to converse with your neighbor, or need to practice grammar for a distance-learning exam, we spoke with six language experts — including a director at the Middlebury Language Schools and a polyglot — to find the best programs and resources for your at-home language learning.
Best overall language-learning program
All of the experts we spoke to say that traditional online learning programs are the most effective tool for beginning language learners to acquire and practice some vocabulary and grammar. Unlike "pop language apps" like Duolingo, these are often more rigorously researched, combine different learning techniques, and usually cost a good amount of money. Among the different programs on the market, Pimsleur was highly recommended for its conversational methodology by two experts, Fox, and Vincent Perez, a French teacher at the indie travel bookstore Idlewild Books. Whereas other programs can be too repetitive and introduce words nonsensically, Perez says Pimsleur has "a lot of listening, repeating, and practicing conversations with prerecorded clips," which helps people learn in a conversational context. Fox was introduced to Pimsleur by some of her linguistic-minded and polyglot peers, and says it is "more rigorous" than other programs. In general, she notes that language-learning programs provide a particularly good "baseline" for those learning a new language within a language family that they already know. You can learn over 50 different languages with Pimsleur, but the program's six most popular languages are priced from $14.95 a month.
Best (slightly) less advanced language-learning program
Rosetta Stone, the language-learning software that was peddled out of mall kiosks in the '90s, is still one of the most expert-approved programs out there. (Don't worry — the yellow boxes of CDs are long gone.) Baecher says today's version of Rosetta Stone is different from many popular language apps because it combines learning methodologies, like practicing vocabulary and listening to audio from native speakers, instead of solely depending on game-like reward techniques. When it comes to learning a language with its own writing system, Sahie Kang, who formerly worked at the Defense Language Institute Foreign Language Center and is the inaugural director of the Middlebury Language School of Korean, says she first encourages students to get familiar with the characters' sounds. "Rosetta Stone has a speech recognition tool that compares your speech and native speakers' with a word or longer sentences, so you can correct your pronunciation or accent from the beginning" she explains, adding that it's "not the end of the learning of any language, it is just a starting point." It's also worth noting that while Rosetta is a bit less expensive than Pimsleur, it offers about half as many languages and has less of a focus on conversation.
Best monolingual language-learning program
A couple of experts suggest looking for monolingual language-learning resources, which are more tailored for the language you're learning. Kang stresses the importance of learning from native speakers, and points to Talk To Me In Korean as an example of a basic language-learning program started by Korean speakers. "In every language there is a typical greeting exchange between people, so this site offers an introduction to simple, basic exchanges that you can memorize, which is a good way to give students basic language exercises," she says. Talk To Me In Korean has some free courses, but requires a monthly or yearly subscription for more comprehensive resources.
Best beginner language-learning app
Our experts didn't totally write off pop language-learning programs like Duolingo (which is free, but includes a premium subscription). Many suggest that you use the app as a starting point with a combination of different methods, especially since it primarily depends on translation and game-like learning techniques. "Duolingo is great for learning some idiomatic expressions and introducing vocabulary, because there's a lot of practice and repetition, but it's not going to give you the pragmatics," Baecher says, meaning you won't learn where to use different words in context. Similarly, Torres says apps are one way to learn vocabulary, but since language is learned in conversation by "authentic exchanges where you're producing meaningful messages," the apps lack sufficient language context. "Something is better than nothing, so looking at an app and learning words is a place to start, but depending on your goal, you will need to seek more interaction opportunities," he explains.
Best (slightly) more advanced language-learning app
Baecher also notes that Duolingo is vastly more popular than other apps because it has a gradual learning curve "so people feel a lot of success." There's a steeper learning curve with Babbel, so people often stop earlier, but "those who stay with the app actually acquire more language, because it demands more," explains Baecher. You can try the first lesson in each of Babbel's 14 languages for free, and afterward there's a monthly subscription cost, starting at $12.95 for one month or $8.95 for three months.
Best conversation-based language-learning classes
Even in the beginning of language learning, all of our experts recommend practicing language skills through conversation. "Deep learning opportunities emerge when language learning occurs through conversation because of feedback," says Torres. "If the learner cannot express something, then the more proficient interlocutor can provide feedback in the moment, and correct or help the learner figure out what they want to say." Baecher agrees that feedback to error is essential, especially in the beginning of language learning, because it helps prevent fossilization, where "we persist in using an inaccurate or incorrect form, so much that it becomes part of our language, and it's very hard to unlearn it."
One way to practice conversational language is with a teacher. Yankl-Peretz Blum, project manager at YiddishPOP and a polyglot who has studied over 20 languages, says that right now he's learning Palestinian Arabic with a private teacher on the website italki. "We just shmooze, the teacher rarely talks to us about language, and instead we just talk about things, like our lives or a TV show, in the language," he explains. When finding a teacher, Blum stresses the importance of finding someone who is capable of speaking on your level, and on italki you can watch introductory videos and have a sample lesson with teachers before committing. Plus, he says that the prices will seem inexpensive by American standards (ranging from $6 to $25 for an hour lesson) because many teachers are working abroad. There are also a bunch of group classes (many of which have shifted online during quarantine), like the seven-week courses that Perez teaches at Idlewild. "At our classes, it's okay to make mistakes, it's okay to struggle, and by emphasizing that during class, we end up having people feel more comfortable," he says.
Best language-exchange app
When it comes to conversing through language exchange, Hello Talk, Talk Abroad, languageexchange.com, and Dialup — including their of-the-moment Quarantine Chat service — were all recommended by our experts. "A language exchange gives you the opportunity to practice that skill with a person on the other end who is expecting you to sound a little bit like an idiot, and that's okay because they're also going to sound a little bit like an idiot when they speak your language," says Fox, who believes conversational practice is the most important part of language learning, and recommends Dialup. In order to make the most of a language exchange, especially if you're both beginners, Baecher suggests that partners decide on something to read ahead of time, and then try to talk about it together. "Having that one-on-one conversation vastly increases your amount of language production, because you're going to be forced to produce a lot more in order to converse," she says.
Best video-based language-learning tools
All of the experts we spoke to agree that watching movies or TV shows can be a fun method for language learning. Blum specifically recommends watching Netflix original content, because it is all dubbed and captioned for the 20-plus languages that Netflix supports, so you can "pick the same series and watch it in several different languages with original subtitles, instead of depending on translations," he explains. Plus, Perez recommends the free Chrome extension, Language Learning with Netflix, which allows you to overlay subtitles in two languages and auto-pause at the end of sentences. "Even if you need to constantly pause and it seems tedious at first, you'll gain momentum quickly, especially when you're interested in what you're watching," he says.
Another online tool for language learning is BrainPop, an educational website with more than 1,000 short animated movies in English (including BrainPop Jr. for younger learners), Spanish, French, Hebrew, and Yiddish. Although BrainPop is designed to teach students K–12 about classroom topics and isn't solely a language-learning resource, Baecher says it's a good tool for language learning because "it has lots of short videos with a reduced vocabulary load and simple grammatical structures." Typically, a BrainPop subscription costs $220 a year, but during the coronavirus pandemic, the company has made their resources available free of charge for schools, teachers, and students.
Since some people are more visual or auditory learners, another way to learn grammar and vocabulary is through educational YouTube videos. While videos vary in quality, Torres recommends Señor Jordan for Spanish grammar explanation. "Since he's a high-school teacher, he breaks things down very clearly for students, which is helpful if you're having trouble understanding a particular structure," he says. However, Torres cautions that "learning about how the language works is very different than using the language in conversation." The Señor Jordan videos are free on YouTube, but you can support him by buying the accompanying worksheets online.
Best language-learning books
"People are so excited about apps or things on your computer, but don't be afraid of books," says Fox, who has found textbooks to be beneficial for her learning. Blum specifically recommends a French textbook company called Assimil, which comes with hours of recorded dialogue and teaches grammar through conversations. "There are grammatical footnotes next to written dialogue sentences, which is more of a minor detail, so the main thing is looking at the language itself in context," he explains. Blum has used the book to teach himself about ten different languages, and the company has English versions of their textbooks too.
When you're starting to read, Baecher recommends accessing texts at an easier Lexile level. "Reading something a little more challenging is going to expand you out of your basic set of vocabulary, which tends to repeat over and over in an app, and bring you into more natural language," she explains. For English language learners, Baecher recommends the free website Newsela, which rewrites news stories in accessible language, but starting with classic kids books in another language also works, like reading Le Petit Prince in its original French imprint.
Best digital flashcards tool for beginners
Despite the connotation of rote learning, all of the experts we spoke to agree that flashcards can be a part of vocabulary review. "For initial learning and recognition, Quizlet works," says Baecher, of the free, user-generated flashcard site. "But it won't be retained until it's built into someone productively using it," she adds, suggesting that students also review words by writing short sentences. Quizlet allows students to review flashcards through more interactive games, which is why Perez uses the site with his classes. Whenever possible, Torres encourages students to make flashcards with images — which is available on Quizlet Plus for $1.99 a month — because going from one language to another is translation. "The translation approach isn't bad, but you want to ultimately be able to learn and encode the information in a different way, and retrieve it in a different way," he explains.
Best advanced digital flashcard tool
When it comes to flashcards, Blum and Fox both vouch for the application Anki — which is free online and on the Android app store, but costs money for iPhones — calling it "very powerful" and "amazing," respectively. Anki depends on the technique of spaced repetition, where you see newer and more difficult cards more frequently, and older and less difficult cards less frequently (which is also a feature of Quizlet Plus). "It's an advanced tool and it took me years to figure out how to use it well, but it has a decent online community where you can troubleshoot," says Blum, who's been using the app for 15 minutes a day for over ten years. "When people miss a few weeks or months, they get discouraged, but I think even if you don't stick with it for years like I have, it can be useful for practice." Similarly, Fox loves Anki for the robust shared decks, and your ability to personalize and add images to cards.
The Strategist is designed to surface the most useful, expert recommendations for things to buy across the vast e-commerce landscape. Some of our latest conquests include the best acne treatments, rolling luggage, pillows for side sleepers, natural anxiety remedies, and bath towels. We update links when possible, but note that deals can expire and all prices are subject to change.