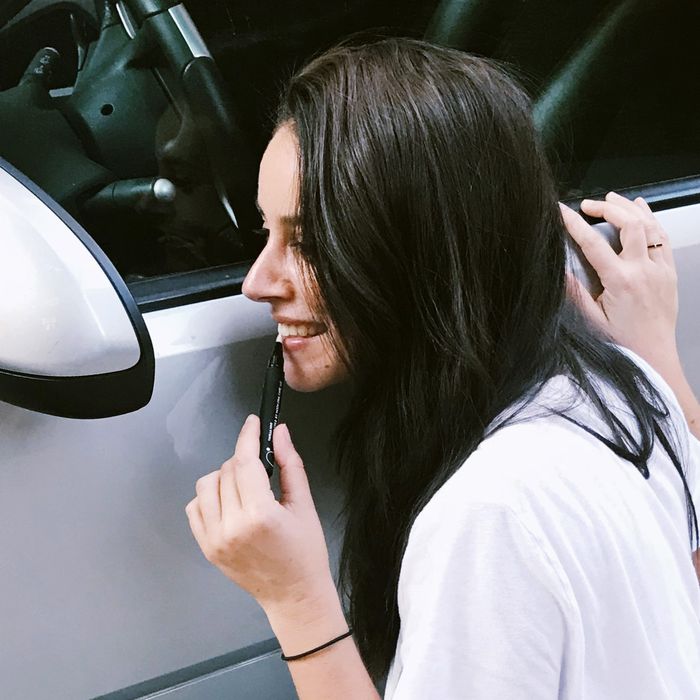 The author channels her best Kendall Jenner while using Jenner's Moon whitening pen.
Photo: Courtesy Gabriella Fuller
I run a design gallery, which means I'm always trying to make the shoebox studios I rent look more like my clients' triplexes featured in Architectural Digest. The one area that's always stumped me is the bathroom: You can hide your shoes in the oven, but your oral care is always going to be strewn all over the sink, looking like an exploded high-school chemistry lab. I didn't expect to find a potential solution on Kendall Jenner's Instagram, but life is full of small graces. In conjunction with Shaun Neff, an entrepreneur best known for attempting to make beanies more sexy, the Proactive spokeswoman recently launched Moon Oral Care in an attempt to make toothbrushes more sexy. Neff, who "ideates" for a number of brands, says Moon was born after he walked the aisles of stores across America looking for a sector to disrupt. "Oral care is one of the most boring and worst-designed categories in the consumer space," he says. "It needed a game-changing facelift."
It got one: The Moon products' understated black palette, simplified white font, and soft-to-touch packaging make them look and feel like the stylish love child of Calvin Klein and Apple. The full collection features a sleek-looking vanilla-mint teeth whitening pen, a fluoride-free stain removal toothpaste, an activated-charcoal toothpaste, an alcohol-free mouthwash, a two-pack of matte-black toothbrushes, and two types of mint floss. The line — all of which is Kendall-approved, even though she only helped create the pen — is vegan, mostly natural (the pen includes urea peroxide), and free of sodium laurel sulphate (SLS), triclosan, and cruelty. (It's PETA-certified.) It's also enriched with essential oils like tea tree, peppermint, and vanilla, and infused with fruits like cranberry and coconut. But none of the stuff contains any fluoride, which the American Dental Association says is necessary to prevent tooth decay. Company representatives told me it will release an ADA-approved fluoridated toothpaste "soon."
Dr. Yehia Massoud, a Manhattan dental surgeon with 35 years' experience, suggests the brand's rejection of chemicals is part of a larger generational trend toward natural beauty. "Natural products are generally better for you," he says, and "if we excised sugars from our diets, hydrated appropriately, and brushed after every meal, we probably wouldn't even need fluoride." But other dentists doubt the effectiveness of a purely holistic approach. Dr. Patricia Moezinia of Franklin Dental Health notes that, if fruits have any whitening effect at all, it's because their acids are stripping your enamel. "Fruits are good when you eat them, not when you brush your teeth with them," she says. As for whitening pens, both dentists and Moon's own reps note you should temper your expectations: Yellow teeth, for instance, whiten better than grey ones, and an at-home product (pen, strip, or tray) will always have a lower peroxide concentration, and hence a lesser effect, than an in-office treatment.
To find out how effective the line is — and, just as important, if using it would make my bathroom, or my mouth, look like that of an influencer — I called in a complete set of products from the brand to test. Below are my conclusions (and here's the TL;DR: After using the line twice a day for 13 days — one short of the two weeks Moon recommends for "optimal results" — my smile doesn't look more like Jenner's. But my teeth feel clean, my breath smells good, and, with the products on display, my bathroom looks more like a unisex day spa, according to some friends I recently hosted for a dinner party. Call Architectural Digest.)
The KJTWP, Jenner's trademark product, is formulated with "pearlescent and opalescent pigments to brighten immediately" and urea peroxide to "whiten over time." It also has strawberry extract, which is supposed to be a natural whitener, and lavender and honeysuckle, to soothe gums the bleach might otherwise irritate. To get the best results, you're supposed to use it twice a day for two weeks, waiting thirty seconds before closing your mouth after applying, and ten to thirty minutes before eating or drinking. Though Moon warns outcomes may vary, it also claims you should start seeing at least a "brightening" immediately. I didn't. Massoud explains why: "Bright teeth are the result of light refraction, which is caused by an uneven surface. The product would have to etch the tooth." Could you put anything in a product to make teeth more light-reflective? "Yeah," he says. "Porcelain veneers."
As for the whitening: Through extended contact, peroxide removes intrinsic and surface stains caused by tea, coffee, cigarettes, wine, and other acids. (The pen's instructions note not to use it in combination with coffee, wine, or cigarettes — which, apart from being a PSA from my mom, should probably go some way towards whitening your teeth on its own.) But peroxide can't change the natural color of your teeth; it can only restore it to a state before you started having really bad habits. After 13 days of using the pen, the stains at my gum line were slightly lighter, but the rest of my teeth remained more or less the same color. Worth noting: My teeth are grey and thin (i.e. translucent and light-absorbent), not yellow and dense (i.e. light-reflective), so whitening products won't work as well for me as they may for you. The pen seems like it would be most effective as a refresher for those who've already whitened their teeth. I would also recommend it to anyone with sensitive chompers: Where Crest Whitestrips are too painful for me to use, the pen is perfectly gentle, and the vanilla-mint flavor isn't bad.
By far my favorite thing about both toothpastes are their tubes: They're made of a velvety, matte-black plastic that does not crumple, bend, or fall over. You never have to squeeze out the last drop. They will stand firm until they're finished. (I loved arranging them next to the other Moon products on my sink in size order, like little nesting dolls dressed by Rei Kawakubo; together, they look like guests at a very chic funeral for my teeth.) Also, each toothpaste tastes great. The lunar peppermint flavor is subtle but refreshing, with notes of green and black tea, cranberry, and Dead Sea salt. Tea tree oil acts as a balm, ginseng as a salve. It's like your mouth went to yoga. The stain-removal effects were barely moderate in my time testing the toothpastes (I brushed with the stain remover in the morning and the charcoal activator at night.) Moezinia's main issue with the pastes is that they are fluoride-free. To combat bacteria and acids that demineralize teeth, fluoride re-mineralizes, or strengthens, enamel (which is why the ADA says it's a necessary component for the organization's approval).
This has the same ingredients as the stain-removal paste, plus activated charcoal. Like many fluoride-free products, "activated charcoal is a trend," according to Massoud. "[When ingested] it's known to bind impurities in the gut and take them out in the feces." It's debatable how much the ingredient will actually accomplish on contact with teeth for the two or so minutes of an average brush, and it may in the long run lightly abrade the enamel. If you're into it, however, this one is lovely: A dark sparkly grey that foams light so it doesn't mess up the sink, but rather twinkles like that glittery, slate-colored Hard Candy polish I coveted as a tween because it looked like something Kate Moss would wear to the Viper Room.
The name is kind of a mouthful, but the actual mouthwash isn't: Its alcohol-free formula is minty, refreshing, and gentle, sweetening your breath without making you tear up like other washes with alcohol that can cause unpleasant stinging and dryness. Formulas with alcohol kill germs that cause bad breath by attacking all the bacteria in your mouth, good and bad, according to dentists. So, while they temporarily freshen your breath, they also obliterate your mouth's pH, creating opportunities for more bacteria to flourish. This rinse won't wipe your mouth totally clean, but it maintains a healthier, better-smelling equilibrium. Plus, it doesn't leave your teeth with that weird, extraterrestrial blue sheen.
I'm lazy and also OCD about brushing, so I'll never get rid of my Sonicare. But if I had to go manual, I'd go with these: They're attractively simple, with a silky-smooth finish, just enough pliability, and incredibly soft bristles that feel like butterfly kisses for your teeth. I was concerned they were too feathery to be effective, but Massoud assured me that soft and extra-soft bristle toothbrushes are the only kinds that should be sold. Harder bristles damage the enamel and can cause gum recession, and it's really repetitive movement — not bristle strength — that dislodges plaque, he explains. The black-bristled brush is not treated with charcoal; its color is apparently just for looks.
Like Julia Roberts in Pretty Woman, I know you should never neglect your gums, so I'm pretty obsessive about my flossers. Unlike with a lot of drugstore picks, the floss on these is strong enough to glide into even the tightest of dental crevices without snapping. I made it through my whole mouth with a single flosser, and I have very tight teeth. The pick side is equally firm, but still culminates in an unusually thin, ultra sharp point, perfect for squeezing between the teeth at the gum-line to loosen food particles. Sexy, I know.
For those who rightfully want to reduce their plastic waste, there's plain, sturdy dental floss. It's graphite grey because it's cool, has a nice minty flavor, and comes in a cute little black container with comfortably rounded edges and an easy-grip opener.
The Strategist is designed to surface the most useful, expert recommendations for things to buy across the vast e-commerce landscape. Some of our latest conquests include the best acne treatments, rolling luggage, pillows for side sleepers, natural anxiety remedies, and bath towels. We update links when possible, but note that deals can expire and all prices are subject to change.