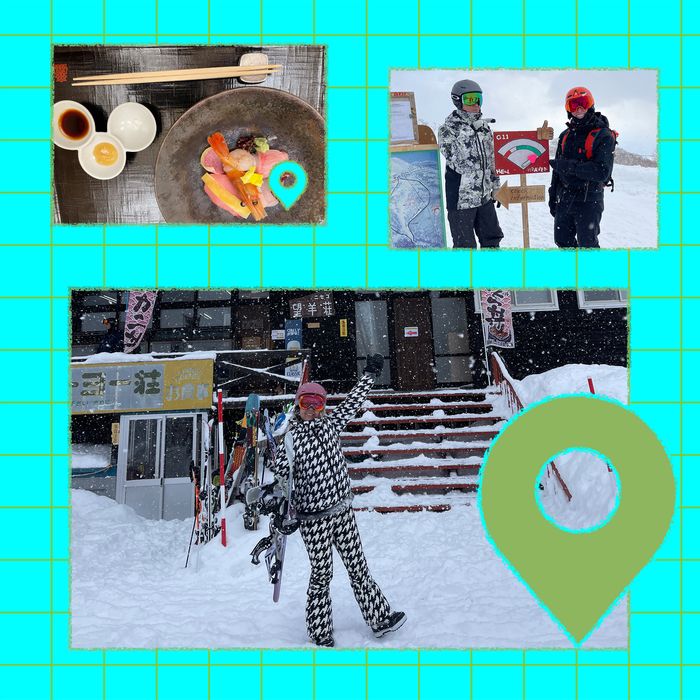 Photo: The Strategist; Photos: Diana Tsui
Everyone knows that person who spends weeks sniffing around travel blogs, going deep into Tripadvisor rabbit holes, collecting Google docs from friends of friends, and creating A Beautiful Mind–style spreadsheets to come up with the best vacations and itineraries possible. In this recurring series, we find those people who've done all the work for you and have them walk us through a particularly wonderful, especially well-thought-out vacation they took that you can actually steal.
For the past three years as Japan remained closed to tourism, Brooklyn-based writer and stylist Diana Tsui was waiting to take her next snowboarding trip to Niseko to experience what is known as "Japowder," a lightweight snow that makes you feel like you're riding on clouds. Mornings would be spent flying over fresh runs, and après-ski would feature a soak in an onsen (a thermal bath), sipping craft-whiskey cocktails, and eating loads of fresh seafood and ramen. As soon as the borders reopened in October, Tsui booked a flight for late January, the best time for consistent storms in the area. Here, Tsui shares how she and her husband spent seven days in Hokkaido eating crab hot pot, relaxing at a ryokan (a traditional Japanese inn), and getting in untracked turns on some of the best runs in the world.
11 a.m.: Land in Sapporo after a week exploring Tokyo, catch a bus to Niseko
To get to Niseko from Tokyo, you could take two bullet trains over the span of eight hours, but you run the risk of being stuck overnight if you miss your connection. My preferred route instead is a 45-minute plane ride from Haneda Airport in Tokyo to New Chitose Airport, which is an hour outside of Sapporo. Then you can rent a car or arrange for your hotel service to pick you up, but I prefer to prebook bus tickets with Chuo, which picks you up at the airport and drops you off at all the major spots in Niseko. It costs $45 round trip per person. If that's sold out, the train is an alternative but more crowded, especially with luggage.
4 p.m.: Check into our ryokan
I found Niseko Konbu Onsen Tsuruga Besso Moku No Sho (393 Niseko) on Expedia and planned our other hotels around it. (Expedia was great for booking and organizing our accommodations, especially because if you book ryokans, traditional Japanese inns, through Japanese sites, you usually get confirmations in Japanese.) Located on the Annupuri side of Niseko, this ryokan is westerner-friendly as everyone speaks some English. Once you enter, you have to remove your shoes, and a staffer will stash them in a closet near the front. Somehow, they remember which shoes are yours and will have them laid out once they see you approaching the main desk. We're guided to our room on the third floor through lantern-lit hallways that feature local art, and we settle in.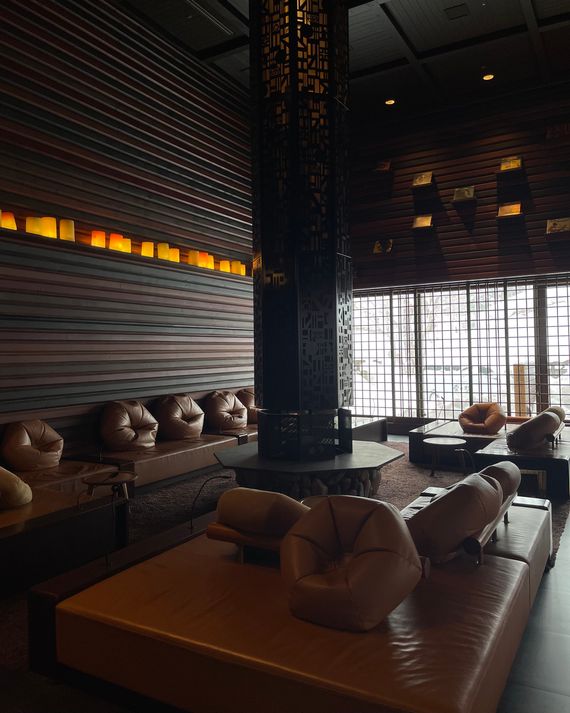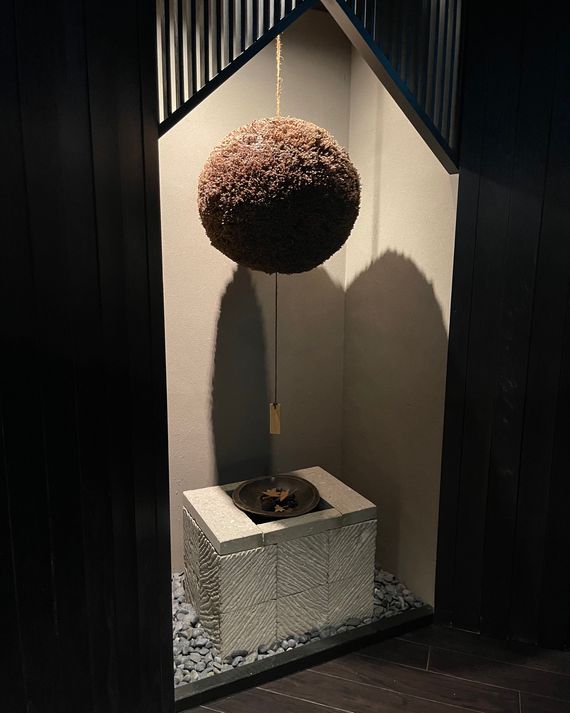 5 p.m.: Have a relaxing soak for our sore muscles
We spent the first week of the trip in Tokyo walking 20,000-plus steps a day, so our backs and legs are aching. For recovery, I spring for a room with a private onsen, an outdoor tub filled with thermal water. You can technically use a public one, but I'd rather not get naked with strangers. I scrub down in the shower and then soak outside as the snow falls. A packing note: Don't bother with pajamas; every hotel provides them. At our ryokan, we have a set meant to be worn solely for sleeping and a yukata set for wearing in the hotel itself, complete with a padded jacket and tabi socks with sticky nubs in case it's slippery. Another perk is that our room rate includes plenty of snacks in addition to all of the meals — the lobby fireplace has a s'mores setup, while the corner bar offers roasted sweet potatoes in the afternoon and ochazuke, a rice-and-tea dish, after 9 p.m.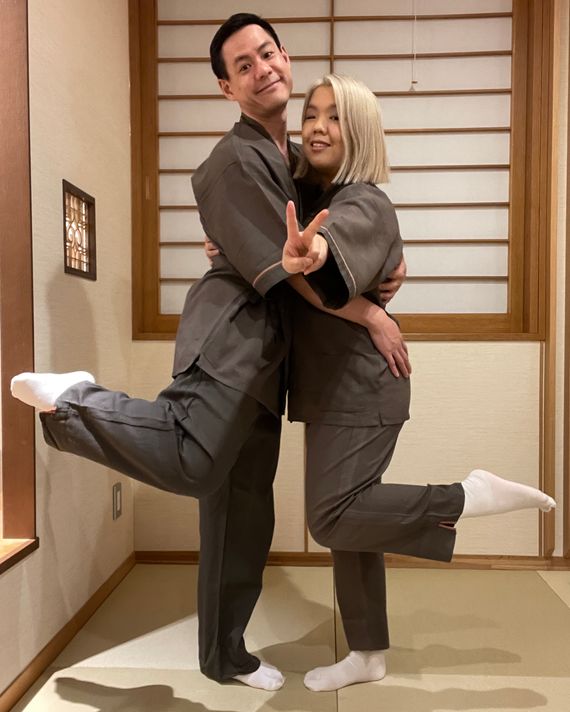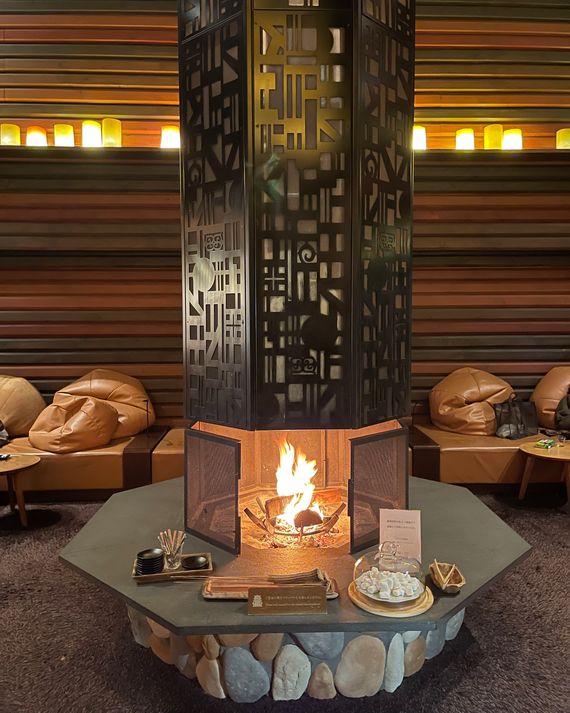 7 p.m.: Sit down for a traditional multicourse seasonal meal
Typically in a ryokan, dinner is served in your room while you sit on floor cushions, but here all meals are downstairs in the restaurant. You're shown to a private room with a western-style table and chairs. The meal is kaiseki, a multicourse affair that follows a specific sequence including sashimi as well as steamed and grilled dishes. Hokkaido is best known for seafood, so we start off with scallop chawanmushi (an egg custard) and the freshest sashimi plate. We're stuffed by the last course — a donabe, or clay pot, filled with rice and fish — but we can't pass up dessert, mango panna cotta served with green tea. We waddle back to our room and pass out.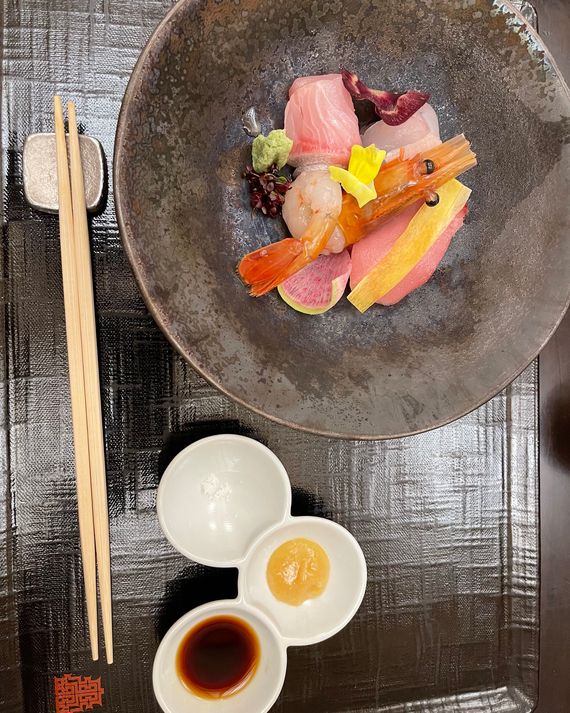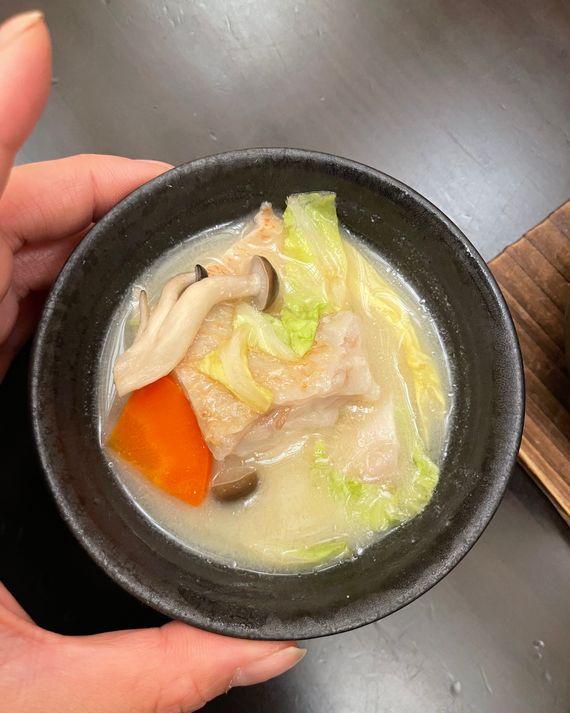 8 a.m.: Wake up to a Japanese breakfast
You'd think we would still be full from dinner, but we woke up ready to eat. I love Japanese breakfast — there's rice, miso soup, grilled fish, and plenty of pickles, my personal favorite. We also get freshly cut melons and strawberries that taste like candy. Post-breakfast, we take one last soak in the onsen and call a taxi to take us to our next location.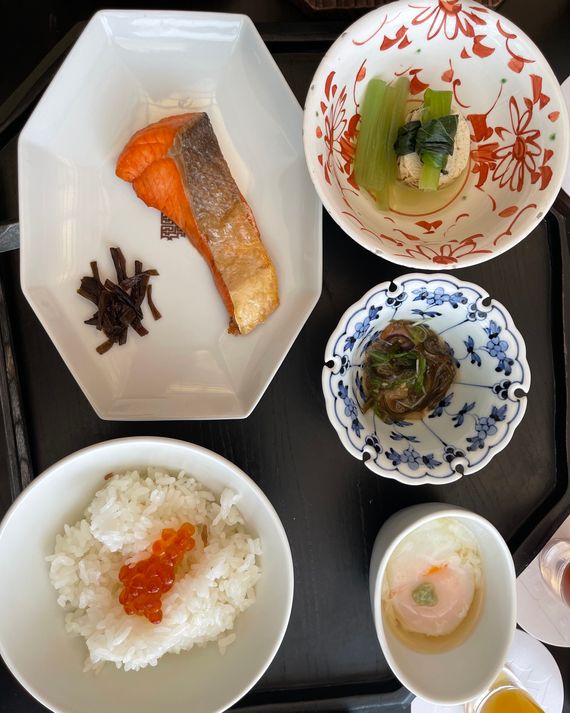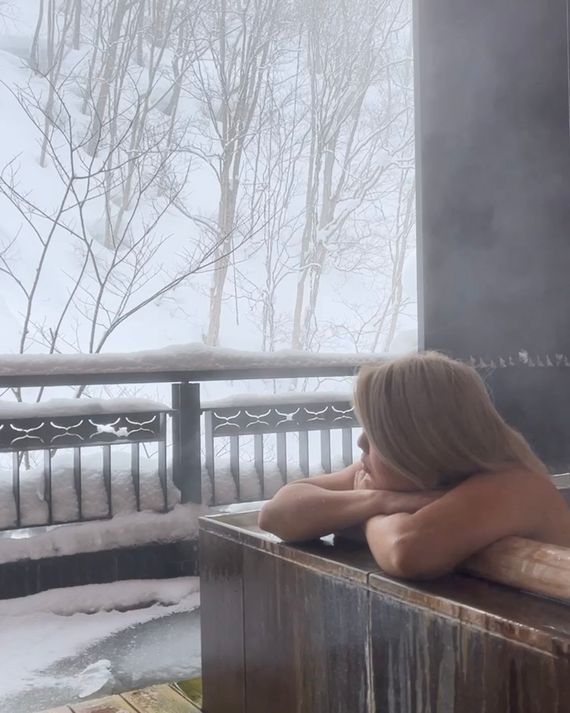 This trip is to make up for the birthdays and anniversaries deferred during the pandemic, so we splurged on four days at the Park Hyatt Niseko (328-47 Iwaobetsu), which offers ski-in and ski-out, plus valet service. Our room is on the residence side of the complex and is like a studio apartment. There's a kitchenette, a massive tub with Le Labo products, and the best feature of them all: a washer and dryer.
1 p.m.: Set up our rentals and get in some warm-up runs
You may be tempted to bring your own gear, but don't — rentals here consist of all the top brands. We hop a free shuttle to head over to Rhythm Base (184 Yamada). It has the best selection by far, especially if you're particular about your equipment, and is staffed by expats who speak English, Chinese, Thai, Tagalog, and more. A nice guy from outside of London recommends powder boards since nearly a foot of snow has been falling every night. I settle on a Gnu Chromatic, and my husband gets a Burton style. We walk over to the gondola and ride back to our hotel.
6 p.m.: Go for a decadent and cozy crab hot-pot dinner
Winter is crab season in Hokkaido, so Crab Dining Kanon (1-20 Niseko Hirafu 2-1) gets really popular. When it comes to dining in Niseko, reservations are mandatory everywhere, which is why it's better to stay at a hotel that can help make them for you versus an Airbnb. This spot is one of the few with an online system; I prepaid for our meal back in November. We share an entire hairy crab, which is sweet and delicate, some grilled king crab, and cheesy crab gratin. There's also hot pot with Wagyu beef and more crab legs. I tack on a plate of sashimi that features the butteriest piece of salmon I've ever had. Dessert is a Hokkaido milk ice cream with yuzu sauce that manages to be both rich and light at the same time.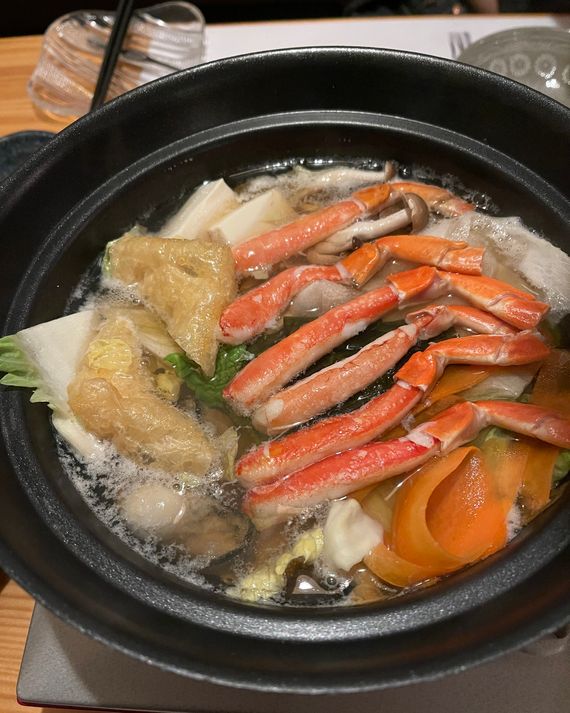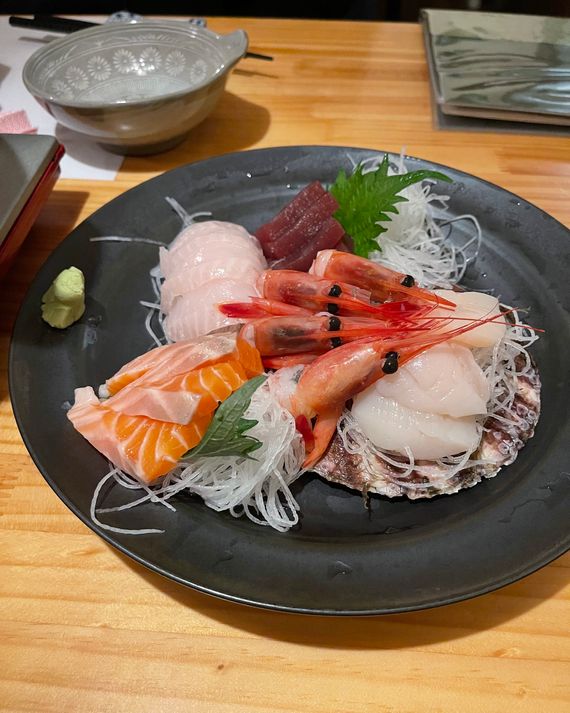 9 a.m.: Snowboard in waist-deep powder with a backcountry guide
Niseko is an unusual mountain. All four bases are separately owned and operated despite being under one lift ticket (technically, it's called Niseko United). Plus, any terrain that's graded "black diamond" or harder is gated for the sake of safety, so navigating can be confusing. We opt for a backcountry guide from Rhythm Base. Chris (coincidentally, this is also my husband's name!) is super-helpful, not only in showing us the best spots but also in giving us a quick lesson in avalanche safety. He hands us a backpack with a probe, along with a shovel, and we fasten beacons under our jackets. We likely won't need them since most areas are well maintained, but it's a smart safety measure.
The upper-mountain lifts are nicknamed "pizza boxes" because they're single chairs with seats approximately the size of a pizza box. They look more terrifying than they actually are. When we get to the top, we skip the hike to the back bowls, which takes approximately 30 to 45 minutes depending on your level of physical fitness. Instead, we do Gate 4, which requires less effort, and find ourselves in waist-deep snow. Chris also takes us to Gate 11, which has a sign with an arrow that can be pointed to either one side that reads "Heaven" or the other, which reads "Hell," depending on the snow conditions. Thankfully, it's Heaven today, and with Chris's encouragement, my husband launches himself off a few rock jumps.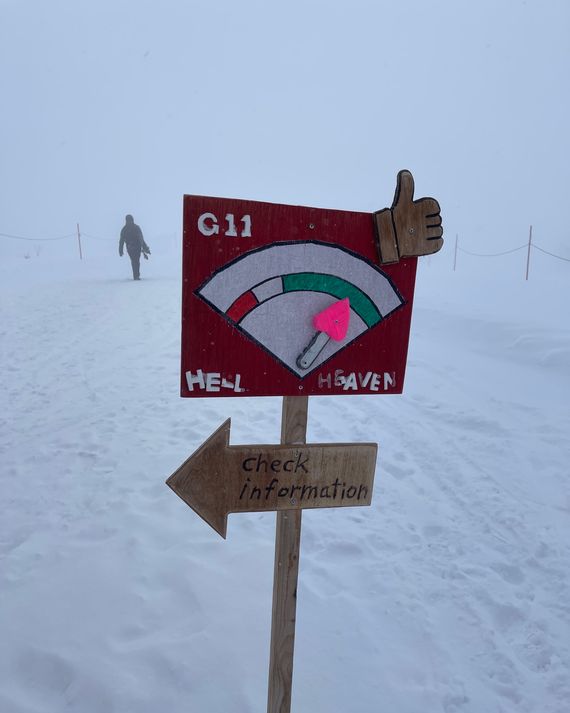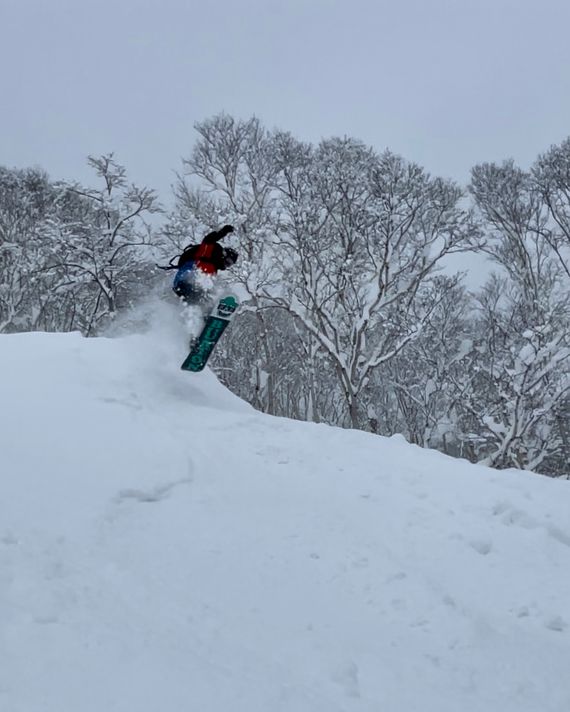 4 p.m.: Get room service with a side of fireworks
We skipped breakfast and lunch, opting for snacks on the lifts, so by the end of the day, we're exhausted and starving. Room service it is! We order King-crab miso ramen, beef curry, karaage (fried chicken), and potatoes with raclette, plus a glass of wine. I'm pleasantly surprised that our meal totals $100 USD, including tip. The main dishes are hits (the noodles came with a massive crab claw full of meat!), but the appetizers are a skip. On Sundays, there are fireworks, so we watch them as we eat.
11 a.m.: Have more deep-powder runs and mid-mountain curry katsu
Thanks to the ski-in, ski-out access, we get to Gate 5 the minute it opens. Another foot of fresh snow has fallen overnight, and every run is magical. We try to retrace our steps to the spots we went to with our guide and completely lose our way. Halfway down a trail, I realize that if we make a sharp left, we wind up at Boyoso, a mid-mountain lodge that serves miso ramen and various rice bowls. It's run by an elderly couple, though post-pandemic they've hired younger staff. We aren't super-hungry, so we split a very large Sapporo beer and a curry katsu over rice. The last time we ate here was five years ago, and it's just as good as we remember.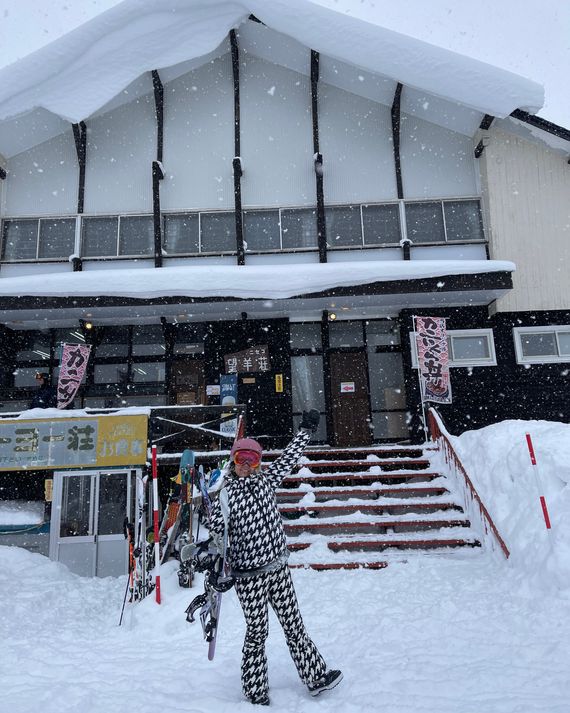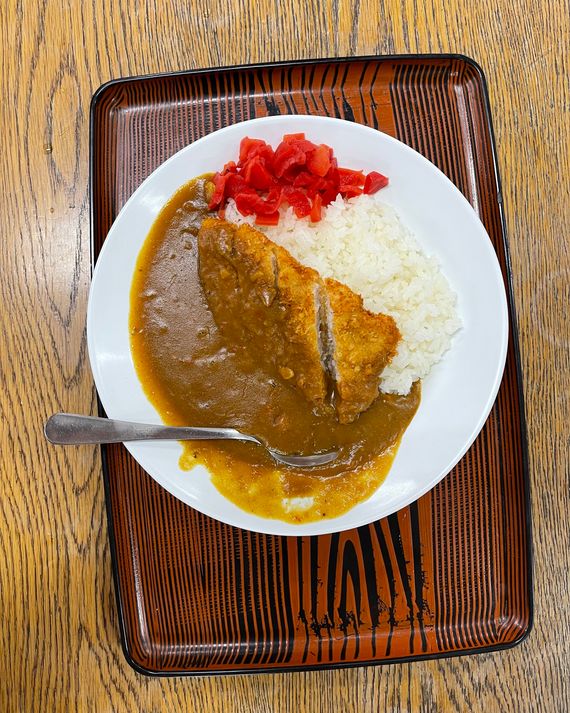 7 p.m.: Drink smoky cocktails and eat an even smokier grill-at-your-table lamb dinner
Coincidentally, two friends of ours are also here, so we meet for cocktails at Toshiro's Bar (167-3 Yamada 2F J-Sekka) inside the Prince Hotel. It's part of the lobby sectioned off by red velvet curtains and offers an impressive selection of locally made liquors. My husband gets the Smoked Penicillin, a lemon, ginger, and whiskey drink, which turns out to be a showstopper. The bartender presents it under a cloche that's infused with smoke from the wood used in whiskey barrels and lifts it dramatically. The group of Australian tourists behind us take photos, and I hear them reconsider their drink order.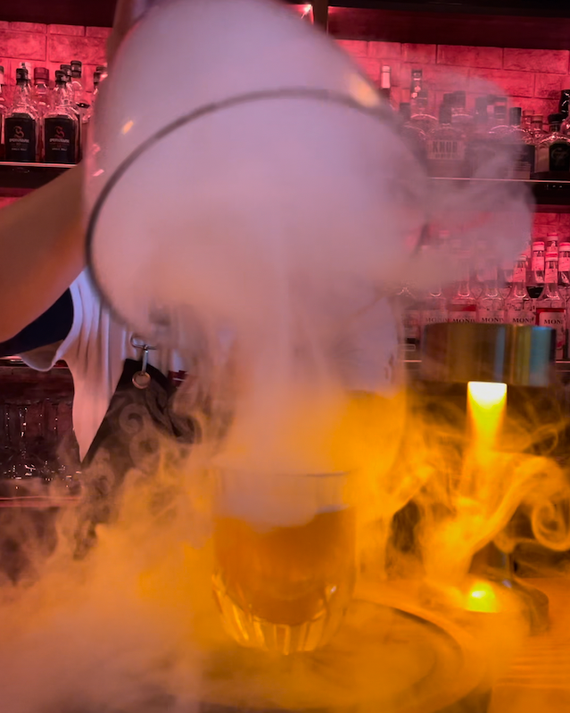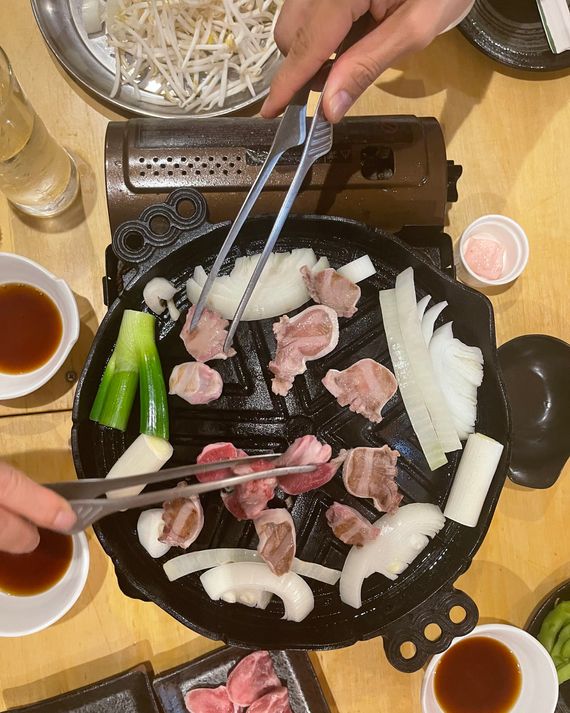 We head to Niseko Sanroku Jingisukan (476-14 Soga) for Genghis Khan barbecue, a Hokkaido creation that has nothing to do with Mongolia. You're given plates of bean sprouts, scallions, and thinly sliced lamb imported from Australia or New Zealand to grill at your table. It's traditionally served with ponzu sauce. We polish off a giant bottle of sake with our meal and come out smelling like cooked meat.
8 a.m.: Make first tracks with the hotel manager and a few friends
Our friends join us for a program called "First Tracks with the General Manager," which is for anyone who stays at the Park Hyatt and lets you get on the slopes before they open to the general public. If you want untracked runs, this is definitely worth doing. Paul, who hails from Australia, turns out to be an extremely fast skier and takes us to Strawberry Fields, which we lap until the lift opens. He departs for work shortly after, but the rest of us spend the day exploring the mountain.
7 p.m.: Have après-ski drinks at a famous speakeasy
Bar Gyu+, also known as Fridge Bar because you enter through a refrigerator door covered in stickers, is a wildly popular place to grab a drink. Unlike everywhere else, it's first-come, first-served, as it doesn't do reservations. The best seats are downstairs facing a giant glass window that's always partially covered with snowdrifts. Its version of a negroni tastes like hinoki wood, a fragrant cedar commonly used for sake cups, and is hands down our favorite.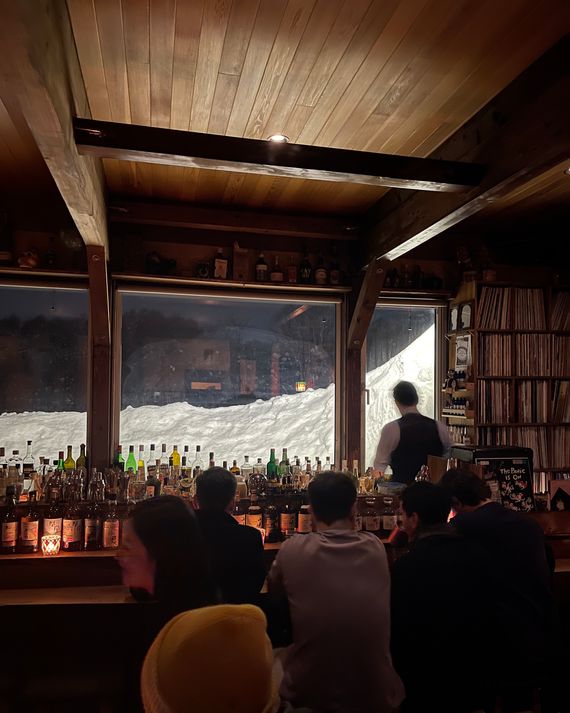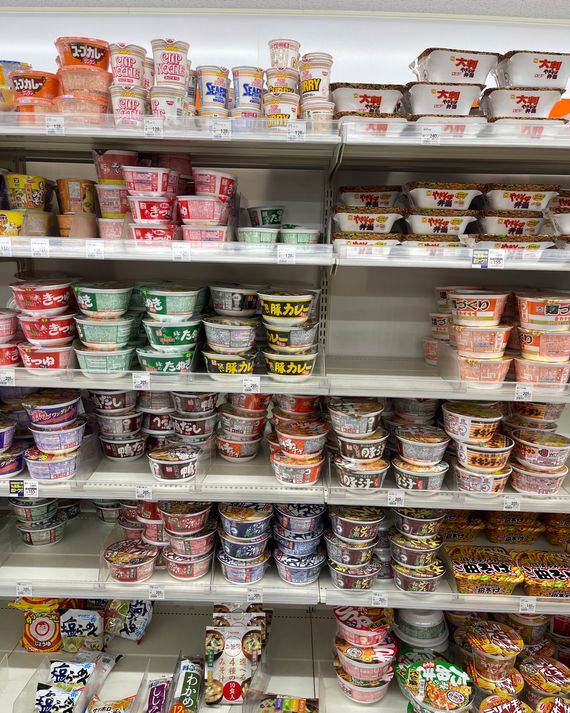 We didn't make reservations for dinner tonight, which was a terrible mistake. After wandering around without any success, we head to Seicomart (048-1502 Abuta) because combini (convenience store) food is just as delicious. Unfortunately, everyone else had the same great idea, and the cooked-meals section is pillaged. We buy some cup ramen and head back to our respective hotels.
9 a.m.: Get freshly made udon soup at the breakfast buffet
The best part of luxury hotels in East Asia is their massive breakfast buffets, which are included in your hotel rate. The Park Hyatt's features an udon station, fresh sashimi, dumplings, and congee as well as extensive western options like made-to-order omelets, French-style pastries, and refrigerators full of fruit and yogurt. My favorite was the natto, fermented soybeans that are extremely pungent but full of probiotics. The ones offered here had some of the biggest beans I've ever seen. We take all-you-can-eat a little too seriously and wind up polishing off four plates' worth of food each.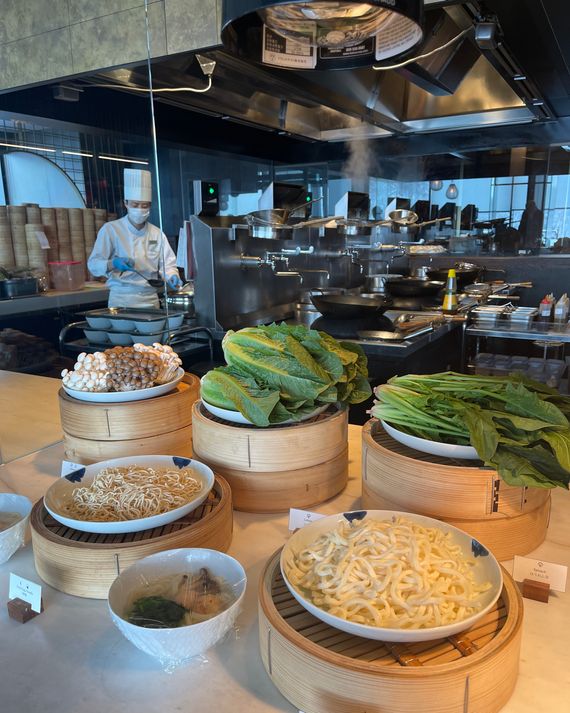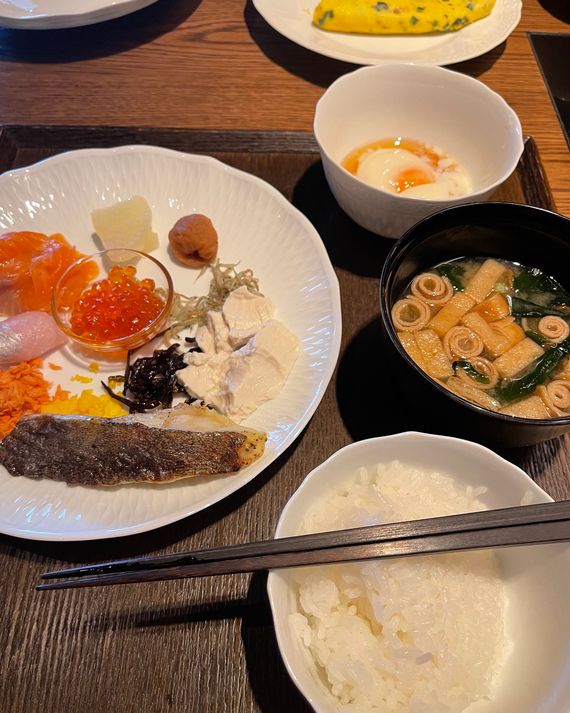 2 p.m.: Take a train into Sapporo for the famous Snow Festival
I screwed up our return bus tickets, so we take the train back to Sapporo. We check into the Wyndham Garden Sapporo Odori (7 Chome-7-1 Minami 2 Jonishi), an inexpensive hotel near Odori Park (3 Chome Odorinishi), and walk over to see Sapporo's famous Snow Festival, which features giant snow sculptures including a re-creation of Embley Park, Florence Nightingale's home, to honor all of the frontline workers (2023 was the first post-pandemic festival). Crowds surround the most popular photo ops: Catbus and Totoro, two characters from Studio Ghibli's animated film My Neighbor Totoro.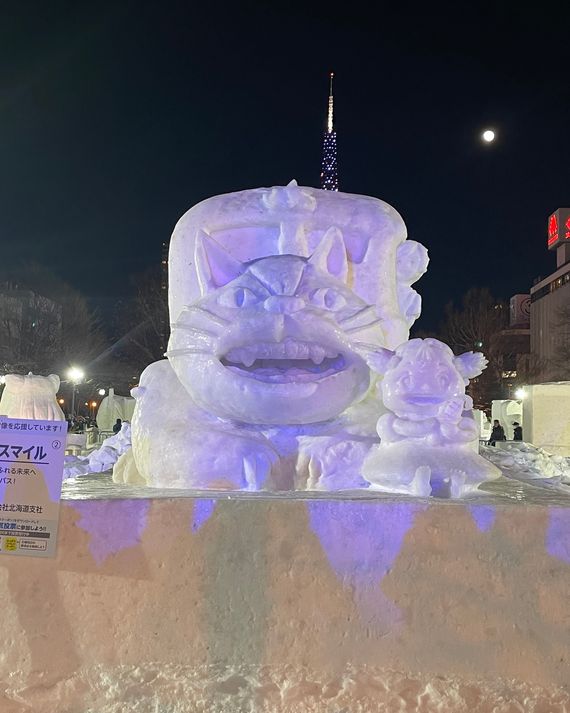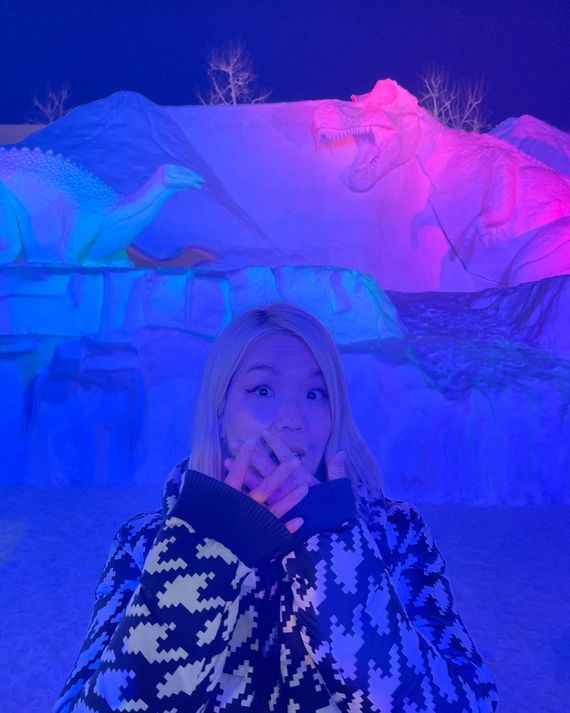 6 p.m.: Grill our own seafood dinner
We stumble across Seven Lucky Gods (Minami 3 Jonishi), an izakaya in Tanukikoji, a covered shopping arcade that runs several blocks. Since it's so early, we can be seated upstairs on cushions, and we order by pointing at the menu. You're given a wood-filled grill and cook everything at your table. The giant oysters and scallops in sake and butter are juicy and excellent, but the star is the crab with miso and egg yolk.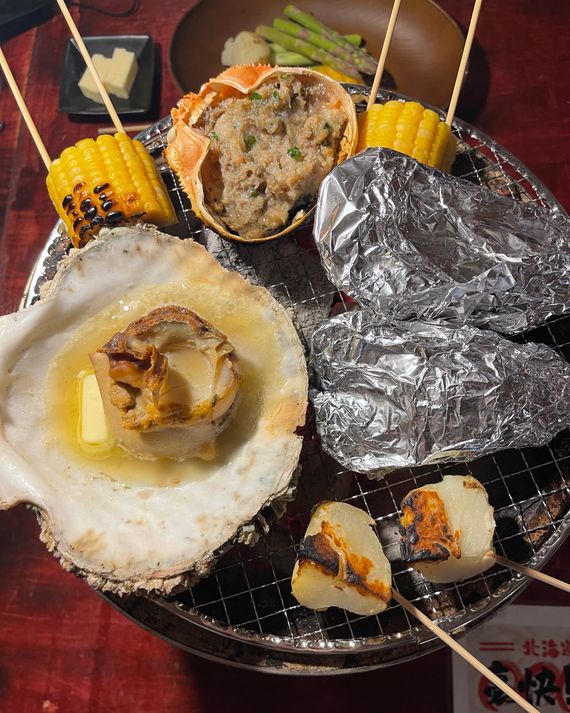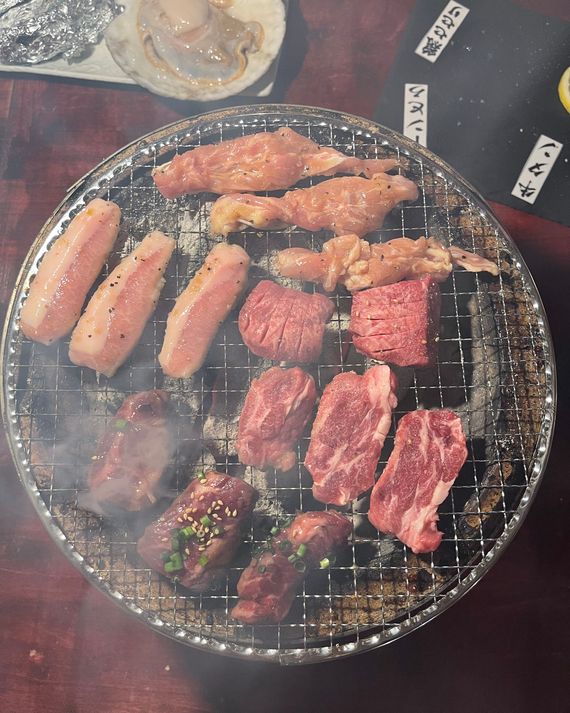 9 a.m.: Wait for kaisen donburi at the fish market
For our last morning, we walk to Nijo Market (Minami 3 Johigashi), an outdoor seafood market. I pick up dried scallops as gifts (they're great snacks when drinking sake) before we hop on a line for kaisen donburi, sashimi over rice. The wait is approximately one hour; I buy some fresh melon to snack on in the meantime. Once we're seated, we order ours with extra uni that is buttery and rich. As we polish off the bowls, I become extremely sad that this is my last day eating fresh sashimi, and I start planning next year's trip.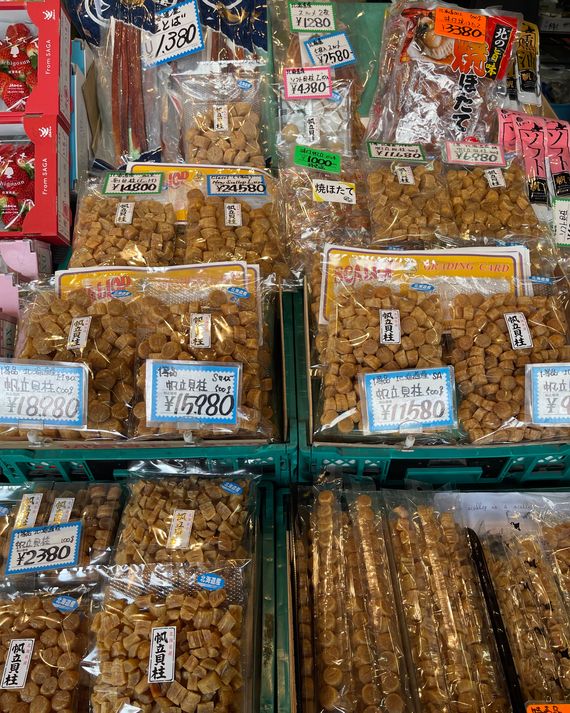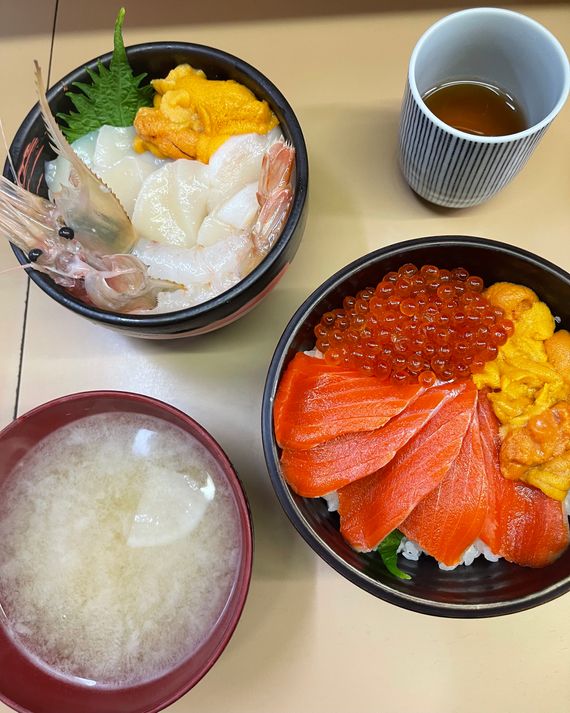 Diana
Tsui's
Niseko
Packing
List
Despite how this head-to-toe houndstooth ski suit makes me look like I'm on the slopes for the vibes, it's highly functional: waterproof, warm, and stretchy. Every time I wear it, a stranger asks me where I bought it.
The sun didn't come out at all while we were in Niseko, but I'm still diligent about sunscreen. This one offers physical instead of chemical protection and rubs in without any white cast.
Back in 2018, UGG and Kith made a pair of faux-fur snow boots that have become my favorite for walking around ski towns. Unfortunately, mine are sold out, but these look nearly identical.
Being five-foot-two, I've never been able to find stirrup leggings that were short enough until I came across these, which fit perfectly. I love them worn après-ski with a giant Fair Isle sweater.
The Strategist is designed to surface the most useful, expert recommendations for things to buy across the vast e-commerce landscape. Some of our latest conquests include the best acne treatments, rolling luggage, pillows for side sleepers, natural anxiety remedies, and bath towels. We update links when possible, but note that deals can expire and all prices are subject to change.